The digital transformation of learning, education and training and the SDGs
12 Jun 2017 09:00h - 10:45h
Event report
[Read more session reports from WSIS Forum 2017]
Mr Reda Sadki (Founder at The Geneva Learning Foundation) started the session saying that the process of learning needs innovation, that the nature of education brings challenges that are different from other processes of innovation, and that educators are in a unique position to bring insights. He highlighted that the discussion about the superiority of certain educational resources has been replaced for a need of constant interpenetration and intersection of these resources. Sadki acknowledged that there are different paths to transformation, that some initiatives have achieved individual impact, and that searching collective impact is the way to achieve the SDGs.
Mr Aape Pohjavirta (Chief Evangelist and Founder of Funzi) said that successful initiatives are key when developing services which optimize learning. He stressed that the only mechanism that makes digital projects survive is a global design. For him, small teams with good ideas face challenges approaching potential funders because they ask for verification. Since transformation happens through forward, not backward thinking, demanding verified success at such a point is not possible. He also noted that current models of education will not meet the needs of the global south, a region with particular needs where the only available technology will probably be the mobile device.
Dr Stian Håklev (Post-doctoral researcher at École Polytechnique Fédérale de Lausanne, EPFL) mentioned that education startups face problems in their business models and that it is necessary for them to understand and define who their services are designed for and how that influences the way they design tools. Håklev said that the digital divide is about technology access, but also about language, and that technology is important because of its potential to place everyone on the same level playing field.
Mr Gaëll Mainguy (Director, Development and International Relations at The Center for Research and Interdisciplinarity, CRI), noted that technology is changing the way teachers and students interact. He urged innovation in the learning process to engage students to solve real challenges, and not simply rehearse on the problems of the past. He mentioned the Open Source Drug Discovery initiative from India, where drug research is advancing in a much faster and cheaper way. Mainguy criticized organizations for using technology to keep old habits and said that much can be done with a mobile and attitude. He said not having access to a device is less of a problem then the tendency to structure education the old-fashioned way. He added that technology has provided new platforms, and we should plan and use them in a new way.
Prof. Diana Laurillard (Professor of Learning with Digital Technologies at the London Knowledge Lab, University College London Institute of Education) said that to innovate education on a large scale we should not rely on politics, but on teachers. She believes that the use of social learning should be intensified and that no one is asking how technology can help reach large scale collective impact. She mentioned that 23 million teachers are necessary to achieve sustainable development goal 4, and unless we think of scale and recognize the importance of investment, there's no chance of succeeding.
Mr Bodo Hoenen (Founder @DEV4X) said that context is crucial when innovating learning processes. He asserted that changes have to be radical, and that if progress follows the current trajectory, real innovation will never come. Hoenen reminded that the online platforms we refer to are not truly radical, but merely incremental resources.
Mr Neil Blakeman (Chief Business Officer at FutureLearn) mentioned that as mobile penetration increases and internet access improves, the penetration of learning and the level of experimentation of solutions that universities and partners propose also increase. He used these solutions in courses provided by UK universities to non-OECD countries, courses in Jordan and Lebanon for Syrian refugees, and emergency response courses in health. Blakeman said that reaching agreement on the basic questions is possible if we can ask them now. He urged imaginative partnerships between content and fund providers, which can make it possible to scale these solutions through technology.
Dr Sophie Huber (Director of the Centre for Continuing and Distance Education University of Geneva), mentioned that new skills are necessary to participate in the transformation of learning, and stressed that people should have the right tools to reach adequate levels of participation. For Huber, there is a digital divide if everyone is to be a digital learner, in which case that gap may not be closed. She believes that the coexistence of different ways of learning eases the burden of digital divide.
Ms Michaela Laemmler (Global head of openSAP University) said that technology will not make universities and schools disappear. For her, these resources will be combined with regular classroom training in layers to provide all the range of learning that is necessary.
Mr Sadki closed the session announcing two initiatives from the Geneva Learning Foundation and its partners: one was the opening of another Digital Scholar open access course to help design effective learning and support the development of scalable digital educational solutions. The other was a call for proposals for individuals or organisations who wish to scale up education in financially sustainable way. The call will be open 3 July and the deadline for the submission of proposals will be 30 September.
by Cláudio Lucena
Related topics
Related event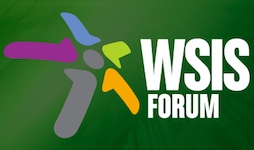 WSIS Forum 2017
12 Jun 2017 09:00h - 16 Jun 2017 17:00h
Geneva, Switzerland