AL C7 – E-health: ICT for universal health coverage (UHC)
15 Jun 2017 14:30h - 16:15h
Event report
[Read more session reports from WSIS Forum 2017]
The session moderated by Mr Hani Skandar (ICT Applications Coordinator at the Telecommunication Development Bureau, International Telecommunication Union (ITU)] featured discussions on the United Nations (UN) sustainable development goals (SDGs) that all UN Member States have agreed to try to achieve, including Universal Health Coverage (UHC) by 2030. Accourding to Skandar, the Concept of UHC means a number of things: access to quality essential health care services and access to safe, effective, quality, and affordable essential medicines and vaccines for all. ICTs can contribute to all of that. Skandar said he wanted to hear about attendee experiences, innovations, and what we can learn as a community of how we can address those goals.
Mr Yushi Torigoe (Deputy to the Director, Telecommunication Development Bureau, ITU) introduced the session by telling the group about a co-promoted ITU/World Health Organization (WHO) programme called 'Be Healthy, be mobile' that is already more than 10 years old. Starting this year, the initiative is promoting the second phase of the project with scaled-up content and partners. Torigoe told attendees that the purpose of this event is to facilitate a dialogue on how to achieve cross sectorial collaboration in the health and ICT sectors, and how to foster innovation to improve equality, equity, and accessibility of health services. The key activity is to support e-health projects in partnership with international and national stakeholders, to address the SDGs, and support the development of national e-health strategies and e-health innovation through knowledge sharing.
Non-communicable Diseases (NCDs) such as cardiovascular illnesses, cancer, and diabetes kill 14 million people each year. The WHO and the ITU, with partners from other sectors, focus on mobile technology to improve prevention and treatment of NCDs. The initiative is working in nine countries and expanding to others. Torigoe stated that the ITU and its partners stand ready to provide technical assistance in the development and implementation of national ICT applications, strategies, and initiatives.
In his presentation, Mr Cliff Schmidt (CEO, Literacy Bridge), a social entrepreneur, talked about a device called 'A talking book' that was developed 10 years ago. He explained that this technology enables a new behavior by using appropriate content and processes designed to create awareness. It can influence the achievement of the SDGs by providing new information or ideas, or by convincing citizens and governments to take matters into their own hands. The project works in remote villages, urban slums, and remote areas where people are cut off from information. It operates in Ghana, Ruanda, and Uganda, and will extend to another 10 countries in the coming years. Schmidt explained that participants learn how to take care of their health, the role of technology to support the lessons learned, and to make the lessons available for people on demand when they are ready to learn or want to review something, such as how to use a bed net, vaccines, or rehydrating salts.
Schmidt noted that content is created in local languages by local people. Feedback and statistics received are the most important part of the project.
Mr Jean de Dieu Imanishimwe (Rwanda Utilities Regulatory Authority (RURA)) talked about his country's experience in promoting e-health. He noted that the government has had a national e-health strategy plan since 2009. Imanishimwe said they promote e-health with a mobile app that helps community efforts and enhances medical processes. It helps to track pregnant women, with SMS, an information module, reminders, and pre-natal visits and tracking. He explained that e-learning is a priority resource to increase health and sanitisation in hospitals. It also improves medical reports to support decision-making and reduces mistakes from incorrect diagnoses. One of the impacts he described was a decrease in infant mortality. Imanishimwe said that the challenges faced are related to resistance to using the system, infrastructure backup, and broadband connectivity.
Mr Yoshito Sakurai (Chief Architect, R&D Group, Hitachi, Ltd.) spoke about health care management in Japan, which focusses on so-called pre-medicine. Japan is a 5.0 society. Sakurai explained that every worker is required to have a yearly health check-up. He went on to note that the government emphasises awareness and promotes the use of data for health management. Sakurai gave an example of a device that helps prevent diabetes. He went on to say that data analysis is extremely important in the prevention of some modern diseases.
Dr Khondkar Siddique-e Rabbani (Honorary Professor, University of Dhaka, Bangladesh) talked about telemedicine implementation in Bangladesh by the University, with the support of corporations and government. Rabbani explained that 70% of the population lives in villages while doctors live in cities and towns, due to the poor living conditions in the villages. People in the villages have no doctors and so are attended by the local pharmacist. Rabbani offered the solution of telemedicine to enable qualified doctors to provide primary and secondary health care. He explained that the project uses audio and video, accompanied by the addition of diagnostic devices. He went on to tell how the service provides a cloud service, a panel of doctors, a prescription database, and monitoring in real time. Trained mobile operators go from door-to-door to provide the service. It is a low-cost project, but not yet self-sufficient.
Mr Sameer Pujari (Manager and CoFounder Be Healthy Be Mobile Initiative, WHO) talked about a joint programme by the ITU and the WHO, which helps countries scale up rural health services primarily for the NCD infrastructure. Pujari agreed that innovation involves finding the solution required on the spot, by looking at the evidence. He explained that the project builds the content, taking the best practices and learning from the evidence. The programme then works to facilitate through innovation, and to make an impact on the population. The programme is available in nine countries. He noted that each of them has different components and programmes specific to their environments. These are human and user-centric solutions provided through mobile phones. But, he said, they cannot perform the work on their own: it has to employ a multisectorial approach where like-minded actors come together to implement this programme.
Finally, the Thai winner of a WSIS prize presented his project, a mobile application that offers a tool to support and facilitate the work of doctors and volunteers, and to enable communication with each other in a simple way.
By Natalia Enciso
Related topics
Related event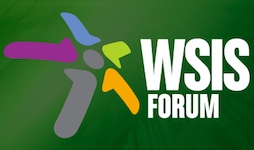 WSIS Forum 2017
12 Jun 2017 09:00h - 16 Jun 2017 17:00h
Geneva, Switzerland