Media: Strengthening privacy, encryption and source protection for media freedom and internet development
15 Jun 2017 14:30h - 16:15h
Event report
[Read more session reports from WSIS Forum 2017]
Ms Xianhong Hu (UNESCO) opened the floor by mentioning UNESCO's Internet Universality framework and the related ROAM principles (R = the Internet is based on human Rights, O = Open, A = Accessible to all, M = nurtured by Multi stakeholder participation). She mentioned that the principles provide holistic views and recommendations.
UN Special Rapporteur on Freedom of Expression Mr David Kaye underlined three points. The first addressed the fact that governments have framed encryption and privacy, strictly in the national security frame. There is a need to look at the concept of security in terms of individual security. The broad notion of cybersecurity comprises the security of Internet frameworks that governments need to protect so individuals can use them. The use of security and encryption tools are not just for activists and journalists, but for all Internet users. He stressed that, 'Security is not just national security or counter terrorism.'
Kaye's second point focused on the need to frame rights arguments in a more generic setting, considering that rights arguments do not always resonate with governments or all sections of society. The benefits and vitality of encryption and anonymity tools, such as their support of economy, innovation, commerce, banking, and finance should be stated frequently. He concluded his speech with a heightened focus on the importance of encryption in everyday online activities such as browsing, where all governments, not just authoritarian ones, surveil browsing activity, which can lead to self-censorship even in basic activities such as information seeking. The security of networks, and the encryption of metadata was stressed, along with human rights and security considerations to be integrated into the creation and design processes of technology.
Ms Julie Posetti (author of the UNESCO publication Protecting Journalism Sources in the Digital Age, and Head of Digital Editorial Capability at Fairfax Media, Australia) gave examples from the USA and Australia where the lack of protection of journalists' sources and their metadata had led to grave consequences such as arrests. The traditional legal frameworks are under strain, erosion, and restriction, leading to weak accountability and investigative journalism, Posetti explained. Therefore, the need for traditional frameworks to be interpreted with the digital era in mind, while shielding journalism from interception in communications, was stressed. Limitations to mass surveillance, targeted surveillance, and data retention should be introduced. She emphasised that journalists were nowadays resorting to measures from the Deep Throat era because of intense surveillance. She encouraged everyone to measure the effectiveness of their national legal protections by using the 11-point assessment tool from her research for UNESCO. The tool is available for download. Posetti added that legal frameworks need to be strengthened, since currently a source can blow their cover just by initiating contact with a journalist. She underlined the importance of education and training in digital safety for journalists and their sources, and called for more rapportage and advocacy about the issue to increase awareness.
Prof. Dr Jeanne Mifsud Bonnici (author of the UNESCO publication Privacy, FOE and Transparency, and Professor at the Faculty of Law of the University of Groningen, The Netherlands) explained that her research focused on four themes: privacy, right to information, transparency, and freedom of expression. She looked at these concepts from an individual, corporate, national and international level. The presentation focused on recommendations, rather than the challenges.:
Remind states of their obligations to protect negative rights
Encourage the private sector to self-regulate and co-regulate, publish more transparency reports and human rights assessments, not only on privacy but also on freedom of expression
Update existing legal protection frameworks by establishing a clear scope of rights, providing exemptions, and derogations
Make the policy-making process more transparent
Stop the abuse of ICTs by placing safeguards for secret and intelligence services
Encourage the use of encryption
Increase international cooperation, minimizing surveillance across borders
Improve digital literacy and narrow the digital divide.
Ms Malgorzata Pek (Programme Officer for the Council of Europe) mentioned the council's efforts to find a balance between Article 8 (privacy) and Article 10 (freedom of expression) of the European Convention on Human Rights. She stressed the standard setting nature and importance of Convention 108 for the Protection of Individuals with Regard to Automatic Processing of Personal Data. Mentioning that the convention's modernising process would be concluded in 2018, she underlined the vital articles such as 'not be subject to a decision significantly affecting him or her based solely on automated processing of data'; the 'right to obtain reasoning underlying data processing'; and the 'right to object to the processing of personal data concerning the individual'. She reiterated that the council was also developing and adopting big data guidelines such as providing easy and user-friendly technical ways to for data subjects to react to data processing incompatible with initial purposes, and withdraw their consent.
Dr Walid Al-Saqaf (Board Member of Internet Society) presented a new tool which simplifies data analysis and visualisation. He fed all tweets about WSIS in the past week, which displayed how easy it is to clearly see who was communicating with who. This proves the risky environment for journalists to work in. He displayed the profiles of everyone in the WSIS cloud, and mentioned that if individuals can do this, then governments, companies, and anyone else could easily track communications. He stated that encryption is crucial. Full exposure in social media and more protection of individuals who are part of these networks, especially journalists, is required. He encouraged UNESCO's future work to focus not only on content but on the connections between individuals, since this area is not protected by encryption.
At the end of the session, most panellists emphasises that secret and intelligence agencies needed to prove why surveillance, user profiling, or other measures, which interfere with human rights, were deemed necessary.
by Su Sonia Herring
Related topics
Related event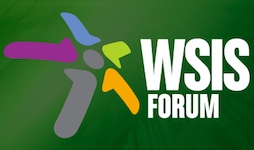 WSIS Forum 2017
12 Jun 2017 09:00h - 16 Jun 2017 17:00h
Geneva, Switzerland