E-agriculture: Democratizing digital innovation in agriculture
15 Jun 2017 09:00h - 10:45h
Event report
[Read more session reports from WSIS Forum 2017]
The participants were welcomed to the session by Mr Kemal Huseinovic (Chief of the Infrastructure, Enabling Environment and E-Applications Department, Telecommunication Development Bureau (BDT), ITU) who spoke of the support that the ITU is giving to governments to encourage them to harness the full potential of ICTs for agriculture. The ITU encourages governments to take advantage of the transformational impacts to the value chain during pre-production, production, and post-production phases.
Mr Cezar Santos Alvarez (IT Senior Officer, FAO) introduced the session which aimed to raise awareness about digital innovation in agriculture. Santos Alvarez acknowledged the close collaboration between the ITU and FAO to meet the digital divide in Africa and the Asia Pacific regions, where they have established projects to enhance productivity. He challenged the speakers to present how their contribution was making a difference.
Ms Simone Strey (CEO, PEAT, Germany) introduced a new initiative entitled PLANTIX. This project is based on three technological revolutions that have changed our world today – artificial intelligence, image recognition, and world-wide connectivity. PEAT has developed the largest database in the world of known plant diseases. They use photographs, many of which come from the farmers themselves. Their application also provides information on weather, disease alerts and community support.
Mr Jippe Hoogeveen (Senior Officer, Water Productivity Open-Access Portal, FAO, Italy) introduced a project to monitor water use by using remote sensing. The project aims to assist member countries of the FAO to: (1) monitor land and water productivity; (2) identify land and water productivity gaps; (3) propose solutions to reduce these gaps ; and (4) contribute to a sustainable increase of agricultural production.
Mr Hani Eskandar (Technical Officer, ICT Applications Infrastructure, enabling Environment and e-Applications Department, Telecommunication Development Bureau, ITU) introduced a recent publication 'e-Agriculture In Action' which contains a series of agricultural case studies. He noted that despite these innovations, encouraging governments to develop a national e-agriculture strategies to support these projects was still a challenge. The ITU and the FAO have collaborated to provide an e-Agriculture Strategy Guide which has already been piloted in some Asia-Pacific countries, in order to provide governments with guidelines for developing their own strategic plan.
Mr Francesco Loreto (Consiglio Nazionale delle Ricerche (CNR), Italy) explained how Precision Agriculture can contribute to reduce global hunger and support food security. It has a challenge for farmers today to be able to match managed inputs with local environmental conditions. Precision agriculture differs from traditional farming because it is an integrated system of methodologies and technologies designed to increase crop production, quality and productivity of a farm.
Mr Jean De Dieu Imanishimwe (Project Manager, Rwanda Utilities Regulatory Authority (RURA)) explained Rwanda's Smart Agriculture project. E-Agriculture is one of seven pillars of the country's strategy which focuses on the transformation of agriculture into a productive, high value and market-oriented sector, by actively applying ICT. The government of Rwanda has developed a national ICT strategy for Rwandan Agriculture based on the premise that ICT has been proven to be an essential public utility and development tool. They believe that the agriculture sector offers the best opportunity for economic growth and poverty alleviation.
Mr Indulis Abolins (Deputy Director, Rural Support Service, Republic of Latvia) introduced Latvia's electronic application system to facilitate the application process for farmers to apply for EU subsidies. These can be for grants for agriculture, forestry, and fishery projects. Making the application form electronic has been very beneficial to farmers. The government provides commitment through their support for any legal obligations (mapping requirements), advice and help, with form-filling where there is no computer proficiency.
IGROW – My Own Food was a 2016 start-up initiative that was developed in Indonesia to connect the three parts of the farming industry: investors, farmers, and buyers of the produce. The programme is based on a business model that initially identifies the specifications of the market so that the skills and capacity of the farmer and his/her products will meet market needs. Once this has been ascertained, investors are sought to provide funds for the agricultural venture.
Questions were invited from the floor, so that queries covering technical, business and gender related issues were posed to the speakers.
by Maureen Hilyard
Related topics
Related event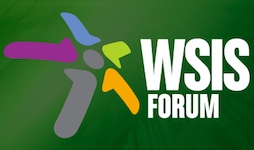 WSIS Forum 2017
12 Jun 2017 09:00h - 16 Jun 2017 17:00h
Geneva, Switzerland