Media and information literacy empowered by artificial intelligence for diversity and disaster
8 Apr 2019 11:00h - 13:00h
Event report
Moderator Ms Yuko Murayama (Vice President, IFIP) introduced the session by explaining how the speakers are mostly interested in education and people in terms of diversity and disaster. Murayama previews that in this second workshop year, there would not be as much discussion on artificial intelligence (AI) strategies compared to information and communication technology (ICT). The panel will address how media can help those overcome by diversity or disaster, particularly women and youth.
Ms Yumiko Mori (Chairman, NPO Pangaea and Pangaea Kenya) served as a representative for the Pangaea project, which focuses primarily on sustainable development goal (SDG) 4.7, global citizenship education. Pangaea was started shortly after the terrorist attacks of 11 September in the USA, due to her fear that groups would be stereotyped by those who don't have international experience. Mori wanted children to be connected in order to cut the vicious cycle that starts with ignorance of other cultures and leads to seeing them as enemies.
The educational program aims to help decrease conflict among youth from different cultures by helping 'youths acquire skills to collaborate and communicate in non-violent ways' through an online platform. The program has been ongoing for the past 17 years with the goals of overcoming cultural barriers by metaphorically making holes in walls so that people can see one another. She explained there is value in sharing language, shared tasks, face to face meetings, and shared personal information across cultures. With an online communication platform, students may speak in their given language to connect with other students on a number of levels. The program has seen success in improving students' feelings towards other cultures when students were surveyed about their feelings on different ethnicities.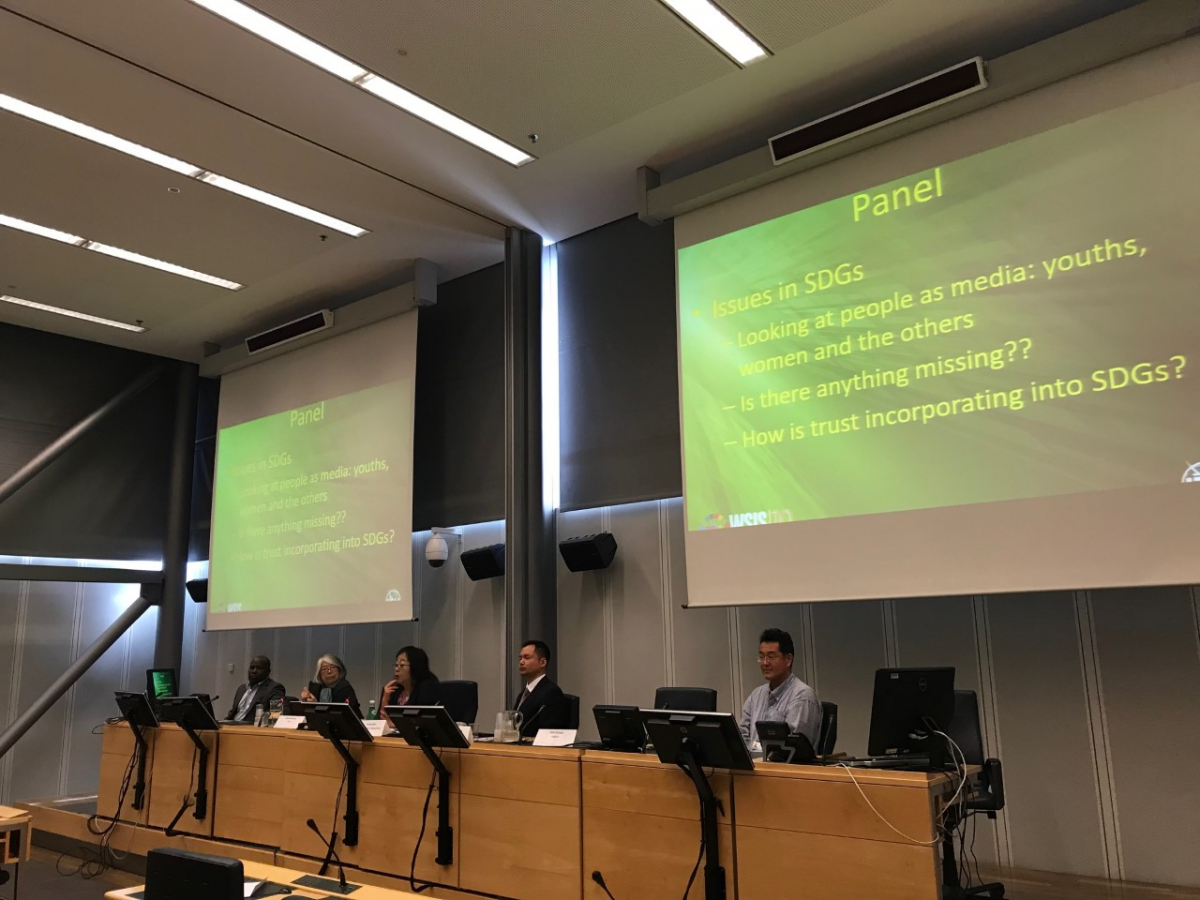 Also speaking about helping children, but from a disaster lens, Dr Masatoshi Hamada (Invited Researcher, University Paris VIII) shared his research. He addressed UNESCO's media and information literacy (MIL) campaign that aims to utilise media in the most safe and useful way possible. In order to solve real social difficulties, new research frameworks are necessary to understand practices and theories.
Hamada highlighted how children going through disaster had different levels of stress based on age; the younger kids were more stressed in their direct behavior regarding their wants and family. The ideal connection after a disaster is when one child uses positive emotion, so that several other children do the same. This leads to new understanding, and more value of positive emotion. Hamada then explained that AI is a good tool, but human relation is more important in disasters, and there may need to be new SDGs to address these social issues.
Shifting from children to women, Mr Toshihisa Nakamura (Programme Analyst, UN Women) emphasised how natural disasters disproportionately affects women due to gender inequality. In a cycle of vulnerability, discrimination, and limited opportunities, women have worse experiences in disaster. However, Nakamura stated that 'digital equity and inclusion for ICT can support closing the inequality.'
He introduced three initiatives utilising ICT that the UN is participating in, all of which are still in pilot stages. First, in Haiti, a cell phone application has been developed to help female farmers forecast prices, identify harvest volume, and give access to credit as well as other financial services. Second, in Vietnam, UN Women targets the drought problem by developing means for women to access water, sanitation, and hygiene. Lastly, Nakamura shared a blockchain-based technology in Jordan that gives women digital IDs where they may complete financial transactions independently online. These initiatives of digital equity and inclusion can support closing the gender divide.
In conclusion, Murayama addressed the idea that there may be issues with the current SDGs when looking at people in media, especially for women and youth. She looks forward to a third trial next year, to utilise AI more and to discuss the incorporating trust in SDGs.
By Natalie Meyer
Related topics
Related event

Related technologies