Global Leaders Investment Summit I: Investment in a new era of globalization
Event report
The Global Leaders Investment Summit represents a gathering of heads of state, governments, and the CEOs of global private sector companies, aiming to share their insights and considerations that will feature in the rest of the forum and its outcome.
During the first part, the summit addressed the backlash against globalisation and its consequent unequal impact; risks of protectionism in trade and investment; and the challenges that multilateralism is facing. The first part was moderated by Ms Nisha Pillai (Journalist and News Anchor, BBC), and the summit was opened with introductory remarks by Mr Mukhisa Kituyi (Secretary-General, UNCTAD). Kituyi highlighted the pressing concerns of the investment community, stressing that discussions on these topics are needed now more than ever. He argued that the dynamics of globalisation have been driving worldwide political discussions. Considering all the threats involved, such as climate change and security concerns, the debate is focused on the question of who benefits from globalisation and who does not. He stated that the goal of leaving no one behind by 2030 is difficult enough, and needs collective efforts and commitment. With this regard, he invited the audience to consider the following questions:
How will the globalisation backlash affect international investment and development?

What are viable remedies in the field of investment policy-making?

How can more people benefit from globalisation, and how can the UN contribute?
Part 1
Mr Abdul Hamid (President, People's Republic of Bangladesh), argued that globalisation is not a new phenomenon. He stressed how international production shifted due to the use of new technology, affecting some countries with unacceptable social costs. With this regard, he proposed to explore remedies that can be put in place to promote investment, and have more people benefit from globalisation. Currently, the growth in global value chains (GVCs) has stagnated, and it is crucial to increase competitiveness and access to global markets for those left behind. Moreover, he called upon the private sector to consider the international environment and sustainable development as pillars of their investments. Furthermore, Hamid stated that investments should focus on people, since human capital will be crucial for the demanding future. Finally, he restated that there is a need to act together for a better future.
Mr Khaltmaagiin Battulga (President, Mongolia) stated Mongolia's commitment to the sustainable development goals (SDGs), as the country has adapted its national strategies to address the SDGs. Moreover, he stressed the need for concrete actions to follow international commitment. There is a need to formulate investment policies in accordance with the SDGs, and to effectively implement such investments for development, through step-by-step targeted measures. Mongolia established public-private partnerships (PPP) thanks to an improved legal environment for investment, especially in crucial sectors such as agriculture. Battulga recalled the proposal of the North-East Asia Electricity project, and the importance of investments in sports for development. Finally, he called upon states, investors and international organisations to reaffirm their commitment to work together to achieve sustainable development worldwide, stating that, 'We have reached the critical moment.'
Mr Milo Ðukanović (President, Montenegro) highlighted the pattern of interdependence between trade investments and development. He argued that the market economy does not distinguish between big and small countries, but it distinguishes successful and unsuccessful ones. With regard to globalisation, he stated that the most challenging aspect is its continuum in changing the rules. The role of the World Trade Organization (WTO) rules for global investment are cruciall, as economic development changes the structure of societies. In addition, he recalled the achievements reached by Montenegro in sectors such as tourism, export, business and services, and acknowledged the euro as an element that increased money supplies. Ðukanović further explained Montenegro's electronic portal for legislation, which allows more transparency for investors. Moreover, he stressed how global investments also bring value to modern civilisation. Finally, he concluded by recalling the importance of working together to increase the benefits of investments, and of creating the right conditions in which global investment can flourish.
Mr Vasant Narasimhan (CEO, Novartis) talked from the perspective of one of the largest pharmaceutical companies which invests worldwide. He explained that it is important for companies to build an innovation ecosystem, by allowing entrepreneurs to create new ideas and generate financial returns in a virtuous environment. Following this line, he highlighted four main areas that must be taken into consideration:
Digital and data science; 'We have to start to believe in digital and data sciences.'

Human capital investment; as enabling higher quality human capital, and investment to 'next generation scientists' in digital and data sciences are fundamental.

A microclimate environment should be created through adequate legal frameworks.

Enabling the markets to develop is crucial.
The final panellist, Mr Paul Bulcke (Chairman of the Board of Directors, Nestlé), strongly argued that an integrated world is better than an non-integrated one.
He addressed the topic by stating that the private sector should invest in capital and human capital; governments should establish the framing for the private sector to do so, while complying with the notion of 'consistency in time'; and civil society should have a voice in the processes of multistakeholderism. Finally, he argued that digitalisation integrates the world, while the physical world is trying to separate it. Thus, inclusivity should tackle the issue of leaving no one behind.
Part 2
The first speech of the second part of the summit was addressed by Mr Hage Geingob (President, Republic of Namibia), who talked of the backlash against globalisation as having a negative effect on global investment. Globalisation has brought enormous benefits to humankind. However, it brings its own challenges, such as the lack of industrial capabilities in certain areas. With this regard, he questioned whether the decision will be to abandon multilateralism, or to hold hands for the benefit of humanity? To be effective, globalisation must be inclusive.
Mr Samdech Akka Moha Sena Padei Techo Hun Sen (Prime Minister, Kingdom of Cambodia) argued that the world is facing challenges in political, economic and social dimensions. Globalisation promotes global growth, and Cambodia fully supports globalisation policies that foster investments that are meant to tackle poverty. Cambodia is implementing efforts to promote greater integration and investments in all areas. Expressing his concerns regarding the severe global trade war, and the stagnation of trade negotiations under the WTO trade processes, he restated Cambodia's support to all international policies promoting regional and international investment..
Mr Kocho Angjushev (Vice Prime Minister, The former Yugoslav Republic of Macedonia), highlighted the main successful elements that attract investors to a country. First and foremost, the rule of law and political stability of a country are crucial. Second, a country needs to be part of the bigger security picture (e.g. NATO). Third, successful strategies to attract investors are meant to guarantee access to high level technology and know-how. Finally, Angjushev stressed the role of governmental jobs in increasing the infrastructure capacity of a country.
Mr Roland Chalons-Browne (CEO, Siemens Financial Services) shared the notion of globalisation as a driver of a lot of benefits which are not accessible to all. Furthermore, he argued that protectionism is a reflective issue of the migration crisis.
The final speaker, Ms Nandini Sukumar (CEO, World Federation of Exchanges), talked about the role of exchange in financial development. Addressing the issue of stability and a resilient agenda, she argued that the following points should be implemented:
International investments in emerging markets should be implemented in a good legal and policy environment. A regulated financial market provides the basis; and it cannot be achieveded without sustainable development.

Upholding the rule of law is crucial for investments.

Cybersecurity is a vital issue of our times, and it 'requires global efforts and coordination'.

Systemic risks have to be considered.
Related topics
Related event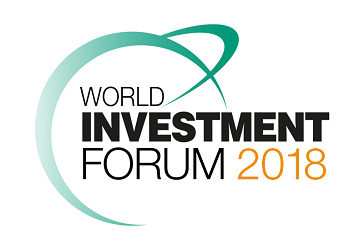 Related technologies