Digital cooperation to leave no one behind: implementing the Secretary-General's Roadmap
4 May 2021 18:00h - 19:00h
Event report
The United Nations Secretary-General's Roadmap for Digital Cooperation, launched in June 2020, proposed important themes in areas such as achieving universal connectivity, digital inclusion, digital human rights, and digital capacity-building. Progress of implementation of the Roadmap was discussed during this side event.
It is imperative that governments cooperate in a multistakeholder approach involving businesses, civil society organisations, and youth organisations to shape the digital world, leaving no one behind. As highlighted by Mr Mark Zellenrath (Ambassador and Deputy Permanent Representative of the Kingdom of the Netherlands to the UN in New York), digital trust and security are vital for such a multistakeholder approach, but they are still lacking. Digital inclusion, which amplifies social, cultural, and economic inequalities, requires urgent address. Further, efforts are needed to help people not just to consume digital technologies, but also to develop them. Zellenrath stressed that the internet is not only a global phenomenon, but also local; therefore, local necessities and local capacity development need to be duly considered.
Inclusive and open partnerships that take advantage of the unique strengths of each player involved will help translate the Roadmap into concrete achievements by 2030, as pointed out by Ms Doreen Bogdan-Martin (Director of the ITU Telecommunication Development Bureau).
The Roadmap should be implemented through a cross-sectoral exchange to ensure that the work in different areas is not carried out in isolation. Mr Silvio Gonzato (Ambassador and Deputy Head of the Delegation of the EU to the UN) noted that respect for human rights should prevail over and cut across all the different areas of work for the implementation of the Roadmap. The digital divide is a new form of social exclusion, which has become particularly dramatic with the recent pandemic. The new generation of development cooperation programs that the EU has initiated has an important focus on building infrastructures as well as on developing digital skills and overcoming the gender gap. The digitalisation process needs to be carefully managed ensuring that human rights apply both offline and online. Gonzato underscored the need to be vigilant against hate speech, and child abuse; and to establish a close link between human rights and the digital world through the multistakeholder model. He also highlighted that a multistakeholder partnership is the only way forward in ensuring a safe, inclusive, free, and open internet. Lastly, a green transition and the digital transition should be achieved in parallel.
The SDGs cannot be reached without digital cooperation. Highlighting the need for social innovation and policy tools, Mr Jarmo Sareva (Ambassador for Innovation, Ministry for Foreign Affairs of Finland) stated that without inclusion of people, countries, and sectors and without respect for diversity, the implementation will fail.
Sareva highlighted gender equality and the need for devising tools and ensuring funding, both public and private, to bridge the gender digital divide, especially in the developing world. The gender divide refers not only to access to digital technologies, but to use of technology and representation of women in the digital technologies sector.
Some of the barriers of access to women to digital technology, as noted by Bogdan-Martin, relate to safety concerns, online violence, harassment, bullying, content, cost, and affordability. She highlighted that women and girls should be supported in getting basic digital literacy, and young girls should have opportunities to engage in the technological sectors, as the low number of their current involvement is alarming.
Further, the institutions in which women and girls are involved, as highlighted by Mr Vint Cerf (Vice President and Chief Internet Evangelist at Google), should recognise the importance of protecting their interests and protecting them from harmful behavior online. The needs of persons with disabilities should also be addressed and accommodated as part of efforts to achieve accessibility.
Stressing the importance of the multistakeholder approach for the consideration of digital policy issues, Ms Ellen Blackler (representing the United States Council for International Business) stated that the Internet Governance Forum's Plus model will best foster global digital transformation and that the IGF fundraising function should be professionalised, its budget increased and sustained, and accessible and transparent mechanisms of contributions should be ensured.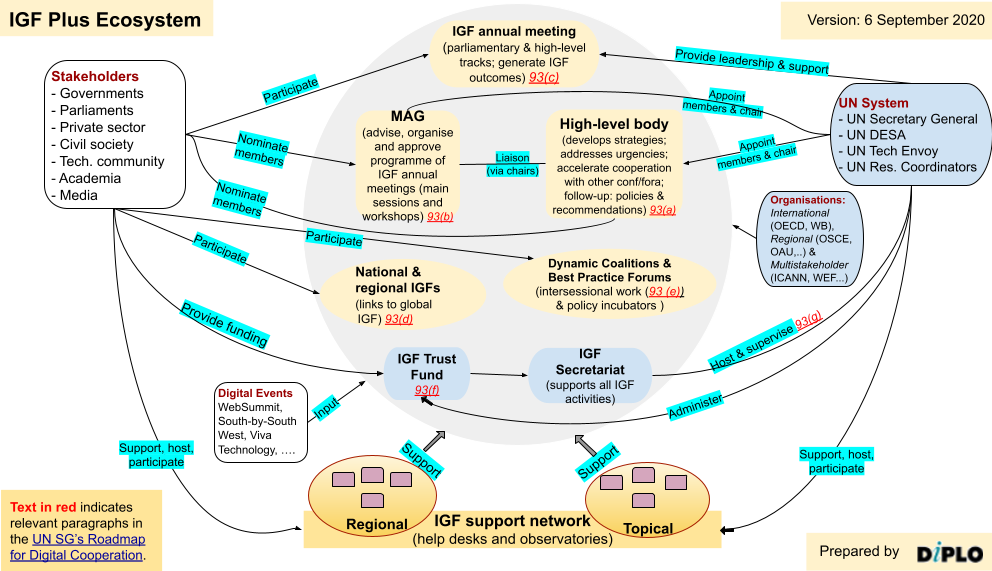 A gap of investment exists in digital public goods, as highlighted by Mr Tomicah Tillemann (The New America Foundation), and a marketplace that can support investment in open-source digital public goods should be established.
The digital divide cannot be closed without working on digital social justice. The responsibility of governments, industries, and of users has been highlighted as a vital issue in this regard by Ms Nnenna Nwakanma (Director, Chief Web Advocate at Web Foundation). She further stated that the internet is moving independently of governments or of any specific actors; therefore, it is in the best interests of all to cooperate, to be on board, and to walk in line with digital development.
Related topics
Related event