Science fiction meets policy | Policy meets science fiction
Event report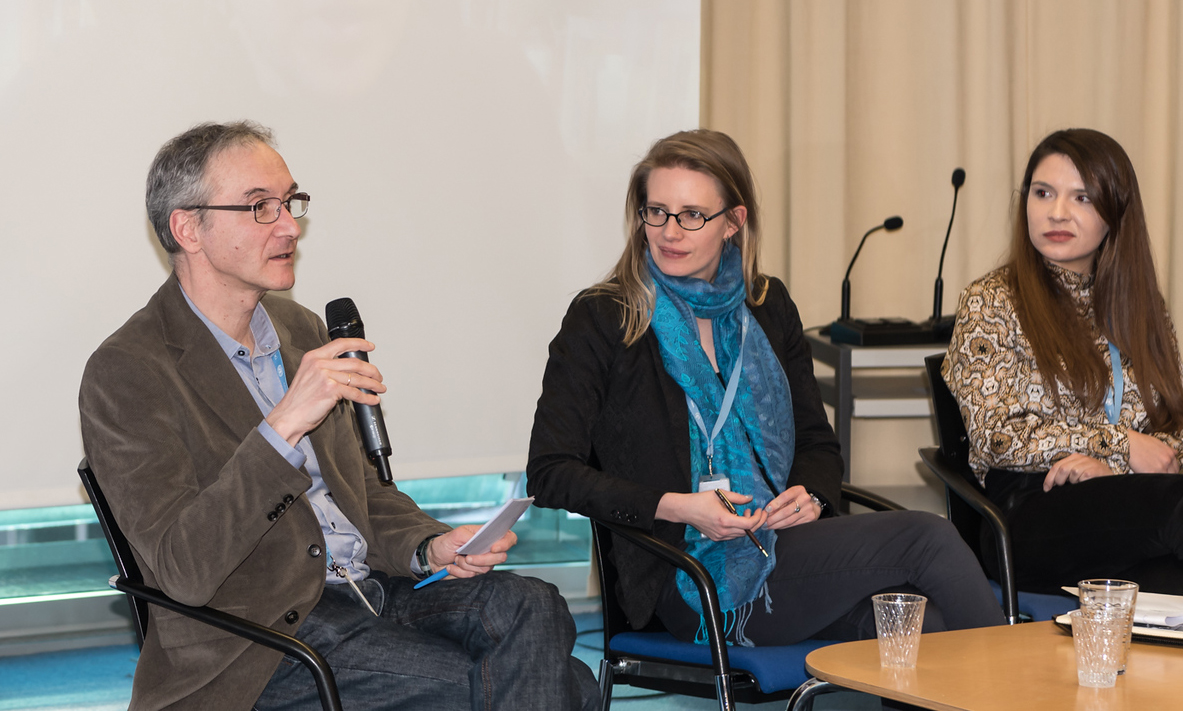 With this event we asked: 'What can sci-fi teach us about digital politics and its future?' and brought together policy makers, diplomats, designers, writers, and other creative people.
The introductory remarks were delivered by Prof. Jovan Kurbalija (Executive Director and Co-Lead, UN Secretariat of the High-Level Panel on Digital Cooperation), and Ambassador Farukh Amil (Permanent Representative of Pakistan). Kurbalija stressed the importance of a cross-fertilisation process, meant to bring different ways of thinking to the international architecture of Geneva. This event, bridging science-fiction and diplomacy is one such cross-fertilisation process, attempting to identify the major digital trends in the near future. By doing so, the aim is to shape the discussion in order to make it as comprehensive as possible.
Amil highlighted the opportunities created by new technologies, as well as the transformative effect that sci-fi authors can have on their audience. He used the example of the famous Star Trek series by Gene Roddenberry as an example to ask: Does science fiction have a role in changing people's mindsets? And if so, how does that affect diplomacy? Current sci-fi is rather dystopian, especially coupled with public pronouncements such as those by Stephen Hawking who said, 'The development of full artificial intelligence could spell the end of the human race.' Nonetheless, one takeaway is the impetus for positive change, to handle technology in a moderate and appropriate way, in order for this technology to be as beneficial as possible for humanity.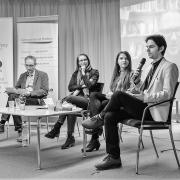 Following the introductory remarks, a panel discussion addressed the topics of fiction design, the human condition, and thinking through the future of work. Prof. James Auger (Professor in design at RMIT Europe) talked about design fiction and explored how it is used to criticise possible futures by creating speculative and provocative scenarios. Building on ideas from design fiction and speculative design, the leading question that can be asked is: 'How can design assist in negotiating our relations with each other and with the world?'. Sci-fi models can describe a utopian future, in which robots and technology help in complementing human activities; a dystopian future, such as the one described by Mary Shelley in Frankenstein; and finally, a design fiction 'in the middle' balancing the two previous attitudes. In this context, the idea of the domestication of science identifies a form of changing functional interaction.
Prof. Dimitri Konstantas (University of Geneva) challenged the audience to imagine a world with ultimate privacy, featured by total privacy protection, the automatisation of many tasks, and the use of avatars substituting human interactions. Building on this, he raised the question whether robots can, or should, be equal to humans. He argued that our robots are already learning. Therefore, we need to ask: Who do they learn from and what do they learn? What set of values are they 'learning'?
The last panellist, Dr Richard Hill (President, Association for Proper Internet Governance), talked about 'the sci-fi take on robots and the future of work'. Surveying various examples, he highlighted the tendency to apply human traits to robots, leading, in most cases, to dystopian visions of the future. He stressed that most of the works that he considered were made before the advent of machine learning; therefore, the utopian or dystopian worlds they develop, highlight the limits of sci-fi with regard to its ability to 'predict' the future in light of new technological developments.
The final part of the workshop consisted of four parallel interactive sessions. The groups were led by experts who zoomed in on sci-fi and digital politics from different perspectives and provided hands-on practical exercises to challenge participants to think outside the box.
Mr Dejan Dinčić (Digital Transformation and Online Learning Specialist) focused on 'augmented corporation'. This group used an interactive format to crowd-source bold ideas from the participants on how to ensure that big tech companies play a positive role in the future. Following a year of stark criticism of tech giants (that many called a 'tech backlash'), there is a need for a more constructive and creative vision of their future role, beyond simple regulatory measures. Such a vision could ensure that societies continue to benefit from the innovation and economic development that these enterprises create, while avoiding or limiting the negative secondary effects caused by their activity.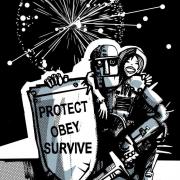 Dr Katharina Höne (Senior Lecturer, Researcher, and Project Manager, DiploFoundation) explored creative writing tools for policy makers. She argued that ideas are often developed through writing, and that creative writing techniques can support and challenge policy-makers and diplomats to think things differently. The group explored the question of what happens at the intersection between creative writing and the kind of writing done by researchers, policy-makers, and diplomats. Participants engaged in three interconnected exercises, focused on developing a place, developing a person, and putting them together as the beginning of a science fiction story. The method of ecriture automatique, the uncensored and continuous writing of words, formed the cornerstone of the exercises.
Ms Darija Medić (Digital Art Project Coordinator, DiploFoundation) zoomed in on digital politics by looking at Afrofuturism, a genre of black speculative fiction and culture, that uses storytelling as a way of survival and a strategy for imagining a possible future and reinventing the past from a disadvantaged position in society. Through a card game, resembling a tarot opening, tropes from Afrofuturist films were explored to extract notions of colonisation and the relationship between race and technology in digital policy. Language and the digital divide were brought up as important elements which position relations of power. A recurring conclusion was the significance of mapping out different elements required to understand one's position regarding rights to data, privacy, and other valuable principles of the Internet.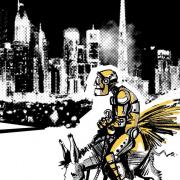 Finally, Mr Djordje Jančić (Head of the Data Team, DiploFoundation) organised a discussion focused on comparing artificial intelligence in popular science fiction works with today's world. By analysing recurring topics (such as rebellion, origin discovery etc.), current applications (e.g. chatbots, medibots, AI writing assistants, LAWS etc.), as well as ethical and moral connotations, participants tried to articulate the key terms that they found to be most relevant to modern day AI application. Ethics, human needs, and hope were among the most prominent, reminding us that a positive outlook is possible only if we remember to value the highest human principles.
To conclude, the workshop participants were addressed by Mr Cory Doctorow (Science Fiction Author and Digital Rights Activist) via a video message. Doctorow talked about why we should not aim to be fortune tellers. Regardless of what a science fiction author postulates as a future world, what is important is what we do to create or to change that future. Hence, Doctorow underlined that instead of focusing on a pessimistic or optimistic view, he advocates for hope, the necessary but insufficient condition for a better world.
*The illustrations were developed for the event by Dr Vladimir Veljašević (Illustrator, long-time member of Diplo's Creative Team and Vice-Dean of the Faculty of Fine Arts in Belgrade)
Related topics