Regulation and the open, interoperable, and interconnected internet – challenges and approaches
Event report
There are many mechanisms of regulation for governance of the internet. The challenge lies in navigating them to get the answers right, while retaining the diversity of the online space and addressing some justified concerns, shared M
r Jovan Kurbalija
(Executive Director, DiploFoundation).
'We need rules and regulations that work. We want them to be as uniform and as globally applicable as possible', noted
Mr Vinton G Cerf
(Chief Internet Evangelist, Google). Cerf added that even if the first few attempts do not work, there needs to be continued efforts to create a safer and more secure internet environment for everyone.
The importance of the interoperability of data and the need to adjust regulations for different types of data was emphasised by
Ms Miapetra Kumpula-Natri
(MEP, European Parliament). As examples, she referred to the EU's
Data Governance Act
that proposes to balance the usability of data and the protection of data and the
MyData movement
of Finland that supports the idea that individuals should have practical tools to transfer data from one server to another.
Pointing to the governance challenge around interoperability and security,
Ms Carolina Aguerre
(Center for Technology and Society (CETYS) University of San Andrés) stressed the need to look at the issue carefully and ensure all communities from all parts of the world are engaged in the conversation.
On the issue of regulating flow of data, Cerf cautioned the need for scoping the regulatory response to the risks while seeking to preserve the demonstrated value of the open flow of information across the internet. He added that digital trade thrives on the free flow of information across borders and enables smaller enterprises to grow to serve global markets. Data flows contribute more to GDP growth than the flow of goods. Thoughtful regulation provides incentives for privacy-preserving technologies such as differential privacy and the provision of extensive privacy-protecting controls for users.
Businesses are looking for a predictable political space around standards and regulation but at times it is overlooked in the simple dichotomy that governments want to regulate and businesses do not want regulation, added Cerf.
There is a shift towards the need for regulation content, as pointed out by
Ms Nighat Dad
(Executive Director, Digital Rights Foundation). While there is a convergence of approaches where countries are borrowing frameworks from one another, she cautioned that at times the regulations have to be adjusted to local requirements. Cerf noted that from a business point of view it is helpful to have common rules as uniformity creates a level playing field for all actors within which they can compete with each other.
If regulations are badly framed or narrowly cover issues they want to regulate, they can do more harm than good, shared Dad. She pointed towards the imbalance of North-South self-regulatory approaches over content.
Aguerre pointed to the need to relook and refine at how data is being framed. She added that if we want to distinguish data from content there is a need to understand the implications.
There is a need to ensure the rights of children regarding artificial intelligence (AI), noted
Ms Jutta Croll
(Managing Director, German Centre for Child Protection on the Internet). She referred to UNICEF's policy guidance on AI for children, which highlights the impact of AI on children.
Kumpula-Natri stressed the need to have some checks and balances and control of the products on the market when they are AI-driven. She added the need for transparency in AI systems for citizens to trust them. Cerf added that concerns for ethics should not be confined to AI and machine learning methods, but expanded to software production. Dad commented that developing ethical principles around AI is not sufficient; there is a need to look at design and structure and understand diversity. She wondered if we are involving developing countries when the principles, standards, and ethics of AI are being discussed.
By Amrita Choudhury
Session in numbers and graphs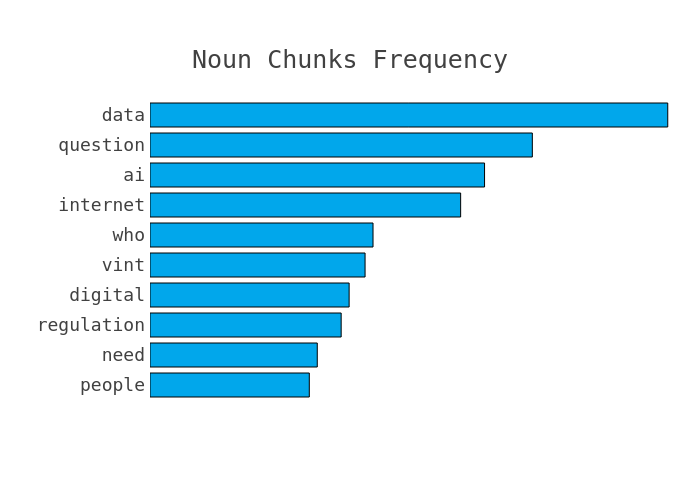 Automated summary
Diplo's AI Lab experiments with automated summaries generated from the IGF sessions. They will complement our traditional reporting. Please let us know if you would like to learn more about this experiment at ai@diplomacy.edu. The automated summary of this session can be found at this
link
.
Related topics
Related event