Multistakeholder initiatives in content governance
Event report
This workshop compared three multistakeholder experiments in content governance: the Christchurch Call and its Advisory Network, the Global Internet Forum to Counter Terrorism (GIFCT), which addresses terrorist extremism, and the Facebook Oversight Board, which addresses broader content policy issues at Meta. While multistakeholder principles have been available for a long time, operational principles need revision to devise a more concrete and implementable framework.
Dr Milton Mueller
(Georgia Tech Internet Governance Project) presented a draft framework for assessing the nature of multistakeholder content governance initiatives; this framework looks at the process through the lenses of authority (how much decision-making power does this multistakeholder entity have), membership (who is included, process of inclusion, whether it is based on selection or representation), and funding.
Ms Ellen Strickland
(Principal Advisor, Department of the Prime Minister and Cabinet New Zealand) spoke on the inception and evolution of the Christchurch Call and how, initially, membership consisted of the government and self-selected technical companies. Civil society was later invited, after the creation of the Civil Society Advisory Network, to be a part of the Christchurch Call community. However, civil society members do not have much decision power. In terms of funding, the Christchurch Call has been supporting civil society organisations.
Dr Erin Saltman
(Director of Programming at the Global Internet Forum to Counter Terrorism (GIFCT)) shared that while GIFCT started as an initiative of technical companies, and was run by them, it was realised that it could not operate as a multilateral initiative and needed its own funding. This led to its transformation into a 501C3 NGO. She explained that in terms of governance structure, GIFCT has an operating board made up of the founding four technical companies; and an independent advisory committee made of government, intergovernmental entities and NGOs, academics and civil society organisations. This, she suggested, needs to evolve to ensure that the advisory committee has better structure, better funding, and better infrastructure. She spoke on the transparency report of GIFCT and the academic wing that last year produced over 190 global insights.
Ms Rachel Wolbers
(Public Policy Manager at Oversight Board Administration) highlighted the independence of the Facebook Oversight Board administration; the $130 million independent trust put up by Meta; the binding nature of the Oversight Board recommendations to which Meta responds; criteria of selection of cases; and the public comment portal for people to comment on new cases.
While critiquing the three models,
Ms Dia Kayyali
(Associate Director for Advocacy, Mnemonic) pointed out the danger that civil society may become window dressing in multistakeholder initiatives. She emphasised the need for a system of accountability, and opined that in the Christchurch Call, civil society still has a consultative role. The GIFCT human rights assessment recognised the lack of accountability for GIFCT and its current structure; however, GIFCT is going to institute a system of formal recommendations from the independent advisory committee to the operating board, incorporating, in turn, formal responses from the operating board to the independent advisory committee. She suggested the need to establish clear communication where there is disagreement.
Kayyali suggested to level the playing field, such as informational disparities. The Christchurch Call is doing so, with more regular reports. She stressed the need to bring civil society into more conversations earlier, with actual authority over decisions, or at least in real a accountability process for decisions. For creating independent funding, Kayyali thought that creating an oversight board funded by independent trust was a good idea.
Dr Courtney Radsch
(Advocacy Director, Committee to Protect Journalists) shared that while Facebook's oversight board is not multistakeholder, the process by which it works on content moderation issues seems to be 'somewhat multistakeholder'. It is thus necessary to discuss specific processes. Radsch suggested a need to implement the analytical framework within internet governance.
Multistakeholder principles should not be too normative, opined Mueller, as no one particular model of multistakeholder governance is the right one. It really will depend on the sector, on the type of policy decisions made, and on the structure of the organisations involved. Saltman added that what multistakeholder principles teach us is that nobody will get 100% of what they want, but at least everyone is moving forward with some concerns implemented or placed in long-term development strategy plans. Strickland shared that the multistakeholder method has to be output and consequence or result oriented. Radsch added that an effective analytical framework could give rise to a set of multistakeholder principles on meaningful and accountable participation.
By Amrita Choudhury
Session in numbers and graphs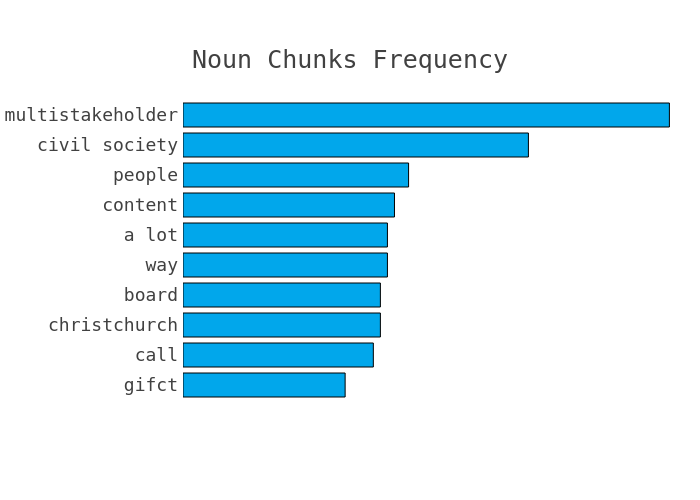 Automated summary
Diplo's AI Lab experiments with automated summaries generated from the IGF sessions. They will complement our traditional reporting. Please let us know if you would like to learn more about this experiment at ai@diplomacy.edu. The automated summary of this session can be found at this
link
.
Related topics
Related event