Investing in digital growth – transnational and transcontinental synergies
Event report
To ensure that the progress of digital transformation continues, more agility is needed in adopting technologies, providing nuanced legislation, and stimulating investment, while ensuring the technology is people-centric. It is important to recognise the benefits offered by digitialisation, as it is instrumental in ensuring a robust and sustainable growth–including human development. However, digital transformation is a complex issue and needs to be supported by regulation and investment. While the pandemic has affected businesses it has also accelerated the digital transformation.
On the question of challenges for digital transformation in the years to come,
Mr Henri Verdier
(French Ambassador for Digital Technology, France) highlighted the issue of the digital divide, inequalities in terms of access to technology, cybersecurity (including state sponsored cyberattacks), unregulated business models, and fake news.
Ms Teresa Czerwinska
(Vice President European Investment Bank (EIB)), speaking from the EIB perspective, mentioned the digital gap in financing the existing digitalisation gap between Europe and other major economies, and the uneven intensity of digitalisation across regions and sectors in Europe. She stated that the digitalisation gap between Europe and other major economies such as the US and Japan is assessed at the level of 1% of GDP annually.
On the issue of what areas will require regulatory intervention to address issues of digital transformation, Verdier suggested that simple, yet accurate and reliable regulations were needed. Regulations need endorse a neutral and open internet, based on the rule of law, created through a multistakeholder approach. Regulations must be developed in cooperation with representatives of major sectors of the economy.
Ms Huria Ali Mahdi
(State Minister of Innovation and technology, Ethiopia), from a developing nation perspective, cited the need for a new mindset and commitment of leadership; an ability to understand the complexity of the digital ecosystem among policy makers; the creation of enabling policies and regulations that encourage innovation and technology; stronger governance coordination; multistakeholder engagement; and the introduction of new regulatory solutions for investment and business.
For digital and green transformation, Czerwinska stressed the need for a structural shift in the approach to funding between public and private players to close the substantial investment gap. The example of the digital innovation and scale up initiative of the EU was shared as a measure to address the investment gap.
Mr Viktors Makarovs
(Special Envoy on Digital Issues at the Mission of Foreign Affairs Latvia) highlighted the need of business to adopt digital technologies to remain competitive; to upgrade the skills of people and the workforce; to upgrade human capital skills; to create values and trust in digital connectivity.
Mr Dmitry Chernyshenko
(Deputy Prime Minister, Russian Federation) highlighted the importance of global cooperation; the development of international legal frameworks to have a common global framework for protection of  personal data; the need for ethical regulations of AI; the harmonisation of international legislation in regulation of the global internet, and the activities of technology companies.
Ms Maria Francesca Spatolisano
(Interim office United Nations Office of the Secretary-General Envoy on Technology) stressed that regulations need to define the purpose of the internet; she also highlighted the initiatives taken by the UN, such as the Roadmap to Digital Cooperation and Our Common Agenda. To encourage startups and small and medium sized enterprises (SMEs) to innovate and use more digital technology, Spatolisano emphasised the need to make SMEs more aware of the benefits they can derive by adopting digital technologies.
Makarovs suggested the encouragement of people to create startups, the creation of friendly policies for SMEs and startups, and offers of direct and indirect incentives such as subsidies. He cited the example of digital innovation hubs to guide entrepreneurs towards employing technology. For encouraging startups and business, from a developing nations perspective, Mahdi shared the need for investing in infrastructure, including power; easing means of doing business; establishing the Innovation Fund and its disbursement; providing legal frameworks and incentives for investors (tax, financial incentives, administrative support incentives ); and sharing of open data in a transparent manner with startups and governments. For underdeveloped markets, financial institutions, regional development banks, and similar institutions should step in, opined Spatolisano. Open source technology needs to be protected, promoted and encouraged, shared Verdier.
On funding models, speakers noted that different options of funding (public money, public venture capital, private equity) should be adopted. The importance of government support and small grants in the first stages of startups was emphasised by
Mr Krzysztof Szubert
(Plenipotentiary for UN IGF 2021, Republic of Poland). Important economic and financing issues need to be addressed by public institutions in cooperation with private actors, suggested Verdier. Czerwinska added that different types of financing are required at different stages of development. She highlighted the need to identify which financial instruments are best suited for supporting innovation and driving technological change and assistance. She shared that in 2020 the EIB group supported over 420,000 SMEs with new financing, employing four million people. This accounted for 40% of the lending volume of EIB.
By Amrita Choudhury
Session in numbers and graphs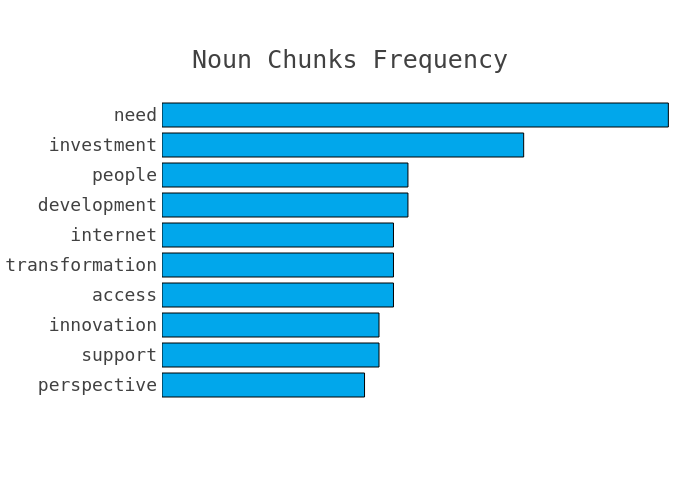 Automated summary
Diplo's AI Lab experiments with automated summaries generated from the IGF sessions. They will complement our traditional reporting. Please let us know if you would like to learn more about this experiment at ai@diplomacy.edu. The automated summary of this session can be found at this
link
.
Related topics
Related event