Child protection online – How to legislate?
Event report
This session on child protection online looked into the status quo of child protection regulation and how it developed in different countries in the last decade. In addition, the discussion revolved around three questions – human rights compliance of children's online safety regulation, the role of stakeholders in ensuring that human rights granted to children are protected, respected, and fulfilled in an online environment, and how to ensure a safe digital space. 
The session opened with the acknowledgement that the child online regulation has come into focus within internet governance discussions, featuring more prominently in this year's IGF. The general trend in child protection online has shifted from self-regulation and co-regulation to government regulation in the last decade.
Looking at the
status quo of regulation of child online safety and protection
, the speakers presented current developments from Egypt, Ghana, the United Kingdom, Germany, European Union, and the private sector.
Ms Hoda Dahroug
(Head of Central Department of Digital Community Development, Ministry of Communications and Information Technology, Egypt) spoke about the Digital Egypt Strategy and building next-generation digital skills, as well as expanding internet access as a basic right. Dahroug emphasised the commitment of Egypt to upholding international treaties related to the protection of children and making the online space safer through regulatory and policy support, implementing industry responsibility and age-appropriate content and policies.
Mr Kenneth Adu-Amanfoh
(Executive Director, Africa Cybersecurity and Digital Rights Organization, Ghana) pointed out the need to protect children's data and safety online. He further stressed the need for a global response, effective cooperation between countries and among stakeholders to ensure the effectiveness of such protection. Adu-Amanfoh presented the example of Ghana's children online policy being implemented through outreach methodology and inclusion in remote and underserved areas.
Ms Beeban Kidron OBE
(Founder, 5Rights Foundation) spoke about the new legislation in the UK – the Age Appropriate Design Code (AADC) – the first-of-its-kind legislation, giving children high privacy for their personal data and instructing companies to change features that use data to expose children to risks and intrusion. She also mentioned the new draft Online Safety Bill, stressing that the mechanism of online services needs to serve children. Pointing out the reform of the German Protection of Young Persons Act,
Mr
Thomas Salzmann
(German Federal Agency for Child and Youth Protection in the Media) explained how various approaches to establish and modernise the protection of minors in the media are put in place. To achieve a holistic concept of youth protection, Germany is expanding from protection by shielding to protection, empowerment, and participation in line with the United Nations Convention on the Rights of the Child (UNCRC) and
General Comment No. 25 on the children's rights in relation to the digital environment
. Salzmann spoke about the introduction of the concept of dialogic regulation, a joint exercise of responsibility by the state, companies, and civil society in achieving child safety online. The EU perspective was presented by
Ms Agne Kaarlep
(European Commission, DG CNECT), speaking about the EU's draft Digital Services Act. Kaarlep spoke about three key challenges – illegal content, insufficient protection of users online, and systemic risks. She emphasised that the child online protection is dispersed in many regulations – such as the General Data Protection Regulation (GDPR), Audiovisual Media Services Directive, and sectoral legislation related to children's sexual abuse material, for example. The private sector perspective was presented by
Mr David Miles
(Head of Safety, Meta – Europe, Middle East and Africa), stating that the period of self-regulation by companies is coming to an end, with more and more countries adopting legislation on child protection online. He also pointed out that the children's safety online needs cross-sectoral collaboration in different forums – tech coalitions, international organisations, as well as IGF.
Mr Mauricio Hernandez
(Data Protection Attorney) added perspective from Mexico stating that there is a need for a shared agenda, regulations, and platform standards for child protection internationally.
Speakers then moved to specific policy questions, the first one on how to ensure that government regulation, self-regulation, and co-regulation approaches to content moderation and child online safety are compliant with human rights frameworks. Kaarlep pointed out the need for proportionality, accountability, and transparency in legislative design, speaking about risk assessment for very large platforms, and the right to redress measures in content moderation, as well as service-specific open-ended measures to protect the rights of the child. Dahroug pointed out Egyptian legislative measures implementing international treaties on the protection of the child, such as the National Cybersecurity Strategy, the Data Protection Law, and the National Human Rights Strategy 2021.
Discussing what needs to be done to ensure the human rights granted to children in the UNCRC are protected, respected, and fulfilled in an online environment and on General Comment No. 25, Kidron pointed out that first, we need to make a societal decision that this is what we wish to do in the political and public arena and start embedding rights of children online in a cross-sectoral approach. Kidron further pointed out the need for the age-appropriate design code and the
IEEE's age-appropriate design standard
published last week.
Tacking the third question on ensuring a safe digital space and the role of stakeholders in protecting vulnerable citizens, including children, against online exploitation and abuse, Salzmann spoke about mandatory dialogue and permanent cooperation and, if necessary, law enforcement between the government, industry, and civil society. He pointed out the possibility to oblige relevant service providers like social media companies and the law enforcement process. Miles added that there is a need to also address the offline component of issues presented in the online environment and deal not only with detection of issues, but also prevention. He further pointed out the benefits of having an informed legislative process with a high level of subject matter expertise, while Adu-Amanfoh stressed that legislation should be inclusive, multifaceted, and designed with a multidisciplinary approach in mind.
Session in numbers and graphs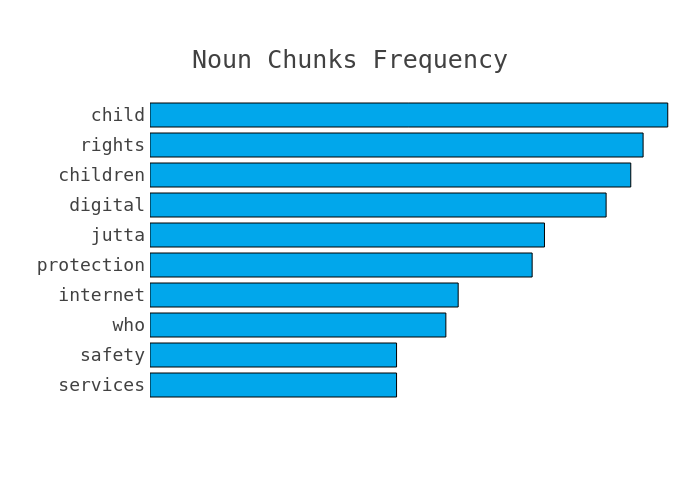 Automated summary
Diplo's AI Lab experiments with automated summaries generated from the IGF sessions. They will complement our traditional reporting. Please let us know if you would like to learn more about this experiment at ai@diplomacy.edu.
The automated summary of this session can be found at this
link
.
Related topics
Related event