All we need is YOUth: connecting young people and ICT
Event report
The internet has brought tremendous benefits to the generation of digital natives, it has changed the way young people communicate, study, and interact with the world.  It opens new avenues for self-expression, self-actualisation, new jobs, and over time, new global communities.
At the IGF, the youth track is becoming a priority. Young people deserve to have a platform. Increasingly more countries should organise their youth IGFs. Youth joining national, regional and youth IGFs in their countries, in their respective regions is a very effective way to be part of Internet governance processes.
This year's Youth IGF in Poland focused on how youth could become better included in policymaking processes, so that they could have a real influence.  There were 80 participants divided into eight groups to work on different fields of governance to come up with actionable insights. Unlike earlier youth IGFs, this one began three months before the IGF event.
Each group tried to answer these three questions: What is the challenge we can observe in their chosen area of internet governance? What is the possible solution? Who is this point of action aimed at? The latter is crucial because it lays down the next steps in finding out who could help young people implement their solutions, aiming to make youth participation more impactful than mere attendance at the event.
Likewise, in Russia, they have set up the Youth Digital Ombudsman (YDO) as one of the results of their national youth IGF. Every day, children and youth around the world face violations of their rights online, such as cyberbullying, cyber grooming, catphishing, etc. And they do not know who to tell. The ombudsperson is that trusted person to discuss such issues with. They use innovative and creative forms of dialogue and build bridges between youth and stakeholders in business, civil society, the state, and the international community. They also help young people promote their IT projects, ideas, and start-ups by giving them an opportunity to present themselves. They participate in local and global forums and hold workshops to educate children and youth and their parents about potential cyber issues.
Their priority is to defend the rights and interests of young people online and they have also developed a special platform called digital assistance. It bridges young people who encounter rights violations in the digital environment with experts, institutions, and organisations that are ready to support them.  However, they believe that the young person alone is powerless. It is essential to engage with other stakeholders and at forums such as the IGF.
The physical world we live in has some inbuilt security measures aimed at protecting children. But this is not exactly the case in the digital domain. Fraudsters, extortionists, sexual predators, and scammers who are harder to identify online. While surfing the web, children may stumble upon pornographic content or violent content without a warning or with a warning that is easy to ignore and bypass.  Thus, the threats children and youth face online, such as cyberbullying or the so-called sexual bullying are far greater than anything any previous generation may have faced within the walls of a traditional school or the communities they live in. These issues are taking a heavy toll on the psychological health and well-being of young people.
Earlier this year, this brought together the leading internet telecom and media companies of Russia to create an alliance for children safety in digital environments. As a self-regulating agency, it works with representatives of civil society, NGOs, academia, and government to create a digital environment, where younger generations can grow, learn, develop, and express themselves safely.  Similar alliances work across the globe. For instance, the European Alliance to Better Protect Minors Online was established in 2017 with the same concerns in mind.
They are looking to build an environment where rules are created through dialogue with the entire society. The digital space needs to be as inclusive as possible.  Therefore, it is necessary for all stakeholders to come together and support the youth and for youth to keep this momentum going even if they do not see the fruits at the beginning. It is a marathon, not a sprint.
By Mili Semlani
Session in numbers and graphs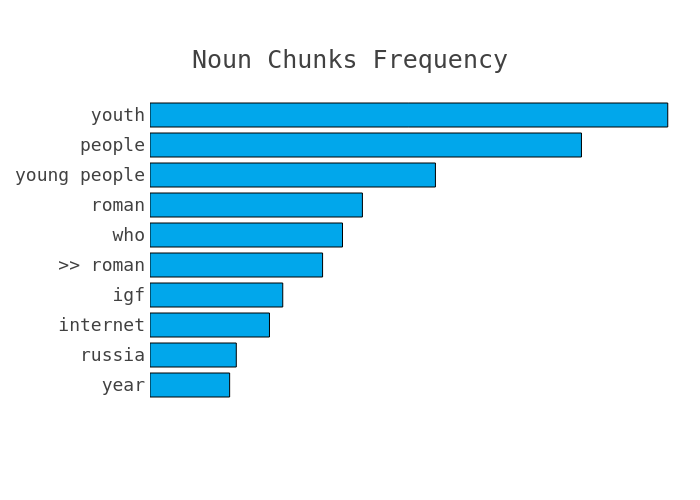 Automated summary
Diplo's AI Lab experiments with automated summaries generated from the IGF sessions. They will complement our traditional reporting. Please let us know if you would like to learn more about this experiment at ai@diplomacy.edu. The automated summary of this session can be found at this
link
.
Related event