GEM-TECH awards 2015
Event report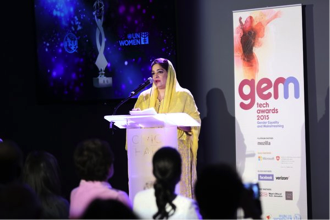 On 14 December 2015, the second Gender Equality and Mainstreaming in Technology (GEM-TECH) Awards event was held in New York. The GEM-TECH Awards recognise that technology is a uniquely powerful means to transform the lives of women and to help address the global gender gap. The first event took place in Busan during the ITU Plenipotentiary Conference 2014. Co-hosted by the ITU and UN Women, the awards highlight achievements in gender equality and mainstreaming. The evening provided an opportunity for attendees to view a showcase of gender and ICT activities, recognise the achievements of the award winners, and celebrate the achievements of women in ICT, but also to recognise the considerable gap that still remains.
Lakshmi Puri, Assistant Secretary-General of the United Nations and Deputy Executive Director of UN Women, observed that it has been 20 years since the Beijing Platform for Action was written, but much of its text is now more relevant than ever, particularly in the area of communications:
Until women participate equally in both the technical and decision-making areas of communications and the mass media, including the arts, they will continue to be misrepresented and awareness of the reality of women's lives will continue to be lacking. The media have a great potential to promote the advancement of women and the equality of women and men by portraying women and men in a non-stereotypical, diverse and balanced manner, and by respecting the dignity and worth of the human person.
Ms Puri stated that 'business as usual' was not what was needed. Instead, 'business as unusual; technology as unusual; communications as unusual will help us establish the 'new normal' of gender equality and empowerment.'
Minerva Tantoco, Chief Technology Officer (CTO) for New York City, noted that since she began her first ICT venture in 1985, she has observed fewer and fewer women beginning to participate in ICT – at one point, she was the only woman in a building of ICT workers. Tantoco ended her keynote speech saying that 'The best way to hire more women…. is to hire more women!'
Mitchell Baker, Executive Chairwoman of Mozilla, noted that she was in no way proud of the fact that, 20 years on from founding a tech company, she was still one of the only female founders of a tech company. She argued that if women were given the opportunities to participate in ICTs, they would eagerly grab those opportunities.
Malcolm Johnson, Deputy Secretary General of the ITU, reported that it was difficult to choose only three GEM-TECH winners from the 150 nominations received from 55 countries. The award winners for 2015 were:
In the category 'Apply Technology for Women's Empowerment': The Research Center of Communication and Development Knowledge Management (CCDKM) (Thailand)

In the category 'Promote Women in the Technology Sector': ​Technovation Challenge (USA)

In the category 'Develop Gender Responsive ICT Governance, Policy and Access': Ministry of Post and Telecommunication​ (Senegal)
In addition, three Global Achiever awards were presented:
H.E. Anusha Rehman Khan (Pakistan)

H.E. Pamela Hamamoto (USA)

Nancy Hafkin (USA)
Related topics