Keynote: Ms Mariya Gabriel
19 Jun 2019 12:20h - 12:45h
Event report
[Read more session reports and live updates from the EuroDig 2019]
Ms Mariya Gabriel (European Commissioner for Digital Economy and Society) praised EuroDIG for achieving great progress since its launch and putting debates on the future of Internet governance high on the European political agenda. She emphasised that the idea of multistakeholderism is now mainstream, but this is not enough since we have to address the challenges of its implementation. Gabriel supposed a reconciliation is possible between historical oppositions of the multistakeholder model and multilateral approach, between bottom-up and top-down, and between a purely market-based approach and state intervention.
Then she mentioned the most prominent challenges of the digital field that have emerged after the World Summit on the Information Society (WSIS) in 2005. They are the lack of trust; centralisation of user data in the hands of a few Internet giants; digital divides in e-services like e-health, e-government, and online financial services; the decreasing levels of privacy and cybersecurity; and finally, mental health problems linked to digital addiction. Tackling these issues will require political decisions by domestic and international regulators. But more than ever, co-operation is needed to foster a convergence of approaches and to combat the fragmentation of the Internet. Digital co-operation will also be paramount to achieve the sustainable development goals (SDGs).
Gabriel welcomed the report 'The Age of Digital Interdependence' prepared by the UN High Level panel on Digital Cooperation, submitted to the UN Secretary-General Antonio Guterres. She reminded that the European Commission has always supported a more empowered Internet Governance Forum (IGF) with a greater role for governments to better reflect the increasing role of digital regulation and to align actor behaviours and interests. It should be done by building a strategic multi-year programme, as well as giving a stronger role to the national and regional initiatives in terms of elaboration of shared norms and principles, and involving Internet innovators to inform about practical solutions to policy issues.
The second important issue is technology governance. Gabriel said technology is not value-free or neutral. 'Indeed, this is about choosing the type of society we want to live in. Do we want a society that is at the service of people or a society where people are manipulated by digital actors with the help of artificial intelligence and big data?' The EU is not hiding from its responsibility and does not hesitate to regulate digital technologies and services, whether privacy, security, openness or fairness are at stake. Gabriel reassured that development of Internet regulation is only at its beginning, because self-regulation has clear limits. However, regulation should be innovative and experimental. She mentioned soft governance mechanisms in the EU such as the multidisciplinary and multistakeholder expert groups: the ethics guidelines on artificial intelligence (AI) and the International Association for Trusted Blockchain Applications (INATBA). In addition, the EU is working on international partnerships with like-minded countries, and with the Mediterranean, Sub-Saharan African, and Western Balkans; covering innovative actions, regulatory alignment in the field of data protection, and Internet governance.
Finally, Gabriel highlighted the importance of Europe's leadership in the innovative Internet governance approach, based on inclusiveness, effectiveness, and relevance. This is where she also sees a fundamental role for EuroDIG and its community.

By Ilona Stadnik
Related topics
Related event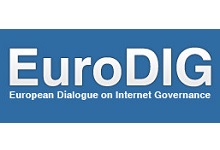 EuroDIG 2019
18 Jun 2019 11:00h - 20 Jun 2019 20:00h
The Hague, Netherlands