Children in the digital age – How to balance their right to freedom and their right to be protected?
19 Jun 2019 14:00h - 15:30h
Event report
[Read more session reports and live updates from the EuroDig 2019]
The session followed the themes raised in the UN Convention of the Rights of the Child (UNCRC). It addressed the question of children's rights online, their awareness of these rights, and what it means to exercise these rights within the Internet.
Ms Veronica Stefan (Co-ordinator and Founder, Digital Citizens Romania) began by stating that adults should teach children about their rights online, because the digital world is still shaped by adults. On the other hand, adults are not necessarily experts on this subject. Stefan underlined that while digital rights belong to everyone nominally, youth and children are most often excluded from the debates on Internet governance. She stressed that while social media is a very powerful tool for campaigning and advocacy, a more structured approach to participation in the digital era is needed; and it should be based on policies, meetings with decision makers, associations, etc. Stefan also highlighted the issue of access to rights rather than awareness of rights.
Mr João Pedro Martins (Youth Ambassador, Better Internet for Kids) stated that children often do not know whether their rights are being violated or not. Martins underlined that the perspective of youth is often given in a raw form, and their messages have to be translated in order to be integrated into legislation or considered in the application of initiatives. He noted that it is difficult for parents to present their children with solutions to online challenges, as often they do not know what mechanisms exist to protect children. He also noted that children should know who has the responsibility to act in situations when their rights are infringed.
Ms Simone van der Hof (Professor of Law and Information Society, University of Leiden) pointed out that the legal language used to discuss a matter related to children's rights online does not resonate with children themselves. She also underlined that it is necessary to understand what children are doing online in order to engage with them about their online activities. Van der Hof also pointed out the issue of the digital divide – there are children that use the Internet for entertainment and socialising, children that use it to further their opportunities, as well as children with problems and vulnerable children. Children are not a homogeneous group and discussions should reflect this.
Ms Eva Lievens (Assistant Professor of Law & Technology, University of Ghent) stated that children are able to recognise what rights they have. She stated that even though UNCRC is 30 years old in 2019, it is a solid instrument whose articles can be reinterpreted in order to ensure the rights enshrined in the Convention are protected in the digital world. She stated that normative ways of involving youth and children exist and that participation by children and youth need to be taken seriously by the policymakers at all levels and by different actors. Lievens highlighted the Council of Europe (CoE) Guidelines to respect, protect and fulfil the rights of the child in the digital environment, an effort of 47 member states of the CoE to adopt a similar approach to these issues. According to Lievens, when it comes to data protection, the responsibility for practices that might actually be harmful or intrusive to children's lives should be on data controllers.
Mr Charalampos Kyristis (Member of the Organising Team, YouthDIG) opined that most adults do not know their own rights, which brings forth the question of who will explain to the children what their rights are. He also stated that more initiatives that support youth participation, such as YouthDIG or SEEDIG Youth School, need to be established. Kyristis pointed out that more digital education on all levels – including parents and teachers – is needed. He also opined that children and youth are afraid to stand up for themselves online because they are afraid they will be subjected to cyber-bullying and bullying.
Ms Liliane Leißer (Project Assistant, Österreichisches Institut für angewandte Telekommunikation) presented an idea developed during YouthDIG 2019 called Smart Active Participative Algorithm (SAPA). The purpose of this algorithm is to replace some of the ads youth are exposed to, while browsing on the Internet, with information about youth participation initiatives. SAPA will suggest differentiated opportunities based on the age of the users, in order to empower the engagement of people of all ages towards youth initiatives through the Internet.
Ms Hildur Halldórsdóttir (Project Manager, SAFT Safer Internet Centre in Iceland) stated that it is important to enhance digital literacy among children and youth. However, it is important to teach them that the same ethics and empathy that apply in real life also apply online. Halldorsdottir also noted that digital literacy contains critical thinking. Parents need to be educated on children's rights to protection and then relay this knowledge to their children.

By Andrijana Gavrilović
Related topics
Related event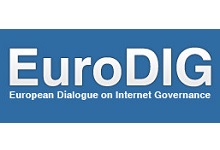 EuroDIG 2019
18 Jun 2019 11:00h - 20 Jun 2019 20:00h
The Hague, Netherlands