Surveillance, laws and governments vs. internet rights
Event report
This session aimed at triggering a debate on the current state of affairs regarding surveillance and laws when it comes to Internet rights or human rights in the digital world.
Different approaches by different political systems were highlighted. Government regulation and its positive or negative effect on people's rights online was placed at the centre of the conversation.
The moderator, Mr Alexander Isavnin (Head of International Cooperation, RosKomSvoboda) gave an introduction to the session, saying that the Internet was developed and grew successfully without any government interference, and that today, laws and international treaties have led to broad Internet development, with pros and cons. Among the pros he mentioned: communication secrecy enforcement, consumer rights protection, business development protection, (inter)national security, and sustainable development. He said that the Internet is successful without regulation, and that cons included: new options for mass surveillance, excessive identification and data retention, content blocking, imitation of law enforcement activities, corruption, protectionism, law enforcement agencies (LEA)/government exceptions, and extensive regulations.
Ms Natalia Goderdzishvil (Ministry of Justice of Georgia) said that Internet rights are conventional human rights in the digital era. If there is no control over the legitimate power of the government, 'we will end up with the digital 1984'. She said that states should reasonably balance private and public interests, while protecting and ensuring rights. 'This is the only way to achieve the exercising of rights as well as specific public purposes.' She also noted the need for the publicity, transparency, and accountability of government activities. Laws should be constructed in such a way as to enable humans to exercise their Internet rights and not just to have boundaries when an authority starts defining human rights. She concluded that it is about who controls the information and how it is processed. In Georgia, e-government agencies have more control over citizens data when it comes to its usage and processing, than the law enforcement.
Ms Martina Ferrancane (Research Associate, European Centre for International Political Economy (ECIPE)) gave the trade and data flow perspective. In the World Trade Organization (WTO) there is a commitment by Member States to liberalise trade of goods between countries. 'The reason that we are fragmenting the Internet today is because each country has their own value', said Ferrancane. Content blocking and regulation creates an impact on the communications infrastructure. She asked if there is a need to change the way in which infrastructure is designed in order to respond to the needs of countries to impose their regulation within their national borders.
Mr Peter Kimpian (Data Protection Unit, Council of Europe) spoke about surveillance and the protection of human rights within the rule of law. He noted that the Convention on the Prevention of Terrorism foresees the access to data by law enforcement only under certain conditions. The Data Protection Committee recently adopted a guide on the use of data by the police. He reminded those present that an international court, which can make binding decisions on member states, has established the legal requirements for surveillance.
There was an observation from the audience that governments can do a lot without listening to everybody's communications. They can also guarantee access to the Internet and make sure it is 'up-to-date and functional'. When it comes to the regulation, the big question is 'how do we regulate?'. Security is a common good, and 'when we start factoring systems we create a perfect entry point for criminals and for abuse'. It is important for individuals to communicate, but at the same time if regulation works in a problematic way 'we may actually decrease the common good rather than increasing it'.
Another audience member reminded the rest that international law gives everyone the right to privacy, but that for the law enforcement, anonymity is challenging. 'Facebook and Google have far more data on everyone in the room that any law enforcement agency, but we still use them.'
Related topics
Related event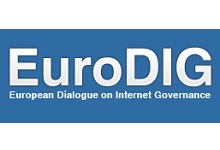 EuroDIG 2018
5 Jun 2018 07:00h - 6 Jun 2018 15:00h
Tbilisi, Georgia