Copyright reform in Europe: Expectations and reality, benefit or harm
Event report
The moderator, Mr Bernhard Hayden (President, Young Pirates of Europe) started the meeting by clarifying that the objective of the session was to figure out the expectations and to identify the benefits and harms of copyright reform in Europe. He urged participants to come up with reflections on what they imagined would be the worst and best aspects of the legislative initiative.
Ms Natalia Mileszyk (Author, Communia Association and Public Policy Expert, Centrum Cyfrowe Foundation) highlighted that the copyright regime in place was structured around the year 2001, before many of the current issues had taken shape. She mentioned that the characteristics of the digital environment make it increasingly difficult to differentiate users from creators, stressing that many people, especially the youth, often see themselves on both sides of that relationship. Mileszyk called for a change in narrative from conventional groups of intellectual property rights holders, arguing that users are confused by copyright, and that the path to reform might be preventing the EU from attaining the intended position of global leadership in issues like artificial intelligence. The reform, she noted, is showing signs of being part of a privatisation of the law enforcement process in the EU, in which large platforms are more empowered. But since they are not legally obliged to take into account the interests of users and creators, they can base their decisions on business reasons, and not on openness and other values that will benefit and promote the public interest. On the general prohibition in the reform concerning the use of snippets without a licence, Mileszyk wondered if copyright was an adequate tool to solve the problem of a very restricted number of entrepreneurs. It bears the risk of severe discrepancies among states, each of them trying to implement and tackle what they see as an infringement.
Ms Ekaterine Egutia (Deputy Chairperson, National Intellectual Property Center of Georgia)shared the real-life experience of Professor William Fisher, whose on-line lecture about copyright was blocked on YouTube. Her concern is thatautomatic content blocking algorithms and tools that work as ex antearbiters pose a problem, since they could hinder legitimate use of protected material.
Mr Nikoloz Gogilidze (Chairman, National Intellectual Property Center of Georgia (Sakpatenti)) pointed out that income is often generated by regional, national and local authors, and then this income is collected by platforms which are located in a different place. He called for new tools to help balance this situation, ensuring that copyright holders have the necessary incentive to create and produce more work, stressing that threats appear when legislation does not respond. He mentioned content-sensitive automation monitoring and removal measures as additional tools to improve enforcement, to be implemented by service providers. The providers would absorb the cost of this monitoring, shifting it from the authors who currently bear it Gogilidzeacknowledged the risks these tools pose to freedom of expression, of information and of access, which is the reason why he called for these prospective filters to be as objective and clear as possible.
Ms Karmen Turk (Attorney-at-Law, Triniti) called the audience's attention to the fact that the Electronic Commerce Directive expressly prevents member states from imposing a general legal obligation to monitor service providers, and that the copyright directive should not be able to circumvent this restriction unless the discussion on other one is reopen. She also reflected that law must have an objective, and that this reform seems to aim at market failure, an attempt to protect the conventional press publishing business models. If that is the case, Turk concluded, these legislative initiatives must provide evidence that the proposed model is more efficient and that the proposed trade-off will be reasonable.
MrTapani Tarvainen (Vice-president, Electronic Frontier Finland) stressed that the burdens of automated content control tools might be too heavy on open and essentially collaborative projects such as Github and other academic initiatives, arguing that having to implement the filter would simply kill them. He said that the reform seemed intended to destroy small independent disruptive operators and protect big players. Tarvainen mentioned the dilemma of conventional media outlets searching for a prohibition of snippets, since they need search engines to attract traffic.
Mr Giacomo Mazzone (Head of Institutional Relations and Members Relations South, EBU-UER European Broadcasting Union) argued that the aim of the reform according to what the sector understands from it is to charge large operators who earn a lot of money from their service, and who are not currently under the same obligations of conventional broadcasting operators. He said the system in force treats traditional operators and new business models in a totally different way. He mentioned EU broadcast operators as an example, saying they can be sued anywhere, while Google initially only has to take content down. Mazzone stressed that each publisher or country alone cannot resist big platforms and that the digital disruption is changing the way we benefit from our rights. He asked the audience what the future of information would be if no media news operator had the economic resources to provide the tools for a more solid production of independent content. Mazzone showed his concern about a practice according to which large global platforms suffocate the conventional news businesses and then buy them. He added that digital illiteracy contributed to this negative situation and concluded by saying that if the idea is to protect smaller bloggers, the legislation should be made clearer and directed only to more powerful operators.
Related topics
Related event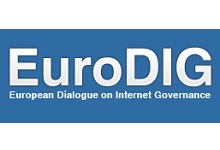 EuroDIG 2018
5 Jun 2018 07:00h - 6 Jun 2018 15:00h
Tbilisi, Georgia