Converging markets and blurred borders: Challenges for e-commerce in Europe
Event report
The moderator, Ms Kristina Olausson (Policy Officer, European Telecommunication Network Operator's Association (ETNO)), opened the session by stating that the disparities in e-commerce between Eastern and Western European countries are decreasing.
This is reflected in the growing interest in e-commerce by governments, which started more intense discussion on this issue at the World Trade Organization.
Mr David Lawrence Lee (Chief Executive Officer, European Business Association Georgia (EBA)), sought to inform the audience about the relevant updates in e-commerce in Georgia. As Lawrence Lee stressed, e-commerce is relatively underdeveloped but there are bright prospects for future developments. Georgia has high 4G coverage and the ease of doing business in the country is one of the highest in Europe. He remarked that the necessary foundations for e-commerce are in place, but that the uptake is yet to come. The main challenge is the lack of appropriate infrastructure, and startups often struggle to find funding. Lawrence Lee said that the EBA, which has 60 members, is helping their members to get more involved in e-commerce. The market is currently Europe-focused and there is potential for further co-operation between Georgia and Europe. As examples of good practice, he mentioned the GeorgianPost and Maleo. However, before advancing its co-operation with Europe, Georgia should set a new strategic path in economic development and clarify its objectives towards Russia and Europe.
Mr Tornike Jobava (Project Manager, Broadband for Development , Georgia's Innovation and Technology Agency (GITA)), presented several projects implemented by GITA on strengthening e-commerce. Agreeing with Lawrence Lee, Jobava highlighted the lack of infrastructure and access as the main issues for e-commerce in Georgia. High installation costs and the lack of relevant skills pose a challenge for doing business online. According to Jobava, e-commerce capacity development programmes have proven to be a good first step in helping small and medium enterprises (SMEs) to be online. Tailored training programmes for micro, small, and medium-sized enterprises (MSMs) have enabled upcoming entrepreneurs to maximise the benefits of e-commerce in Georgia and in Europe.
Mr Jonathan Cave (Senior Tutor in Economics, Warwick University, and Senior Research Fellow at Rand Europe), introduced a wider perspective on the relationship between developing countries and e-commerce. Cave said that 'There is a fragile balance between e-commerce and commerce' that can be distorted if consumers are not aware of 'channel biases'. 'Channel biases' refer to the preference of one type of purchasing, and e-commerce should not fully replace commerce, but complement it. Being aware of the 'consumer culture' is important and e-commerce as a policy objective should be a carefully used tool. Opening up the market for e-commerce in developing countries can also damage the local entrepreneurs once big global players enter the market. According to Cave, international development expertise and local experimentation should work together to find solutions that are country specific.
In terms of improving the infrastructure, Cave highlighted an example from the United Kingdom, where better infrastructure led to faster broadband and increased the digital divide between the rural and urban areas.As main challenges to converging the Eastern and Western European markets, Cave underscored several points. First, in the European context, price discrimination based on geographical location should be addressed. Second, countries need to enable competition, but not at the expense of the consumer protection policies. Third, regulators should be aware of the dangers of obscuring the information needed for assessment, as well as of the hidden impact of algorithms. Finally, it was agreed that the multistakeholder platform was an appropriate approach to advancing e-commerce in Europe.
Related event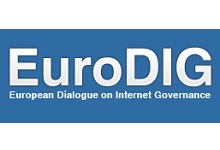 EuroDIG 2018
5 Jun 2018 07:00h - 6 Jun 2018 15:00h
Tbilisi, Georgia