Competition in a data-driven world: How to ensure sustainable growth?
Event report
This session was moderated by Ms Maarit Palovirta (Senior Manager Regional Affairs Europe, Internet Society) and addressed how data is giving rise to a new economy. The impact of international data flows on economic growth has been larger than that of traditionally traded goods. Favourable policy and regulation can enable the data economy to increase even more in Europe and elsewhere.
Mr Levan Kobakhidze (Chief Digital Officer, Beeline Georgia) emphasised that competition in the data-driven world is global. Currently, there are 2.5 billion digital costumers around the world. Almost 2 billion customers transact through mobile devices. These customers have different usage behaviour patterns compared to traditional customers, and that has an impact on the telecom industry, which has had a tough time. Telecoms are declining in revenue because customers use much less traditional calls and sms. Customers migrated these services to the Internet. Telecoms have reacted to that in four different ways: (1) analysing customers' data usage to improve their offer; (2) creating their own personal Internet platform; (3) providing free apps in cooperation with various industries, such as entertainment and food discounts; (4) re-marketing, using chat bots to have direct contact with the clients.
Mr Pearse O'Donohue (Director for Future Networks, Directorate-General for Communications Networks, Content and Technology, European Commission) stressed that the free flow of data is essential for the data-driven economy and that the primary target of the European Commission (EC) has been to ensure that the European single market and the European Economic Area are one single data space. There are still restrictions and localisation requirements of different degrees, but the legal proposal which is at the final stage of negotiation would seek to remove the possibility for Member States to impose data localisation requirements, except in the very extreme cases of national security. Europe has to ensure a certain degree of transparency, openness and fairness in the relationship between platforms, particularly when they hold a dominant position in the market. The EC has been reluctant to regulate in this area, but it wants to ensure a level playing field. There are competition rules that could come into force in extreme cases. Businesses need to co-operate and help institutions to tackle abuse. The European Union has been accused of protectionism in introducing the General Data Protection Regulations (GDPR), but these rules aim to protect the personal data of the citizens, even if they pose some barriers.
Ms Martina Ferracane (Research Associate, European Centre for International Political Economy (ECIPE) and Cyber Fellow, Columbia University) mentioned that the restriction of data flows is one of the main challenges to the digital economy, because it fragments the Internet. According to Ferracane, developing and developed countries have been restricting data flows and imposing increasing restrictions to the movement of data in four different ways: 1. Bans to transfer data across borders; 2. Local processing requirements; 3. Local storage; 4. Conditional flows.
Ferracane stated that digitisation is threatening and transforming jobs. Investments in education should be made so that everyone can benefit from the digital economy. Redistribution is also an essential aspect of the transition to the digital economy, ensuring that people who are going to be left behind are supported.
Ms Piret Urb (Counsellor, Division of International Organization, Ministry of Foreign Affairs, Estonia) said that it is a challenge for governments to foster citizens' trust in relation to the usage of personal data. The Estonian government has done a lot to gain its citizens' trust. The data that the state has on its people is also visible to them on their ID cards. It gives the citizens 'control' over their personal data, because they are aware of what the states has in terms of information. Estonia has also recently created the innovative e-residency programme.
Mr Jean Gonié (Group Director Public Policy, VEON) stressed that sustainable growth depends on a level playing field in terms of data usage. The understanding of the data value chain, the way that data is collected, stored and analysed by lawmakers, is necessary to achieve sustainable economic goals.
Related event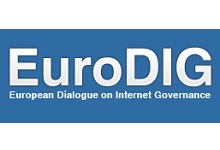 EuroDIG 2018
5 Jun 2018 07:00h - 6 Jun 2018 15:00h
Tbilisi, Georgia