Blockchain: A competition to governments?
Event report
This session was moderated by Mr Jörn Erbguth (Consultant on Blockchain, Smart Contracts and Data Protection and lecturer, Geneva School of Diplomacy and Université de Genève) and addressed how blockchain decentralises trust, and remains independent from governments, public authorities and traditional business institutions.
Mr Olivier Bringer (Deputy and Acting Head of Unit, Next Generation Internet Unit, Directorate-General for Communications Networks, Content and Technology, European Commission), who is in charge of the next generation Internet initiative, mentioned that one of the goals of the European Commission (EC) is to build an Internet that citizens can trust and that serves mankind. The Internet has to be trustworthy, sustainable, secure and inclusive. One key technology for that is blockchain. It will allow more direct interactions and increase user control. It is a key building block of the future of the Internet. Blockchain technology started with cryptocurrency and the financial sector, and it is now being deployed in public administration, logistics, and healthcare. The EC has funded, and will continue to fund, projects to ensure and improve blockchain technologies.
Ms Marian Turashvili (Head of project, National Agency of Public Registry in Georgia) reported that Georgia has implemented blockchain technology in property and land registry, and the next step will be to use the technology in the business registry.
Mr Nestor Dubnevyc (Partner at lexnet.io, CLO Patentbot, Senior Associate at Juscutum Attorneys Association, Ambassador KyivLegalHacker) stated that he has been working on developing enhanced processes regarding the registry of trademarks and protection of intellectual property rights. According to Dubnevych, the use of blockchain will improve the Ukrainian economy.
Mr Walid Al-Saqaf (Senior Lecturer, Södertörn University) believes that blockchain technology could have a great social impact. It can improve the detection of fake news or even preserve property rights. He mentioned that the Internet is instrumental to developing blockchain because of its transparency and decentralisation. In addition, blockchain has removed third party agency and has changed our current governance paradigm. Governments should use more blockchain technologies and should be careful not to over-regulate before fully understanding, implementing and testing it. If on the one hand, blockchain will replace human resources and compete with governmental authority, on the other, it will improve the transparency of government transactions.
Ms Olga Duka (CEO, Zeus) stressed that blockchain technologies will impact the future of governance. Public services will go digital and blockchain will be used to ensure public and private transactions. Bringer added that the EC has been cautious in regulating blockchains. According to him, they have already invested around € 80 million on projects related to blockchain and the aim is to fund €300 million more until the end of 2020. Bringer also mentioned that there are some environmental issues at stake in the usage of bitcoin and other blockchains. Currently, the technology uses a lot of energy and there is a need to find creative solutions to it.
Related topics
Related event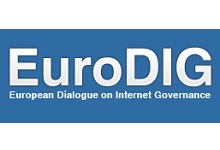 EuroDIG 2018
5 Jun 2018 07:00h - 6 Jun 2018 15:00h
Tbilisi, Georgia