NRI assembly: European contribution to global IG process
Event report
The session brought together national and regional Internet Governance Forum (IGF) initiatives (NRIs) from Europe, to discuss how to best present themselves at the upcoming IGF meeting, which will take place in December 2017, in Geneva. Opening the session, Ms Sandra Hoferichter, EuroDIG Association, mentioned that having the global IGF in Europe offers an opportunity to European NRIs to showcase their work. As Europe is the continent with the largest number of NRIs, this brings it to the forefront of Internet governance discussions.
Ms Lousewies van der Laan, Board of Directors of the Internet Corporation for Assigned Names and Numbers (ICANN), noted that, since the multistakeholder model of Internet governance seems to be working well in Europe, this is something that NRIs in Europe can showcase at the IGF. She further elaborated on the need to make IGF iniatives more result-oriented, by moving from a simple identification of Internet-related challenges, to trying to come up with solutions to address such challenges. By not taking the multistakeholder model to this next level, we risk giving an excuse to those who argue that this model does not work. Mr Yrjö Länsipuro, Internet Society Finland, commented that there is, indeed, a need to advance from dialogue to concrete actions, but this is a dilemma that the IGF community has been trying to address over the past 10 years – how to create a bridge between the mandate of the IGF and the reality of today.
During the discussion, it was said that many IGF initiatives face a difficulty in bringing in more actors from the private sector, and, to some extent, governments into their processes. Mr Jorge Cancio, Federal Office of Communications of Switzerland, mentioned that in order to address this challenge, the initiatives need to address those issues that are really relevant and pressing for these stakeholder groups. Having a programme focused on concrete and challenging issues (e.g. hate speeches and fake news) will help attract more stakeholders. Ms Sorina Teleanu, DiploFoundation and South Eastern European on Dialogue on Internet Governance (SEEDIG), mentioned that a positive development was noticed at the SEEDIG 2017 meeting, which had increased participation from both the private sector and governments. Ms Marianne Sakalova, E-baltic.org, commented that when it comes to national IGF initiatives, the involvement of various stakeholder groups is largely dependent on the national context. In some cases, governments are driving the processes, while in others, it is the civil society or the private sector.
Mr Chengetai Masango, IGF Secretariat, mentioned that the IGF 2017 meeting will give space to NRIs to show what they are doing at the national and regional level. When planning their presence at the global IGF, NRIs should have a multi-year approach in mind, and how the activities they plan for IGF 2017 could lead to other activities in the following IGF meetings.
After this initial round of discussions, Hoferichter asked participants to try to come up with concrete suggestions on how European NRIs can present themselves at the IGF 2017 meeting, possibly in the context of a European forum. One idea was to allow NRIs to talk about the most important Internet governance issues and challenges tackled at their meetings. Taking one step forward, NRIs could try to identify whether there are common positions among themselves on any of the addressed issues. At the same time, challenges, good practices, and success stories in running IGF initiatives could be another topic for discussion at a possible European forum. Finally, it was suggested that European NRIs should also showcase the connections that exist at the European level between national IGFs, SEEDIG, and EuroDIG.
Building on these suggestions, it was agreed that the EuroDIG Secretariat would invite European NRIs to map three 'hot topics' discussed at their meetings, three challenges they face in their work, and three aspects that work well at NRIs and can be seen as success stories. Once this 'map' is created, discussions will continue on how to best plan a European NRIs session at the IGF, and both existing and under formation NRIs in Europe would be invited to contribute.
Participants were also reminded that EuroDIG traditionally has a booth during the IGF meeting, and that there is a joint booth for NRIs from around the world; these could also be used to better promote the work of European NRIs. A suggestion was made to try to prepare a brochure of European NRIs, with basic information about IGF initiatives across the continent, which would then be presented at the IGF meeting in Geneva.
Finally, it was noted that the idea of having European NRIs showcasing their work in a dedicated session or via booths during the IGF 2017 meeting should be complemented with ensuring that there is a strong European voice in the main sessions and workshops, from all stakeholder groups. NRIs should encourage their communities to be active both during the planning process for the IGF, and during the meeting itself, by contributing their views and experiences to the discussions.
Related topics
Related event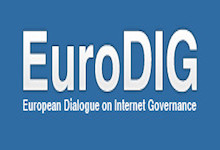 EuroDIG 2017
6 Jun 2017 08:00h - 7 Jun 2017 17:00h
Tallinn, Estonia
Related processes