How I am affected by internet governance
Event report
The open mic session at EuroDIG 2017 was moderated by Mr Gert Auväärt, Cyber Coordinator at the Estonian Ministry of Foreign Affairs, and touched upon different topics.
The engagement of youth at EuroDIG was one of the highlights of the session; youth participants are engaged in two programmes: YouhDIG and CopyFighters. Their work was complimented and participants were encouraged to support them since they will carry on the Internet governance discussions and the multistakeholder model in the future.
Mr Michael Oghia, YouthDIG participant, called attention to how sustainability is intertwined with the future of the Internet. He noted that access and sustainability are intrinsically connected, as much as hunger and food waste are. He called upon participants to adopt a transcending attitude that considers the impact of current policies and regulations on youth and future generations.
The role of EuroDIG was yet another point of interest. Mr Nigel Hickson, Internet Corporation for Assigned Names and Numbers (ICANN), praised EuroDIG for the engagement of youth. EuroDIG has a real sense of anticipation and urgency that he hopes will install freedom and innovation to make sure there is a global Internet in the future, and that national strategies do not break down the Internet. Mr Chris Buckridge, RIPE Network Coordination Centre, added that EuroDIG and the Internet Governance Forum (IGF) are places where these ideas start but they are not necessarily the place where decisions are going to be made about Internet governance. This is the place to start to get involved and learn how the process works.
Mr Wolfgang Kleinwatcher, Aarhus University, referred to CyCon 2017, where delicate cyberspace discussions were held a week ago. 'We have moved on from a cold war to a cold war of codes', one of the CyCon participants noted. Kleinwatcher explained that there is a need to avoid a cold war and move to a digital détente, and to have more co-operation and more trust on the Internet. This was further affirmed by Ms Lousewies van der Laan, ICANN Board of Directors, who accentuated the importance of the multistakeholder model as the only way forward on the Internet. Unless relevant stakeholders co-operate to make this model work and solve relevant Internet problems, governments will push to take over the Internet, and the governance model will be under threat.
Liability as the big elephant in the room was another challenge pinpointed by a representative from the commercial sector. He elucidated that rule of law and dispute resolution are important to ensure the process is right. The Internet is global in its reach and hence it is important to have a governance structure, liability model, and input from commercial managers who are good at managing such risks. Another participant representing the business sector accentuated that business is keen to take up different responsibilities and EuroDIG is the best place to do that.
Sustainable development was addressed by Ms Louise Bennett, BCS, who expressed her disappointment that the IGF and EuroDIG did not take part in producing the World Bank moderated document: Principles on identification on sustainable development: towards the digital age. The document, which outlines ten fundamental principles on inclusion, design and governance in line with the EU General Data Protection Regulation, was developed by developing countries. This was further asserted by Mr Walid Al-Saqaf, Internet Society, who explained that the Internet affects everyone; whatever happens in Europe affects people in the Middle East. Policies, thus, cannot be confined to the region but have to be global. Al-Saqaf urged participants to speak to people from other regions who might be facing challenges but do not have a voice.
Ms Xianhong Hu, United Nations Educational, Scientific and Cultural Organization (UNESCO) noted the gender balance among the audience and praised EuroDIG's contribution to global Internet governance. She also promoted the Internet universality indicators developed by UNESCO, and called for the adoption of principles that preserve the openness of the Internet and multistakeholderism in order to reap the benefits of the Internet.
Related topics
Related event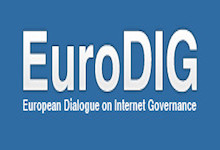 EuroDIG 2017
6 Jun 2017 08:00h - 7 Jun 2017 17:00h
Tallinn, Estonia