EuroDIG 2017 welcoming address
Event report
The President of Estonia, Ms Kertsi Kaljulaid, started the conference with welcoming remarks.She noted that we are all connected – by optical cables and computers – but mostly by our faith in human development and freedom. We believe in free and fair elections, the rule of law, an independent judiciary, and human rights and freedoms. In modern society, free Internet is fundamental as it affects culture, the economy, communications, governance systems, and international relations.
Nonetheless, security should not be used to restrict the freedom of expression since security and freedom are not mutually exclusive, she emphasised. Securing online interactions is a precondition for enjoying Internet freedom. She gave the example of Estonia which balances between security and freedom through providing a network of public and private e-services based on a secure online identity. The country is also proud to be, as per Freedom House, the first in the world in Internet freedom.
Kaljulaid highlighted that today, much of the world's commerce and communications pass through the Internet and hence the benefits of e-services outweigh the investment costs to create and maintain them. Estonia provides effective e-services that save 2% of the GDP. In this regard, she further referred to the World Bank 2016 report, which underscored that connectivity does not inevitably result in digital dividends. Digital technology transforms societies if supplemented by policies that support digital adoption.
Finally, she mentioned that Estonia will take EU presidency soon. Their presidency has a strong digital agenda that focuses on strengthening the single digital market, increasing solutions for cross-border e-services, and facilitating strategic discussion among member states as a cybersecurity strategy is expected in 2017.
The President of Lithuania, Ms Dalia Grybauskaite, commenced by noting that digital society is more competitive and democratic because it allows citizens to express their opinions. However, it remains a tool for European integration, and competitiveness depends on the political will to integrate. 'A lot of people look to us because we should not only lead, but also help other countries. We have many events in this area and we hope that they do not only demonstrate our knowledge but also our willingness to introduce all areas of our life including digitisation and Internet', she alluded. Europe is used to living in this environment, but it is also realistic about the threats entailed. Such risks should be challenged, not only through military exercises and deterrence, but through developing capacities and being innovative, competitive, integrated and knowledgeable. She finally said that she hoped that the Estonian presidency will take the lead on that.
The final remark was made by Ms Sandra Hoferichter, Secretary General, EuroDIG Association, who provided an overview of the history of the Internet policy dialogue in Europe. In 2008, EuroDIG was one of the first initiatives to discuss Internet governance after the establishment of the global IGF. What started as the idea of ten enthusiastic individuals in a café in Paris, four months later led to a meeting hosted by the Council of Europe, to discuss the potential of this dialogue. Now, there are more than twenty national and regional Internet governance initiatives across Europe, committed to the multistakeholder model.
In her talk, she noted that although many governments in Europe and around the world are committed to multistakeholderism, it is not considered to be the model of the future and forums like this are sometimes questioned vis-à-vis the impact they make. In many parts of the world, legislation is made without consultations with the relevant stakeholders. The digitisation in our life sometimes happens without an option to opt out. Yet, most users do not really see the need to be engaged in Internet governance. It is thus the aim of EuroDIG to raise awareness of the challenges ahead and to facilitate discussions, but not to finalise them. Over the past years, the discussions at EuroDIG focused on the European digital single market and industry 4.0. However, recent developments have shown that some people fear the digital revolution that goes along with the loss of their workplace and privacy. Therefore, 'we are here looking at the digital future from a different angle, to discuss the promises and pitfalls', Hoferichter concluded.
Related topics
Related event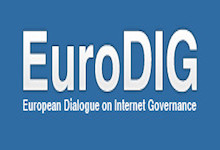 EuroDIG 2017
6 Jun 2017 08:00h - 7 Jun 2017 17:00h
Tallinn, Estonia