Digital citizenship, integration, and participation
Event report
The objective of the session was to discuss the meaning of digital citizenship; define the level of e-accessibility, obstacles, and risks; and explore issues such as the creation of secure digital identity and of a borderless digital society.
The moderator of the session, Ms Birgy Lorenz (PhD, Scientist at Tallinn University of Technology Centre for Digital Forensics and Cyber Security (project Cyber Olympic)), presented the Estonian digital society model.
Mr Alex Wellman (Head of Marketing, Estonia Investment Agency), elaborated on Estonia's e-residency programme, the advantages for business, the benefits from digitalization, and the difference of the initiative from countries providing tax benefits.
Ms Clara Sommier (Analyst, Public Policy & Government Relations, Google) emphasised the importance of accessibility for all in a digital society, along with the openness of the Internet, finding your voice online, and the ability to empower the disadvantaged and get them in the mainstream.
Ms Sandra Särav (PhD candidate at University of Lausanne, Switzerland) stressed that trust is the key to digital citizenship. She also emphasized the need for global citizenship.
Ms Marianne Franklin (PhD, Professor of Global Media and Politics, Goldsmiths University of London, UK and the Co-Chair of the Internet Rights and Principles Coalition at the IGF) noted that migrants, refugees, and asylum seekers need to be considered when discussing citizenship. It is important to define the digital citizen and to understand the issues holistically. She questioned whether digitisation or citizenship comes first. Franklin believes that the design of any digital framework for citizenship is critical and should not be restrictive. She emphasised the importance of design of the systems and the importance of having alternatives in order to avoid overreliance on one system. On the question of cross-border digital citizenship, it is important, she said, for countries to agree on some underlining principles.
To address the issue of digital skills of older people, Mr Haris Kyritsis (Greek Safer Internet Centre youth panel) shared the example of youngsters having digital skills, teaching older generations how to use this platform. Sommier suggested using a blend of online and offline options. Sarav emphasised showing and teaching elders how to use the Internet.
Mr Raed Yakoub (Research Associate at Goldsmiths, University of London) added that there may be different ways in which a group of people may be discriminated against owing to requirements for different identification and authentication documents than the ones they have. He proposed creating e-societies and e-residents as ways to encourage inclusion.
There was also a discussion between Sarav and Wellman on the advantages and disadvantages of having a single identity to stop digital threats.
On the question of the possibility of setting up a scrutinising body to ensure citizen data is not abused by any government, Sarav suggested the need to recognise cross-border interoperable services while Sommier suggested sharing only legitimate data with governments on a case-by-case basis.
Responding to the question of youth participation and their lack of trust in government, Sommier noted that e-participation is important, but that a suitable space needs to be created so that the voice of the youth can be heard. Such an initiative she believes needs to be taken at the political level. Kyritsis believes that digital citizenship can be an option to engage the youth. Franklin added that participation needs to be encouraged in many ways and on many levels. Having youth role models was also a suggestion.
Responding to the question as to what would be the perfect digital society, Sarav suggested the existing one, as there cannot be anything which is perfect; for Kyritsis, it is one where privacy and security issues are addressed; for Sommier it is when the Internet is open and everybody can access it safely. Wellman suggested looking at things from a higher level, while Franklin will be satisfied when citizenship is defined as inclusive participation and success is measured in terms of inclusion of disadvantaged in the society.
Ms Oliana Sula (Lecturer at Faculty of Business, Universiteti "Aleksander Moisiu" Durres) summarised the discussion, stating that the Estonian model can be termed as a best practice. She noted that models need to be customised and there is a need to make different systems more interoperable. Models should define digital citizenship and distinguish it from digital residency as well as define digital inclusion and how to address the disadvantaged to improve digital participation and regulating competition.
Related topics
Related event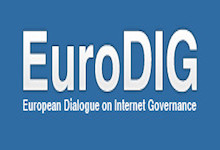 EuroDIG 2017
6 Jun 2017 08:00h - 7 Jun 2017 17:00h
Tallinn, Estonia