Technology, data, and global trade: New pathways of development
1 Apr 2019 15:00h - 16:30h
Event report
[Read more session reports and live updates from the UNCTAD E-commerce Week]
The session moderator, Mr Zhao Quan (Trade Policy Advisor International Trade Centre) began with a brief overview of what the session will cover: the impact of digital transformation on global trade, investment, and development.
The first panellist, Mr Alvaro Cedeno (Consultant and recent former Ambassador of Costa Rica to the WTO Intelligent Tech & Trade Initiative), spoke on his concern over the growing gap between the advancement of technology and technological regulation, and his concern over the need for a global consensus towards an agreement to regulate e-commerce.  Cedeno mentioned three upcoming technological revolutions that will need regulation: first, what machine learning can do with trade; second, a revolution in accountability (in which he mentioned the use of blockchain technology); and, third, the aid that quantum computing provides in simulating potential economic benefits. Dr Mira Burri (Professor at the University of Lucerne) shared a similar concern to that of Cedeno on the necessity of future trade rules to regulate future technological advancement. She mentioned that some developed countries, such as Switzerland, still lack legislation on digital trade strategy. Mr Doherty Sean (Head, International Trade and Investment World Economic Forum) addressed the need of a change in present trade policy. He addressed the issue that policy-makers can continuously make changes as technology improves or propose legislation that will cover any future technological advancement. If change were to take place, either domestic or administrative change needs to be considered.
The session included Ms Emmanuelle Ganne (Author of the WTO report: 'Can Blockchain revolutionize international trade?'), who addressed how technological innovations, such as blockchain, will impact future trade. She reported that with an emergence of several platforms using trade finance, with the application of blockchain technology, the time needed to process transactions can be reduced from 5-10 days to a few hours, and include a reduction in the cost. This revolutionary technology reduces the need for human trust by tracking and transparency, thus building trust between sectors in the supply chain industry. She listed other applications of this technology, such as customs procedures, transportation, and logistics. Mr Shige Zhang (Senior Trade Expert and Acting Head of Trade Facilitation and Market Access Huawei Technologies) focused on 5G and AI on the shaping of global trade. The rise of new technology impacts not only international trade, but daily life, including mobile payments— reducing the need to carry cash and reducing crime. 5G will be different from previous generations in the sense that it is faster, safer, more reliable, and able to move large amounts of data, which will contribute to e-commerce. The facilitation of AI in language translation will aid cross border commerce even more in the future; thus, regulation is needed to address these changes. Opportunities and challenges of small and medium sized enterprises (SMEs) in developing countries was touched on by Mr Rajesh Aggarwal (Chief, Trade Facilitation and Policy for Business, Division for Market Development, ITC). He suggested that many smaller countries are hoping to grow in e-commerce, which will benefit international buyers the most; it will also benefit medium to smaller enterprises if the present challenges were overcome. Some challenges touched on were lack of marketing strategies, the online presence of a business, and unpredictable supportive services and regulations by the government. Overall, the general consensus of the panellist was that the future of trade seems to depend on ever-growing technological advancements and emerging international rules on data.
By Jainee Feliz-Cabrera
Related topics
Related event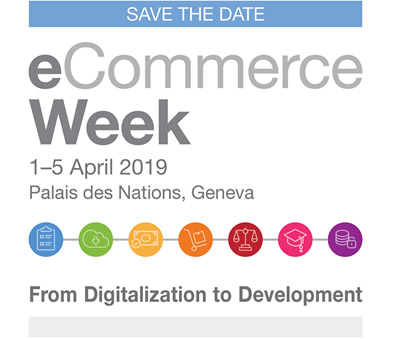 Related technologies