High-level roundtable on progress made in the implementation of and follow-up to the outcomes of the World Summit on the Information Society at the regional and international level
14 May 2019 15:00h - 18:00h
Event report
The session was moderated by Mr Peter Major (Vice-Chair of the CSTD) who said that although there has been a lot of progress in technology and services, international information and communications technology (ICT) development has a lot of challenges..
Ms Shamika N. Sirimanne (Director, Division on Technology and Logistics, Head of CSTD Secretariat, UNCTAD) introduced the Secretary-General's report (A/74/62-E/2019/6) and presented three points:
First, she talked about Internet use and access, saying that billions of people are still offline and that we must work on getting them online by providing affordable Internet in developing countries.

Second, she discussed ICT management in different sectors and the role of new technology in sustainable development. She emphasised that artificial intelligence (AI) is a new tool in the labour sector which is going to reduce human resources in routine work. Furthermore, she noted the need for digital learning and that e-commerce is changing the way we do business. She also highlighted the role of the first Africa eCommerce Week, held in Kenya in December 2018, in empowering African economies in the digital era.

Third, she mentioned the impact of machines and AI and said that the report talks about automation and the interaction between ICT and nanotechnology. Sirimanne underlined the outcomes of the Internet Governance Forum (IGF) in Paris and said that there is still more work to be done in order to ensure that least-developed countries (LDCs) are not left behind.
Mr Janis Karklins (President of the Tunis phase of WSIS) said that the last 15 years were a game-changer in Information Society and that we have started talking about access, digital infrastructure, government ICT models, etc. He said that the 2000s were positive for the Internet and mentioned the importance of agreeing on digital issues for Information Society. He also highlighted the creation of the IGF and said that before, only 'experts' discussed the 'governance of the Internet'.
Karklins noted the innovation of applications using online platforms and pointed out the different way in which we look at using the Internet since the Snowden affair in 2013. He also mentioned the challenges of having a digital monopoly in our society and talked about the need for a regulatory framework for the Internet. In conclusion, he said that the opportunities and potential of digital are enormous.
Mr Placido Gomez Ramirez (Vice-Minister for Science and Technology, the Dominican Republic) discussed the Dominican Republic's view on how to improve the digital society for economic development. He said that technology has a positive impact on employment, education, etc. According to him, we must train the youth to deal with the digital challenges of our time, and we need to take in account the human conditions in Information Society. He said that the CSTD must define the word 'development' in the digital era.
Ramirez said that the Dominican Republic has a population of 10 million: 8 million live in urban areas and 2 million in rural ones, with only 29.80% of the urban population having access to the Internet. He mentioned a public programme which aims to train young people for a digital future, and discussed their national National Development Strategy 2020-2030 which is supervised by the Ministry of Higher Education and the vice-president. He said that the project aimed to train the youth and women in IT to reduce the gender gap and improve the quality of human capital in technology and innovation sector.
Finally, he said that in his country, Internet governance is receiving quite some attention and that a national cybersecurity centre has been created. He said that co-operation between government and the private sector is key in this progress.
Mr Catalin Marinescu (Head, Corporate Strategy Division, ITU) talked about the ITU's annual report: 'Measuring the Information Society 2018' and its contribution to the WSIS Implementation Process.
Marinescu said that there will be a High-Level Political Forum in July 2019 (HLPF). He said that during UN Regional Commissions at the WSIS Forum, they discussed connecting the dots at the regional level. Furthermore, he noted the importance of a partnership on measuring ICT for development, improving the availability and quality of ICT data and indicators, and guiding policy-makers in producing statistics that are crucial in decision-making.
Ms Akaliza Keza Ntwari (ICT advocate and entrepreneur, member of the High-Level Panel on Digital Cooperation) discussed the work of the UN Secretary-General's High-Level Panel on Digital Cooperation. According to her, their draft report with actionable recommendations in 2019 has the purpose of leaving no one behind in the digital age.
Ntwari said that the panel recommands that by 2030, every adult should have affordable access to digital networks and digitally-enabled financial and health services. She talked about an ICT project in Rwanda, Miss Geek Rwanda, which promotes the ideas and projects of young women on how to use technology for development. She concluded by saying that improving the digital capacities of young people does not necessarily mean a large investment.
Ms Anriette Esterhuysen (Executive Director, Association for Progressive Communication) asked: 'What are communications policy makers talking about most at the moment?' She highlighted the Fourth Industrial Revolution as being a top issue of many governments, the Internet of Things, AI and gender equality.
In addition, she mentioned affordable and clean energy, decent work and economic growth. She said that they might not be mutually exclusive but that perhaps we are not getting our priorities right. She talked about 5G, spectrum auctions, and the digital divide. She said that 5G could offer increased capacity of existing mobile broadband. She finally stated that we should build sustainable development considerations into ICT policy, design, and programmes, rather than always focusing on how ICT can enable the SDGs.
Mr Chengetai Masango (Programme and Technology Manager, IGF Secretariat) talked about IGF Paris. He talked about cybersecurity issues and presented a breakdown of IGF participants last year by stakeholder group: intergovernmental organisations (7%), government (16%), civil society (45%), private sector (20%), technical community (11%), and media (1%).
In addition, he mentioned that transcripts and webcasts were made instantly available throughout the meetings. He noted that the reports and summaries of more than 150 sessions were published on the IGF's website. Finally, he said that the IGF 2018's Forwarding Capacity Development is a way for the IGF to enhance and increase the participation of developing countries through the National Regional and Youth IGFs (NRIs).
By Gilles D. Bana
Related topics
Related event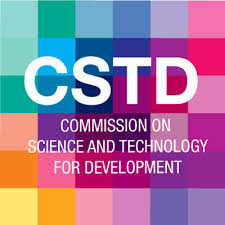 Related technologies