Roundtable discussion: AI for development
Event report
This high-level roundtable brought together experts from academia to present the ITU BDT AI For Development Series, highlighting its key findings and recommendations. It was moderated by Ms Régina Fleur Bessou Assoumou (Chair of the ITU-D Study Group 1) who introduced the panellists by asking about the key issues that can be encountered when dealing with policy makers.
The first panellist, Dr Urs Gasser (Executive Director of the Berkman Klein Center for Internet & Society at Harvard University and Professor of Practice at Harvard Law School), argued that policy makers and regulators are wrestling with how to approach the next wave of technology. Recurrent issues are the asymmetry of information and siloed conversations, and solutions that benefit everyone need to be considered. Questions about inclusiveness and the future of jobs should be part of the conversation, as well as discussion on the governance instruments available.
The second speaker, Dr Gyu Myoung Lee (Adjunct Professor at KAIST) spoke about the use of data, algorithms and blockchain. In order to provide convenient and smart services, the application of AI is essential. Thus, there is a need for new ecosystems that facilitate data sharing. Moreover, concerns over technical issues and about trust related to the use of blockchain need to be addressed.
Dr Michael Best (Director of the United Nations University Institute on Computing and Society (UNU-CS), Professor, Sam Nunn School of International Affairs and the School of Interactive Computing, Georgia Institute of Technology) argued that AI inevitably falls under ethical and social implications. Thus, ethicists on the cutting-edge of AI are needed. Moreover, there is a critical need for a robust information sharing infrastructure.
AI creates both opportunities and risks; however, the best way to address these challenges is to have a fair and diverse all-round discussion.
Related topics
Related event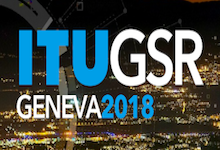 Related technologies