High-level internet governance exchange on plenary
25 Nov 2019 10:00h - 11:00h
Event report
[Read more session reports and updates from the 14th Internet Governance Forum]
What will the Internet be like in 30 years? And what do we need to prepare today? These were some of the questions which German Economic Minister Mr Peter Altmaier asked, as he elaborated on the need for a new social contract for the digital era and offered some ideas about what that might look like. He asked:
These questions could only be addressed if we all work together and emphasised the importance of stakeholders across the spectrum. Policymakers have a responsibility to develop a certain type of governance that ensures that everybody can share the benefits.
How can one prepare for the future? The minister suggested forming an 'Internet 20 group' – a multistakeholder advisory group for digital ministers and governmental heads of state. 'We want to make sure that we develop a common understanding, that we recognise the problems and that we also try to solve the conflicts. I think the multistakeholder approach is the right one'.
As for the growing importance of the Internet, Altmaier said he was convinced that 'Internet access has become a fundamental human right'. He argued that the Internet has the potential to connect the entire world, while addressing concerns about the risks involved, such as user control over data, as well as harmful content online. Ultimately, he argued that the benefits of the Internet are far greater than the risks, but that we need to work together to address difficult political, social, and economic questions.
Yet, although the Internet connects us all together, one obstacle highlighted by Mr Joe Kaeser (CEO, Siemens AG) was the tension between borderless global communication and nationalist calls for regulation and strengthening borders. He stated, 'The question is how are we going to bring this together in a media called the Internet, which is extraterritorial by nature, which connects people and things all together'. He later added that 'companies are not being built to serve society for the greater good of its people and that's why we do need the Internet, so that we can enhance the purpose going forward'.
To address this tension, Kaeser referred to data governance: 'We need to think about how do we handle data, how can we support clear rules, and how can we help to correct global extraterritorial standards in order to deal with that what we call a free Internet'. He talked about how we all have a role to play and embraced the approach outlined by Altmaier.
Kaeser highlighted some key elements from the Siemens' data charter (called the 'Charter of Trust'), including: transparency, control, security, co-creation, shared data, and sustainable values. He emphasised that Siemens is pursuing this with all of their partners in their value chain, and that they hope it provides inspiration and motivation for stakeholders to work together to define the standards, before they are defined by others.
In this high-level plenary, the discussion turned to the digital economy in Africa – a continent in which there are approximately one billion African Internet users. Ms Fatoumata Bâ (Founder and Executive Chair, Janngo) expects that number to increase drastically, especially as the population is estimated to reach 2.2 billion in the next 30 years.
Bâ described the technology situation in Africa in the context of several social dimensions. The first is financial services, citing Kenya as an example, where over 50% of the GDP is transitioning through mobile financial services. She expects 90% of Africans to have access to digital financial services by 2050.
A second dimension is education, where technology is a 'powerful tool to bring knowledge to these kids and make sure they have access to the same opportunities and software education, especially with young girls'.
A third dimension is healthcare, in which technology can help with the massive needs for improved healthcare infrastructure. She emphasised that improving access to hospitals, medical labs, information about quality nutrition, and information about chronic disease is a matter of life and death. She also highlighted different aspects of commerce, transport, agriculture, and others as important parts of society that have been affected by digital transformation.
She argued that energy is not as important to connectivity in Africa because so many people are on mobile devices, and in some cases this situation has paved the way for households in Africa to find affordable energy solutions.
Bâ summarised the session by saying, 'I see so many times the conversation around Internet governance being driven by fear and I can understand the fear. We talked about risks, cybersecurity, data production, and it's true, but I firmly believe we have all the common responsibility to be first enabling the massive opportunities and I could not agree more with Peter Altmaier when he's saying the Internet is a human right today'.
By Dustin Loup
Related topics
Related event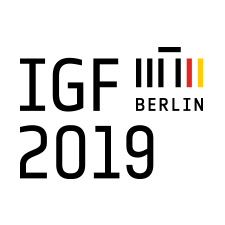 Related processes