Best practice forum on IoT, big data, and AI: Using IoT, big data, AI to address societal challenges
28 Nov 2019 11:30h - 12:00h
Event report
[Read more session reports and updates from the 14th Internet Governance Forum]
The round table Best Practice Forum (BPF) discussed activities, challenges, opportunities, and best practices in the Internet of Things (IoT), big data and artificial intelligence (AI), sharing examples from Mozambique, Italy, Brazil, Bangladesh, and other countries. It was moderated by Ms Concettina Cassa (Member, Multistakeholder Advisory Group – MAG), and Mr Alex Comninos (Senior Researcher, Research ICT Africa).
In Mozambique, research is being carried out on how IoT, big data, AI, and machine learning can assist in dealing with natural disasters like cyclones which are frequent in the country. According to Mr Salomão David (Communications Regulatory Authority, Mozambique), the two biggest cities in the country are using technologies to prepare for and respond to natural disasters like putting drifters on the sea to measure temperatures, pressure, and quality in real time. The large amounts of data make it difficult to acquire information, store it, and be able to analyse it when needed. When disasters occur, it is difficult to consider ethics because it takes a lot of time to interpret large amounts of data, which is also the time needed to locate people in the city.
Ms Christine Tan (VP Business Development) spoke about a neutral and non-profit platform that is invested by a local research institute and government in China to promote technologies in the community and set industry standards to guide implementation. The platform undertakes multiple projects, such as one focused on rejuvenating rural villages, which is part of the sustainable development goals (SDGs) 1 and 2. In another project, IoT sensors are used to trigger alarms when water levels increase, which means that flooding may happen. In this case, emergency teams would help evacuate occupants from rural areas. Other examples included turning wasteland into fisheries, using IoT and other technologies to improve farming practices and remote monitoring of fish farms.
Digital technologies are a great enabler of systemic development, by collecting data and providing real-time information available in critical times. Mr Raymond Onuoha (Researcher, Research ICT Africa) gave examples from West Africa, where digital technologies are used to assist in agricultural and environmental protection activities. Regarding SDG 3 (health and well-being), he shared an example of the Ebola outbreak in West Africa in late 2013, which caught the world unprepared. There were over 30 000 cases that led to approximately 11 000 deaths and billions of dollars lost. Information was critical for respondents and communities that needed help with protecting themselves. A solution developed at the time was the deployment of a mobile phone-based communication system, M Hero, that was launched by the ministry of health in Liberia.
Data shared between sensors, people, and machines is critical for the functioning of IoT products. Mr Olivier Bringer (Head of Unit-Next Generation Internet, European Commission) shared an example of IoT K pilots, where technologies are tested in specific use cases like agriculture and healthy ageing. Raising questions about data management in the context of IoT helps inform policy-making process. He also talked about the notion of collective intelligence, where people have mobile phones, use social networks, have views and access to knowledge, and are willing to share them. Sensors in mobile phones provide useful information to improve public transportation in a city.
Digital technologies also bring risks and opportunities for peace and conflict. Peace is much broader than security and it includes social-economic development. As noted by Ms Evelyne Tauchnitz (Research Associate, Institute for Social Ethics, Lucerne & Centre for Technology and Global Affairs, Oxford), technology puts power in the hands of a few, but is also a disruptive force empowering people that had not had power in the past. AI, for example, can be used in projects to give a voice to women in conflict regions that are often portrayed as victims of war and make them advocates for peace. In another example, a research on field and water politics in Egypt, Sudan, and Ethiopia noted the need to use AI to determine who gets how much water and for what purpose.
AI is also useful in the health and therapy sector. Ms Emanuela Girardi (Member, AI Expert Group Ministry of Economic Development, Italy) gave the example of a drug discovery process where AI would reduce the time to design and market products. Recent research shows that 70% of people are suffering from a temporary disability; self-driving cars can help people with physical disabilities or visual, hearing or cognitive impairments.
Digital tools can also be useful in promoting more transparency within governmental bodies. Ms Bruna Martins dos Santos (Advocate Strategist, Coding Rights) gave the example of a project that discloses suspicious buys from state representatives, by checking for suspicious expenses and tweeting about them.
By Sarah Kiden
Related topics
Related event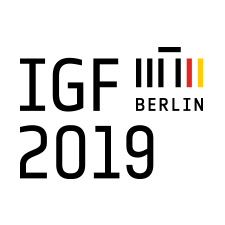 Related processes
Related technologies