Towards a decentralised internet constitution?
13 Nov 2018 16:45h - 18:15h
Event report
[Read more session reports and live updates from the 13th Internet Governance Forum]
Are there any decentralised solutions for governing the Internet? Blockchain may be one possible solution, but it will need major improvement and maturation. Declarations and universal principles can also serve this purpose. ICANN bylaws are written by the multistakeholder community and are an open process. The IGF is the right forum to tackle these issues.
This session aimed to look at the new constitutional solution for governing the Internet.
The moderator, Mr Dennis Redeker, Bremen International Graduate School of Social Sciences introduced the workshop.
Ms Lisa Garsia, presented the Philippines Declaration on Internet Rights and Principles. This Declaration tackles issues of connectivity, human rights online, gender equality and freedom of expression. It is signed by 23 non-governmental actors, and it is a continuation of the global efforts towards setting universal principles for the Internet (similar to NetMundial initiative).
Ms Primavera De Filippi, Berkman Center for Internet & Society at Harvard Law School looked at the new governance models based on a blockchain technology. De Filippi pointed out six possible uses of blockchain and their shortcomings. In a field of financial inclusion (banking the unbanked) and remittances, blockchain is a promising idea. In a field of self-sovereign identity, privacy, and data protection, private biometric keys can be compromised. In an area of supply-chain and blockchain-based voting, there are risks of adding wrong, or compromised data to these well balanced systems.
Mr Nicolas Suzor, Queensland University of Technology, asked how can we can imagine more decentralisd approaches to hold power accountable. Regulatory innovation can promote and protect human rights in decentralised systems, he added. Transparency on its own is not enough. We need to involve more stakeholders since a large amount of the work is happening in other communities, Suzor stated.
Mr Andrea Beccalli, ICANN, led us through the history of ICANN bylaws, which are written in a multistakeholder environment. First created in 1998, the bylaws were only five thousand words and did not refer to human rights at all. The newly re-written bylaws have eight hundred thousand words, and include input from stakeholders in an open process. This can serve as a bright /example of a creation of new constitutional changes.
Mr Guy Berger, UNESCO's Director for Freedom of Expression and Media Development, explained UNESCO's Internet Universality Indicators. He reminded participants that openness and access are the core of the Internet. Mapping countries' Internet Universality Indicators can lead to comprehensive policy recommendations. Berger showcased the UNESCO Publication 'What if We All Govern the Internet'.
In a later discussion with the question from the audience, De Filippi stated that blockchain can be used by existing institutions to increase trust, and new fully decentralised systems will reduce the need for oversight.
Beccalli pointed out that all stakeholders participation is important. Scalability of process is a challenge. ICANN burned a lot its reserve to reach this goal. The classic approach is falling short more and more, and there is a need to further think about this.
Garcia added that most of the initiatives are not state led. Laws can not catch up with technology.
Berger added that Internet universality does not apply the same rules for everyone. The difference between regimes is not important and a lot of variations are possible.
Suzor added that the question of how certain values are backed in code are constitutional questions. The IGF is the right place to bridge gaps between technology and universal human rights.
By Arvin Kamberi
Related topics
Related event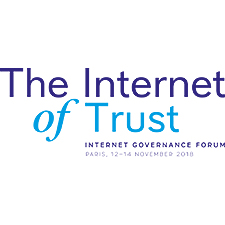 Related processes
Related technologies