Session on fakenews
13 Nov 2018 09:00h - 10:00h
Event report
[Read more session reports and live updates from the 13th Internet Governance Forum]
Fake news has become a challenge everywhere, particularly in the context of elections and major political sequences. A number of governments appear willing to depart from self-regulatory approaches and are now considering legislation to increase the responsibilities of platforms in controlling the content they host and in fighting against misinformation.
This NRI session, moderated by Mr Eun Chang Choi, South Korean NRI, featured discussions on ways to address the spread of fake news online and offline, in the very different national contexts in which it emerges.
Ms Mary Uduma, Chairperson, Nigerian IGF, argued that the Nigerian government intends to control and even criminalise fake news, due to increased division and hatred online. Since Nigeria encompasses more than 200 ethnic groups and is home to about 500 different languages, this diversity entails great challenges in terms of regulation. In February 2019, Nigeria will hold general elections and this issue of fake news will be at the core of the discussions.
Mr Luiz Fernando Martins Castro, Brazilian Internet Steering Committee/CGI.br, presented the case of Brazil and recent developments related to fake news in preparation for presidential elections. During the last Brazilian IGF, the issue of fake news and information disorder was mentioned in many sessions. Before the Brazilian elections in October 2018, the electoral court, responsible for managing the elections process in Brazil, created an advisory board to address questions raised by fake news. The Brazilian Internet Steering Committee was invited to take part to this committee; its main preoccupation was to avoid censorship during the political campaign. The CGI organised in April of 2018 a seminar involving different stakeholders, leading to the publication of guidelines, including recommendations on how to avoid spreading, or taking part in a chain of fake news.
Mr Giacomo Mazzone, Italian IGF, detailed the current debates in Italy surrounding fake news, following the Italian IGF, which took place in November 2018. Since 2018 was an electoral year for Italy, many discussions on fake news occurred during the political campaign. However, the issue of fake news was not very problematic during the Italian elections, apart from one episode detected after the elections, during negotiations for the creation of the new government. In terms of policy-making, the Italian government is expected to propose a legislation on platforms during the next year. The national authority is currently examining both self-regulatory and harder regulatory instruments for Internet and media platforms to fight against the spread of fake news.
Mr Yrjö Länsipuro, ISOC Finland, gave his perspective on the evolution of these discussions in recent years. Until 2015, the debates were related to problems posed by social media for traditional media and the challenges they raised regarding information. In 2016, the focus shifted towards controlling hate speech online. In 2017, fake news in a 'post-truth era' appeared as a central issue. As emphasised in recent reports of the Council of Europe, the expression 'information disorder' appears much more relevant, since it covers not only fake news, but also misinformation, which occurs when false information is shared, but no harm is intended.
Ms Claire Mélanie Popineau, Ministry of Justice, France, presented the approach taken by the French government in addressing problems of fake news and hate speech online. France has taken a proactive approach in both regulating and partnering with the main stakeholders involved. For instance, France recently announced a six-month partnership with Facebook to fight hate speech on its social network, while a law on fake news is currently being discussed by the national parliament. Popineau also highlighted the need for digital literacy schemes to develop critical thinking and public awareness on these issues.
Ms Marilyn Cade, Chief Catalyst, US IGF, presented recent work conducted by the US IGF on this topic. Emphasis has been placed on a spectrum of definitions, including misinformation and disinformation. New tactics have been examined to help the individual user who is receiving information to be more discerning and informed. Debates now consider the possibility of incorporating digital literacy skills and critical thinking skills into curricula of students.
Clément Perarnaud
Related topics
Related event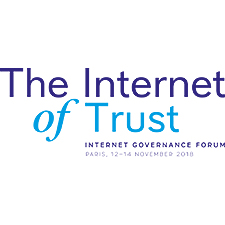 Related processes