Refugee rights and online environment
14 Nov 2018 09:00h - 10:00h
Event report
[Read more session reports and live updates from the 13th Internet Governance Forum]
Refugees and displaced people are stripped of their basic human rights by dehumanising them. As individuals and within refugee camps, people are becoming experiments for technologies, and the ways they can be surveilled, tracked, and have put pressure put on them. Refugees do not enjoy their rights to privacy, movement, information, education, or equal opportunity.
The session was moderated by Ms Marianne Franklin, Professor, Goldsmiths, University of London, Internet Rights and Principles Coalition, who noted for the record that while the panel was discussing sensitive issues, a government representative was not able to join because of illness.
In her introduction Franklin said that according to the UN High Commission on Refugees, today over 65 million people are refugees or internally displaced people. She said that, 'The report found that Internet access has become as important as food or shelter.'
Ms Valentina Pellizzer, Sexuality and the Internet Project Coordinator, Association for Progressive Communications (APC), brought experience of working with refugees in the Balkans region. She said that the conversation about refugees nowadays is complicated, and is often about 'dehumanising them'. She stressed that tax-payers' money is used for the infrastructure of data surveillance, and surveillance through data on refugees, and others moving from one place to another in mass migration. While freedom of movement is meant as a right for everyone, in the case of refugees it is criminalised. When it comes to the infrastructure of connectivity and the infrastructure of care, both are fragile. Infrastructure of care is based on civil society organisations and activists who create wi-fi hotspots to help people on the move stay in contact. Pellizzer said that it is important to be aware that people do not move because it is a pleasure, 'African people walk by foot to reach Europe, it is more than a one year walk,' she said.
Ms Jean Guo, CEO, Konexio, said that the mission of her organisation is to make sure that the most vulnerable, including refugees, have the opportunity to access digital skills and fair charges. Findings show that up to one third of disposable income amongst refugees is spent on connectivity. When asked about one possession to take in extreme circumstances, their choice is a mobile device, because for people on the move is the connection to information is crucial. Within the student population that this organisation has worked with, three quarters have smartphones. Older people do not use smartphones to search for information, but to make phone calls. Guo stressed the importance of protection of personal data and education, because the lack of either of these puts people in danger. Layers of data privacy and data protection need to be well considered when developing solutions. Three key rights when it comes to refugees are: The right to information, the right to education, and the right to work, or to be provided with the opportunity to do so.
Ms Cathy van Dyck, Google, noted that Google's basic business mission and function is to provide information even through the core products are search, mapping, and translation tools. Google is constantly rethinking how to make products more accessible for everyone, including those who are most vulnerable, amongst them, refugees. Since 2015, Google has given support to 800,000 refugees, such as providing low bandwidth maps which don't require a lot of data to use them. There is also a tool called 'People finder' which helps people find each other when displaced. Google has found that access and education resources are important, however in addition, there are educational resources which are really important, as well as discussion around protection of rights and privacy. Integration is encouraged through various Google platforms, and YouTube provides space for creating a counter narrative: The positive narrative about immigration.
Ms Eimear Farrell, Advocate and Adviser, Amnesty Tech, Amnesty International, said that vulnerable populations nowadays serve for the testing of technologies, which often can have deadly consequences for individuals. Amnesty International together with other NGOs and humanitarian organisations are advocating for improved language around privacy and data protection, especially in the case of biometrics, and for transparency, the right to remedy, and accountability. Amnesty are noticing 'securitisation' of immigration and migration, and a drive towards using technologies and innovation in humanitarian context. Biometric systems can have both privacy challenges, and give refugees and migrants access to important services they need. Digital identity needs to be put under the control of the people whose identity it is.
Farrell concluded by saying that, 'Refugee camps are becoming labs for experiments of technologies,' therefore the identity of people is critical to their protection.
By Aida Mahmutović
Related topics
Related event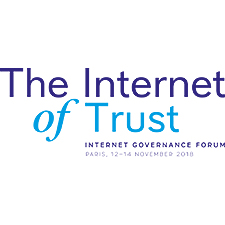 Related processes