Online child sexual exploitation: Risks and response
13 Nov 2018 10:45h - 12:15h
Event report
[Read more session reports and live updates from the 13th Internet Governance Forum]
According to the Digital World Report, one in three Internet users today is a child. 800 million minors are present online, and many of them are unsupervised. With these facts and the lack of safety online education, sexual education, and right tools and policies in place it has become way too easy for those who wish to approach and harm children to do so.
The workshop was moderated by Ms Laura Turner, Home Office.
Ms Aicha Jeridi, Regional Coordinator of North Africa, African Civil Society on the Information Society, said that we are often facing technology that is used for committing crimes against children, for production of child sexual abuse, which is then distributed through the online medium. In 2012, there was a global attempt within the Global Alliance against Child Sexual Abuse Online to come up with core principles, actions, and clear methods of identifying victims and providing services for them. Clear messages were sent to offenders and the law enforcement when it comes to detecting online crimes. The number of actions for removing the child sexual abuse materials online increased. One of the core outcomes of the project is a national response which is a guide that helps the member states take proper actions in order to fight this issue.
Ms Susie Hargreaves, CEO, Internet Watch Foundation said that their 143 members encompass some of the biggest companies in the world, such are Apple, Amazon, Facebook, and Google. Within 22 years of work, 22 000 web pages, including videos, have been removed. Hargreaves reminded that child sexual exploitation can include, but is not limited to, the production and distribution of child sexual abuse videos. Their research shows that children who are victims of online sexual abuse suffer the same repercussions and impact in their lives as children victims of physical abuse offline. This includes high rates of isolation, mental health problems, suicide attempts, alcohol, and legal drug dependencies, and they are likely to be victimised later in life again. She sent a message that it 'It's a myth that all this content is on the dark web. It's not true.' While there is a lot of 'very dark content' on the dark web, the majority is still on the open web.
Ms Aicha Jeridi, Regional Coordinator of North Africa, African Civil Society on the Information Society, said that the most common threat is the sexual abuse. Children are exposed to images of sexual abuse online that they do not wish to see. The Internet in Uganda has been growing by 45% over the last decade, which allows more children to go online. The helpline for sexual abuse reporting started with having ten calls a day to 750 calls per day.
In 2007, The National Center for Missing and Exploited Children reported a 700% increase in industry referrals of child sex abuse between 2013 and 2017. In South Africa, over 19 000 cases of sexual abuse were reported to the police between 2014 and 2017. African states suffer from the gaming-related suicide attempts. In 2016, a game invented by Russians, which went viral, caused the death of 150 around the world.
Mr Anjan Bose, International Child Online Protection Expert, UNICEF, presented a brochure which showed that the key challenge for the member states is to understand 'where to start from'. It produces clear guidelines on what should be done for the victims in order to integrate them, provide care and services, and have the child protection in place. Industry engagement in terms of removing the content and public awareness is critical.
Not all member states are in the same position in terms of knowledge, understanding, and resources to tackle the issue. This is a global issue and therefore it is not possible to fight this problem alone, as an isolated initiative.
Mr Fredrik Hansen, Security Expert, Futurity, said that sites on the dark web have menus to choose from, and the content is 'scary'. People operating in the dark web are teaming up and collaborating in providing and selling pictures. To fight this, awareness is the key. It is important to teach next generations how to be safer online. A tool for reporting pictures is important. Collaboration and support of big tech companies like Google, Facebook, and Twitter is crucial. For the future it is important to look at different tools and emerging technologies like AI, for 'hunting down pictures and content of sexual abuse'.
Ms Arda Gerkens, former MP and Dutch Senator, Managing Director, Dutch Hotline and Helpline, President, Inhope, said that in the 80s the flow of child sexual abuse was shut down, but that the Internet 'made it boom enormously' again. Child sexual abuse content is a self-generated content. A lot of sites with child sexual abuse content are hosted on servers based in the Netherlands, because the Netherlands has a good and fast network. The M6 Internet connection point makes it possible to quickly send out data, which are usually images and videos. In the Netherlands, the voluntary notice-and-take-down procedure exists.
It can be hate speech, discrimination, copyright infringement, too. It can be taken down by the website host or based on the judge orders. Gerkens noted that in order to fight child sexual abuse there have to be policies in place, especially administrative laws in order to strengthen the community. 'We don't need to shut down the Internet like, I think, President Macron suggested.' What is needed are the right tools and sexual education.
By Aida Mahmutović
Related topics
Related event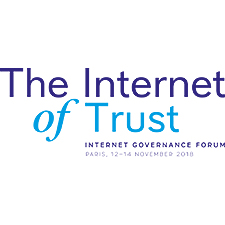 Related processes