IGF 2018 high-level panel discussion
12 Nov 2018 15:30h - 17:30h
Event report
[Read more session reports and live updatesfrom the 13th Internet Governance Forum]
Many new challenges confront Internet Governance. Governments and private sectors must come together to regulate many issues, for example cybersecurity, data protection, and digital inclusion. These topics were among those discussed during the panel.
The panel was moderated by Mr David Martinon, Ambassador for Digital Affairs – France, who started by presenting the panellists. He also introduced the journey of the Internet Governance Forum since 2006.
Ms Audrey Azoulay, Director General of UNESCO, started by explaining the challenges of the United Nations Educational, Scientific and Cultural Organization (UNESCO) vis-à-vis the digital area. She mentioned the importance of Internet access and its consequences, as a tool, for young people in acquiring knowledge. She argued that the universality of the Internet provides a means for everyone to reach an education, especially for women and young people.
Moreover, she noted that the Internet concerns also cultural diversity and innovation. She stated that we are facing many ethical questions. According to Azoulay, we need to address global ethical principles. Finally, she considered the link between the sciences and the digital world.
Mr Göran Marby, CEO of the Internet Corporation for Assigned Names and Numbers (ICANN), started by explaining that ICANN is mainly a technical institution; and he noted how it deals with Internet issues. According to him, 'when you connect people, the magic happens.' Moreover, Marby said that ICANN is a transparent organisation. However, he said that access to information has long been a right for the richest people. It is time for changing this, so that developing countries may increase their digital capacities.
Mr Stéphane Richard, CEO of Orange, said that while debates on regulation of the telecom sector in the digital economy persist, we must still deal with issues of regulation and innovation. He noted the role of Orange company in Africa to help people attain digital services.
Furthermore, Richard pointed to the cybersecurity issue in every aspect of business and services. He asked for co-operation between business leaders and governments on this issue. He said that Europe must tackle cybersecurity concerns through an economic model and private companies. Finally, he explained the importance of digital infrastructures and data protection as a contribution that the European Union can make in reducing cyber-attacks.
Ms Hadja Ouattara, Minister of Digital Economy Development – Burkina Faso, started by noting the geographical divide in the digital economy, particularly for the African countries. She highlighted that Africa still is challenged by full Internet access. According to her, Google, Apple, Facebook, and Amazon (GAFA) are benefiting from the African market without the taxation. Finally, she stressed the lack of internatinal co-operation as an obstacle to the solution of cybersecurity issues.
Ms Isabelle Falque-Pierrotin, Outgoing President of the International Conference of Data Protection and Privacy Commissioners (ICDPPC) and Chair of National Commission on Informatics and Liberty (CNIL), explained the European vision of the General Data Protection Regulation (GDPR). According to her, the primary challenge is to bring back digital companies to Europe. She mentioned that the GDPR will help to gain trust. As Europeans, it is important to protect European companies in this global, digital world. She outlined a road map for building the Network of networks.
Finally, Falque-Pierrotin addressed issues in artificial intelligence. She said that countries must adopt ethical principles to build a international co-operation.
By Gilles D. Bana
Related topics
Related event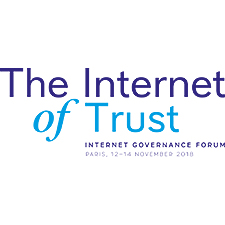 Related processes