Emerging technologies – IGF 2018
14 Nov 2018 08:30h - 09:30h
Event report
[Read more session reports and live updates from the 13th Internet Governance Forum]
AI technology is part of our reality. As numerous applications are emerge, AI opens new doors and takes us to the next level. Nevertheless, ethical and legal challenges around AI need to be addressed so we can ensure accessibility and a level playing field, globally. The solutions identified during the discussion were: Common global principles for the development of AI, and education and capacity building for AI.
The National and Regional Initiatives(NRI) session, was moderated by Mr Babu Ram Aryal, Forum for Digital Equality, and featured discussion on ethical and legislative challenges related to AI, and the best practices for use and governance of AI in developing countries. 
Ms Nnenna Nwakanma, Worldwide Web Foundation, shared her views on the African experience with AI, and how emerging technologies affect African society. An example of AI technology mentioned was the 'Sophia' robot in Kenya, which gives health and reproductive advice to women. Nwakanma identified the sectors of agriculture, public service, health and multilingualism where development of AI applications are needed.  
Prof Chuang Liu, Civil Society, Asia-Pacific Group, talked about AI applications related to earthquake monitoring and restaurant services, and said that there is great focus on developing AI applications in China. Liu identified as challenges the lack of skills in AI, along with the need for teachers and learning materials in Universities to develop AI related competencies. 
Mr Bikash Gurung, Technology Developer, Nepal, talked about AI applications in Nepal's private sector. He said that Nepal is struggling with the digital divide, and a knowledge gap due to lack of human resources in AI development, limited access to technology, and legal uncertainty about AI development. The public sector is in need of developing a legal framework to ensure a level playing field for AI companies. The solution identified by Gurung is the development of an international legal framework that the government of Nepal would also be able to implement. In addition, public/private partnerships would help as this will create ethical and legal frameworks to support AI development, and reduce the challenges.
Mr Kyung-Sin Park, Global Freedom of Expression, addressed four ethical issues arising out of AI. The first is the 'anthropomorphic' issue, related to AI's challenge of the concept of humanness. This comes from affecting the analysis of freedom of speech and also privacy throughout AI applications, and in filtering news online, or the pre-approval of speech by machines. The second issue is economic and relates to the replacement of human labour by robots, thereby producing inequality. Algorithms and automation were presented as the third issue, by intensifying human bias through automation. The fourth ethical challenge of AI comes from data monopolisation which will also decide resource allocation and resource distribution.
According to Park, legislative development for AI is needed to tackle data monopoly, 'Laws to encourage silos to be shared with other people so they can benefit. This will be data socialism – the sharing of data.'
Conclusions at the end of the session included: The need to create principles for the development of AI; the need for development of education and capacity building for AI; the need for international communication and joint work; the need for AI solutions development to facilitate life challenges, such as those within the health care system.
By Noemi Szabo 
Related event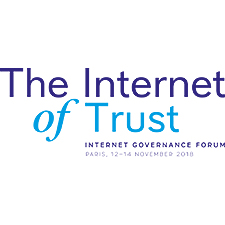 Related processes
Related technologies