Digital economy
13 Nov 2018 17:15h - 18:15h
Event report
[Read more session reports and live updates from the 13th Internet Governance Forum]
The session talked about developing regional, national and local digital economy actions and assessed the roles, perspectives, and responsibilities of different stakeholders in a multistakeholder fashion.
The moderator, Mr Diego Canabarro, Advisor to the Brazilian Internet Steering Committee introduced four questions: how different communities can develop a people-centred digital economy? What are the main challenges inherent to the consolidation of a local, national, and regional digital economy ecosystem focused on people? What are the roles and responsibilities envisioned for the stakeholders involved? And lastly, how could a multistakeholder dialogue contribute to the comprehension and consolidation of those digital economies?
Ms Krizia Matthews, IPANDETEC, pointed out that the use of digital technology can contribute to social and economic development, increasing efficiency in organization, business, and in the product and services it creates when it's used in a sustainable and inclusive manner.
She stated that there are gaps in connectivity and e-commerce readiness which implies that the benefit of equalisation has not been equally distributed. That is the reason why a multistakeholder dialogue is essential. Different communities can participate in the development of a people-centred approach through public-private partnerships, which are crucial to making the digital infrastructure easily and equally accessible to all. Those partnerships, she believes, will deviate decision-making power from policymakers who are traditionally holding the ultimate decision to the citizens who are proactively engaging.
Mr Nivaldo Cleto, Councillor at CGI.br, stated that from a broader social and political perspective, it is his belief that data protection is one of the most important issues of our time. He mentioned the example of Brazil, which has a data protection law, but still has no clear perspective on what sort of data protection authority it will have. He stressed that diversity and inclusion are also principles that should guide the developers of digital economy ecosystems and highlighted that none of those two issues can be taken individually by governments. Full multistakeholder co-operation is needed.
Mr Charles Shaban, Chair of the Arab MAG, pointed out that the infrastructure is really good in most of the Arab countries, yet affordability is still limited. The main reason for that is insufficient competition. The other issue is that employment in the ICT sector is still below average . He considers that the region still has a gender digital divide. He stressed the need for digital structures, advocacy frameworks, and employment structures, skills, an enabling economy environment and a nurturing of innovation to enhance the ICT sector shared in the economy.
Mr Armen Khatchatourov, Chair Values and Policies of Personal Information, Telecom Business School, Institut Mines-Télécom (PoC Lucien), explained that in the digital landscape, two different kinds of trust have to be promoted. There is a need to define policies that promote confidence, a kind of institutional arrangement, and trust, a risk taking attitude. He left participants with a question on how to design public policies which do not promote trust at the expense of confidence.
By Pedro Vilela
Related topics
Related event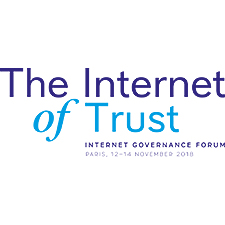 Related processes