Blockchain for social and humanitarian applications
13 Nov 2018 10:45h - 12:15h
Event report
[Read more session reports and live updates from the 13th Internet Governance Forum]
Blockchain based solutions can play a significant role in humanitarian and social applications. Among other things, the session looked at the applications in media for combating fake news, transparent distribution of charity funds, private-public partnerships in launching blockchain platforms, universal identity for vulnerable groups, and how emerging technologies will impact social dynamics. Nevertheless, not all problems can be solved with blockchain based solutions.
The session was moderated by Mr Lucena Claudio, Researcher, Fundação para a Ciência e a Tecnologia (FCT) Portugal, Professor, Universidade Estadual da Paraíba (UEPB), Brazil, who shed light on the possible future impact of blockchain technology by pointing out the main characteristic of blockchain: outsourcing trust.
Mr Satish Babu, Technical Community, Asia-Pacific Group, presented an initiative which is underway now in India. The project tackles the question of transparency of relief funds. Donors do not have a way to follow how the funds are being spent, or moved on the network. With this blockchain based solution, this could be done in a transparent way. Babu pointed out that their solution is based on a standard for the ERC 998 Non-Fungible Tokens, which allows the movement of funds in batched transactions with full transparency.
Mr Walid-Al Saqaf, Internet Society (ISOC), Senior Lecturer at Södertörn University in Stockholm, presented a program developed by him and his colleagues on improving trust in media outlets. He pointed out that the solution they are developing is based on a crypto economy of civil tokens. Tokens are distributed to the people in the system who can use them to vote on a news-room's reliability of data. The system considers that the majority of actors will act fairly and reward accurate news but also penalise bad behaviour. This is to be done by on-chain 'voting' for the proper way to move forward.
Mr Glenn McKnight, ISOC, pointed out two cases the Institute of Electrical and Electronics Engineers (IEEE) is working on. The first is an initiative in Bangkok, for the people who are off the energy grid to contribute to the main grid using a blockchain based solution. The second is a solution for financial inclusion for the vast number of people who are still 'unbanked'.
Ms Olga Cavalli, Government, Latin American and Caribbean Group (GRULAC), gave us a regional update from Latin America. She presented the initiative in Argentina to create a public-private partnership around the solution for a blockchain platform. This is a multi-service platform, to run vertical systems, based on a light blockchain model. Cavalli also mentioned Mexico's new law on FinTech, as a landmark first law introduced in the region of Latin America.
Ms Andrea Romaoli Garcia, Intergovernmental Organisation, Latin American and Caribbean Group (GRULAC), pointed to the issue of emerging technology as an enabler for the major shift in labour and education. Garcia added that we need to look at the progressive legislation around blockchain proposing the island of Malta as a bright example.
Ms Catherina Garcia van Hoogstarten, The Hague University of Applied Sciences, shed some light on UN initiatives around blockchain based solutions. Among others is the United Nations Office for Project Services (UNOPS) effort on launching a world identity network helping victims of child trafficking. She also mentioned United Nations High Commissioner for Refugees (UNHCR) efforts in blockchain based solutions for refugees, tracking and providing secure identification.
Ms Mónica María Trochez Arboleda, Private Sector, Latin American and Caribbean Group (GRULAC), mentioned the importance of blockchain based solutions helping charity organisations. The mechanism of organisations selling digital tokens, initial coin offerings, (ICO) for their funding is important for these organisations.
Mr Pindar Wong, ISOC, reminded the participants that decentralised protocols are very hard to develop and to maintain. There are other databases which are faster and 'smarter' than blockchain. We need to evaluate the need for blockchain based solution by looking at the specific user case. What happens if we add the wrong data in the first place? We know the abilities of this particular technology but now we need to think about the governance. At the end he noted that scalability issues are to be solved with a second layer on top of the blockchain.
In conclusion, all of the panellists pointed out that blockchain cannot serve as a panacea for all Internet issues, but rather, needs a proper evaluation prior to use. Nevertheless, it is an important tool for sensitive groups.
By Arvin Kamberi
Related topics
Related event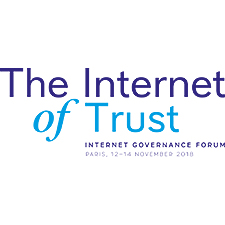 Related processes
Related technologies