Artificial Intelligence for human rights and SDGs
14 Nov 2018 11:15h - 12:45h
Event report
[Read more session reports and live updates from the 13th Internet Governance Forum]
Artificial intelligence (AI) is one of the key issues in economic development. It is therefore very interesting to discuss the impact of AI in shaping humanity's access to information and knowledge. By doing so, AI can play a role in achieving democracy and the sustainable development goals (SDGs).
The session was co-moderated by Mr Guy Berger, Director, Freedom of Expression and Media Development, UNESCO, and Mr Indrajit Banerjee, Director, Knowledge Societies Division, UNESCO. Berger started by outlining the universality of the Internet as a major pillar of UNESCO in helping to achieve the SDGs linked to AI. He noted the role of UNESCO in tackling human rights issues.
Banerjee explained the role of his Division in facilitating openness to AI, and digital inclusion. He noted the inequalities and polarisation of AI in the world and said that this is an opportunity for UNESCO to bring this topic to the Forum, for good development processes and capacity building.
Mr Federico Salas Lofte, Ambassador Extraordinary and Plenipotentiary, Permanent Delegate of Mexico to UNESCO, pointed to the activities of Mexico in emerging technologies. He noted the impact of AI on socio-economic issues such as labour and medicine. He also spoke about the role of education to increase technical competencies and digital skills. He said that transparency and liability for the public interest of our societies must be increased. However he said that there are still algorithm and data analysis issues to address. In conclusion, he highlighted Mexico's National Digital Strategy as a major tool to tackle the challenges of AI and blockchain, and emphasised the investment in digital technology.
Ms Nnenna Nwakanma, World Wide Web Foundation, started with access issues and affordability. She noted the importance of investing in digital access in developing countries, and said that AI technology must serve the good interests of humanity. She also talked about trust on the Internet, along with data protection and knowing how it is used. She highlighted online safety, saying that there are some abuse issues. Finally, Nwakanma stressed that data is a tool for economic development. She asked everyone to work on information integrity and building the quality of data. She mentioned that personal data privacy is a huge issue in AI development.
Mr Marco Grobelnik, AI For Good Foundation, explained his research on AI technology and innovation. He said that AI is not only for big companies like Google and Amazon. Data is a great pillar of AI technology. He also emphasised how AI can help achieve the SDGs in general. He pointed to AI as a tool for facilitating openness in development, citingbetter support, and more transparent, open research on topics of global importance to help AI researchers understand how their work might lead to a better future for all.
Ms Mila Romanoff, Data Privacy and Data Protection Legal Specialist, UN Global Pulse, joining remotely, explained how data can be analysed in good way. She pointed out the responsibility for online privacy, and the UN principles on personal data protection and privacy, including fair and legitimate processing, retention, accuracy, and confidentiality. Romanoff also noted the UN guidance document on Big Data for achieving the 2030 Agenda. She mentioned 'Tools For Risk Management': data and AI governance, and risk assessment. Finally she talked about building ethics into privacy frameworks for big data and AI.
Mr Thomas Hughes, Executive Director, Article 19, emphasised the challenges of the lack of rule of law, transparency and accountability. He said that it is difficult to analyse the impact of AI on development without those points. He also mentioned data collection, and AI regulation in many sectors such as competition and services. Finally, he stressed the multistakeholder safe-regulatory approach, and the ROAM principles of UNESCO (rights, openness, accessibility, multistakeholders).
Ms Sylvia Grundmann, Head of Media and Internet Division, Council of Europe (CoE), talked about the role of the CoE in AI development, mentioning the Algorithms and Human Rights study. However, she underlined the dangers of manipulative powers, and the need to protect the rule of law in Europe. She argued that it is necessary to have a regulatory framework of AI, and asked that governments take responsibility for AI issues.
Ms Elodie Vialle, Reporters Sans Frontières, showed the audience a map of the freedom of information. She talked about the impact of technology on liberty of information. 'AI winter is coming if we don't pay attention,' she said, adding that guarantees must be established. She also mentioned the Declaration on Information and its basic principles, including the trustworthiness of information. Finally, Vialle spoke of micro-targeted information through applications, the technicality of information, and the harassment of women journalists. She mentioned also the impact of algorithms on sharing information.
The moderators concluded the workshop by saying that AI education and capacity building are needed to advance South-South and North-South learning and co-operation around AI.
By Gilles D. Bana
Related topics
Related event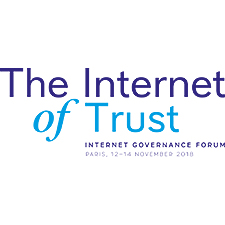 Related processes
Related technologies