Terrorism: Freedom vs security?
20 Dec 2017 12:30h - 13:30h
Event report
[Read more session reports and live updates from the 12th Internet Governance Forum]
This session, moderated by Mr Luca Belli, Senior Researcher at the Center for Technology and Society of Fundação Getulio Vargas Law School, featured discussions on addressing terrorism online. Solutions to counter terrorism online raise several challenges in terms of privacy, freedom of expression and in light of the potential abuses they may allow.
Ms Elinor Buxton, Deputy Head, EU and International Data, Foreign and Commonwealth Office, UK, started by presenting the general policy of the UK government in combating terrorism online. Keeping people safe is the first objective of the government, especially in light of the current threats facing our societies. She said the UK government is committed to the protection of the right to privacy and freedom of expression, both online and offline. Any interference with these rights must be necessary and proportionate. The UK has recently adopted legislation in this regard, such as the Investigatory Powers Act, providing with robust oversight and clear avenues for remedies. In dealing with terrorist propaganda online, the UK government expects companies to act responsibly. The technical challenges facing government are massive, and this is why the UK is in direct dialogue with private companies as part of the Global internet forum to counter terrorism.
Mr Stephen Turner, Head of Public Policy, Twitter, presented an overview on how Twitter is addressing terrorism on its platform. Turner first emphasised that over one billion tweets are posted on Twitter every 48 hours, illustrating the actual challenges to combat extremist content in real time. Twitter addresses the issue of terrorist content using behavioural signals. Taking-down decisions can be very difficult to make, since a very nuanced understanding of each context is required to ensure such measures do not impact on legitimate actors, such as journalists. Transparency for Twitter is crucial. Bi-annual transparency reports are issued regarding governments' requests, and the company is now looking at new steps to provide the public with more information on its processes.
Mr Niels Lestrade, Dutch Internet Referral Unit and National Police Intelligence Unit Cyberjihad, Netherlands, explained the work conducted by the Dutch Internet Referral Unit, which is operational since September 2017, and the challenges it faces. The role of this internet referral unit is to detect terrorist content on the Internet, conduct intelligence analysis and request internet companies to remove alleged illegal content. The underlying objective of the unit is to contribute in weakening the distribution of illegal content, in line with the rule of law. Contents that are targeted consist of violent Jihadist material, shared via public or private channels online. The mandate for the Dutch Internet Referral Unit takes as a basis the Dutch criminal code. One of the main challenges for the unit is to deal with the massive volume of data online, as well as to assess the nuances of the contexts in which content is communicated.
Ms Jamila Venturini, Researcher at the Center for Technology and Society, Brazil, expressed the human rights concerns raised by the counter-terrorism legislation adopted in Brazil in recent years. As opposed to other countries, terrorism has not been a major issue for Brazil in recent years. Nevertheless, an anti-terrorist law was introduced and approved in 2016, shortly before the start of the Olympic Games. This new legislation was heavily criticized by civil society in light of the vagueness of its provisions and the new series of crimes introduced (such as 'engaging in preparatory acts of terrorism'). Some provisions have been used to target activists and silence dissenting voices. This legislation does not provide with safeguards for controlling the collection of metadata by public authorities, but significantly increases the power of surveillance agencies. More transparency is highly needed from governments and private companies to ensure human rights are not violated.
Ms Estelle Massé, Senior policy analyst, Access Now, then presented how recent measures adopted after terrorist attacks in Europe can impact human rights. Massé highlighted three specific measures, related to data retention, air passengers' data collection and content removal at the European level. In the cases of the data retention directive and Passengers name records (PNR) directive, terrorist attacks in Europe led to the acceleration of the negotiations without debates and thus the adoption of legislations incompatible with EU law, as shown by following ECJ rulings. Instead of introducing new anti-terrorist legislation, Massé suggested that more collaboration between law enforcement agencies should be encouraged.
Ms Maryant Fernandez Perez, Senior policy Advisor, European Digital Rights, argued that anti-terrorist legislations in Europe have a significant impact on the human rights of citizens. States more and more engage with private companies outside the scope of legal instruments, such as mutual legal assistance treaties (MLAT), which is problematic in terms of accountability and transparency. In Europe, there is also a tendency to criminalise speech, and even curiosity. In France for instance, provisions to criminalise the consultation of terrorist-related websites were recently adopted in two instances, and both were finally deemed unconstitutional by the French constitutional court. In many cases, under-resourced NGOs are the only actors attempting to protect human rights online and challenge legislations before the courts.
By Clement Perarnaud
Related topics
Related event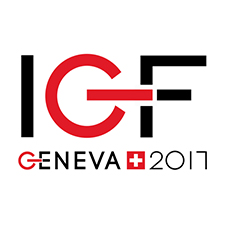 Related processes