Multistakeholder consultation on defining internet universality indicators
20 Dec 2017 11:45h - 13:15h
Event report
[Read more session reports and live updates from the 12th Internet Governance Forum]
The moderator Mr Guy Berger, Director for Freedom of Expression and Media Development, United Nations Educational, Scientific and Cultural Organization, introduced the Internet Universality Indicators developed by the UNESCO which hinge on four principles – rights, openness, accessibility, and multi-stakeholder participation (ROAM). Such indicators could be used to make a useful tool for voluntary application by countries to take an assessment of the Internet in its holistic character and see where improvements can be made.
Mr David Souter, Managing Director, ICT Development Associates, explained that the indicators are not intended to be a cross-country comparison and are developed within the framework of the Sustainable Development Agenda. The purpose of the indicators is to support different stakeholders in: 1) developing a clear understanding of the national internet environment, 2) considering how to address the ROAM principles, and 3) developing policy recommendations that respond to the existing deficiencies. The first phase focused on extensive consultation and the second phase focused on a set of draft proposals which have been developed by UNESCO research and the consultation process of the first phase.
However, the data gathering approaches were contested by the panellists. Ms Anriette Esterhuysen, Executive Director, APC, elucidated that for all the indicators the data is aggregated by gender and age, which requires a data collecting process that aims at forming a relationship with people who gather local data such as national statistical agencies, research and academic institutions, and internet national registries. On the other hand, Prof Xue Hong, China Normal University, explained that there is a challenge regarding the capabilities and competencies required to gather these aggregated data, specifically because clear definitions are not provided. This was stressed by Mr Martin Schaaper, Senior IT analyst, International Telecommunication Union, who expressed concerns regarding the statistical data that is required for the indicators, particularly in developing countries where it will be hard to gather such data due to the lack of capacity. He also said that aggregated data on age and gender requires socioeconomic breakdowns that could only be collected through surveys which require money and physical capacity that may not be available in many countries. In the same vein, countries need clarification on the methodology, to be able to apply the indicators, which needs further resources and efforts.
Ms Dorothy Gordan, UNESCO IFAP Chair on information literacy, mentioned that the indicator on 'whether the government actively promotes access to knowledge through its policies for education, culture and science' is a tough one. "Would you say that a government is using taxpayers' money to buy software that locks them in to a particular vendor, would that be promoting access to knowledge?" she asked. There are effective arrangements in place to monitor access and use of the Internet. However, it refers to the regular household surveys which are a questionable method since it does not identify a specific entity or individual to be accountable for such data.
Feedback on the access indicators was provided by Hong who expounded that the indicator concerning the people's use and share of the data should tackle two different issues: enabling people to easily access the data and to share the public data. Moreover, Mr Stephen Wyber, Manager of Policy and Advocacy, International Federation of Library Associations (IFLA), highlighted that information poverty is a relevant issue that refers to the inability to access the information and the services required to fulfil the objectives to take advantage of the possibilities for personal development. In this regard, it is important to avoid giving the impression that public access is the poor man's Internet. We shouldn't stigmatise people who need to use the Internet for free.
Reflections on children and youth was provided by Ms Jasmina Byrne, Child Protection Specialist, United Nations Children Fund (UNICEF). She said it would be great to separate children and youth since these are different age groups. Byrne said this is also important because issues pertaining to the right of privacy, right of access to information, right to freedom of assembly have different implications, particularly when it comes to children. Also, the pinpointed indicators measure education needs that are limited to effectiveness and safe usage, yet these indicators should be expanded to include digital literacy, safety skills, comprehension skills, social and emotional skills, and curation skills.
Mr Raul Echeberria, Vice President of Global Engagement, ISOC, accentuated that the value of the indicators is in the implementation, since they could be applied as a whole or only a subset. Also, the inclusion of the multistakeholder component is a motivation for countries to improve, gather data, and measure issues. This is one of the challenges for making progresses on the local Internet governance process.
By Noha Fathy
Related topics
Related event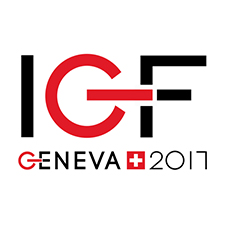 Related processes