High-level hematic session on impact of digitisation on politics, public trust, and democracy
19 Dec 2017 10:00h - 13:00h
Event report
[Read more session reports and live updates from the 12th Internet Governance Forum]
This session focused on the opportunities and challenges that digitisation brings to the digital political sphere, public trust, and democracy.
In his introductory statement, the Host Chair, Mr Philipp Metzger, Director General, Swiss Federal Office of Communications (OFCOM), stated that the digital space, as a cornerstone of the public policy space, can be a great enabler for more inclusive democratic discourse and participation, as well as more inclusive policy-making. At the same time, the misuse of the digital public policy space can lead to mistrust in public information, and misrepresentation or manipulation of public opinion. Against this background, the question arises as to how citizens, in particular young people, can use information and communication technologies (ICTs) to participate in democratic societies in an informed manner.
On this note, the moderator, Ms Nathalie Ducommun, Talk Master of Swiss Television (RTS) invited the panelists to talk about the benefits and challenges that digitisation brings to the digital political sphere, public trust, and democracy.
Ms Mariya Gabriel, Commissioner, Digital Economy and Society, European Commission, laid emphasis on the need to earn the trust of citizens when dealing with the misuse of information and fake news. A winning strategy, she explained, necessitates a multistakeholder approach. If we can identify a common definition of fake news then we can find a common solution to the problem.
Mr Hasanul Haq Inu, Minister of Information, Bangladesh, described access to the Internet as a fundamental human right, and expressed hope that everyone will be empowered and enlightened through universal access. He also stressed the need to pay attention to challenges including information terrorism and the spread of hate speech.
Mr Martin Chungong, Secretary General, Inter-Parliamentary Union, talked about trust in the political process. Parliaments, he said, have a great opportunity through digitisation to regain legitimacy and trust from the people. Legislative bodies should establish legal frameworks to streamline the use of technology to good effect.
Mr Hossam Elgamal, Chairman, Egyptian Cabinet Information and Decision Support Center (IDSC), affirmed that digitisation is beneficial for democratic discourse in developing countries. The IDSC, as an example, has enabled Egyptian citizens to voice their opinions in a process which seeks to inform the government, for improved policy making. Elgamal equally advised that social media be subject to institutionalised regulation. He warned that misinformation is becoming an industry and it is necessary to talk about the possibility of liability for fake news and network disruptions.
Ms Malavika Jayaram, Executive Director, Digital Asia Hub, said that we need to focus on digital citizenship. Users have to be considered as core participants and co-creators in the future. She underscored the need to focus on empowering the most vulnerable members of the society as a guarantee for inclusion because one of the key lessons learned from existing processes is that data is not neutral and it can tell any story you want it to. Algorithms mirror society and, when dealing with fake news, it is important to remember that in the same way that technology can be used to exacerbate existing flaws, it can also be harnessed to produce good outcomes.
Ms Dunja Mijatovic, International Expert on Human Rights and Media Freedom, Board Member of Access Now, stated that fake news is old as humanity. The potential impact of fake news has simply increased in the Internet era because we now have boundless capabilities, increased dissemination speed and we are more exposed as a society. The focus needs to shift from the creation of intermediaries, towards building and regaining trust.
Ms Nanjira Sambuli, Digital Equality Advocacy Manager, World Wide Web Foundation, revealed that digitisation enables greater distribution of power, by empowering women to make their voices heard and to participate in the political discourse, with the end objective to ensure that digitisation is enhancing democracy and not creating new divides.
Mr Robert Strayer, Deputy Assistant Secretary for Cyber and International Communications and Information Policy, U.S. Department of State, reminded that democratic policy is the foundation of everything we do. Digitisation contributes to the democratic process by enabling advocacy in both the virtual and the physical worlds and this is critical in parts of the world where there is no democracy. He proposed two practical steps to strengthen the positive aspects of digitisation. The first is to ensure that people are able to exercise their fundamental rights online, and the second to ensure that there are many processes for collaborative and participatory involvement in decision making.
The remote moderator, Dr Katharina Hoene, DiploFoundation relayed the opinions of online participants on big data, fake News and the empowerment of people online. Participants recommended a study on the relation between fake news and big data, taking into consideration technical solutions for fake news. Participants also advocated for greater government presence online, especially in developing countries, to curb misinformation. They expressed hope that the growing wave of concern about fake news would prompt governments to recognise the need to invest in media literacy.
Mr Bobby Duffy, Global Director, Ipsos Social Research Institute, stated that misperceptions and fake news have been amplified by digitisation. He reminded that it is a human tendency to discredit information which we are not comfortable with even if the information is true. These filter bubbles, he explained, create the need for intervention. Beyond fact checking, he laid emphasis on the need to create a counter narrative which promotes positive information as opposed to negative information.
Ms Farida Dwi Cahyarini, Secretary-General, Ministry of Communication and Information Technology, Indonesia, revealed that Indonesia has an Internet penetration rate of 42% and 132 million people from a population of 256 million are online. However, the country has to deal with the challenge of hate speech and sponsored misinformation. Online content is a priority for the Indonesian government and stakeholders are working together to suppress negative activity online.
Mr Frank La Rue, Assistant Director-General Communication & Information, United Nations Educational, Cultural and Scientific Organisation (UNESCO), described fake news as a flawed concept which can cause serious challenges to democracy, and this requires attention. He recommended that we talk either about information or about misinformation. He said that the Internet should be a medium for dialogue which governments should leverage to interact with citizens and to regain trust. La Rue also advised that institutionalised multistakeholder dialogue is necessary.
Ms Claudia Luciani, Director of Democratic Governance and Anti-discrimination, Council of Europe, reiterated the need to find common definitions and common ground for action. The Internet is a great enabler, but the platform may have failed to deliver its potential in decision making processes. Empowerment of citizens is necessary for participative democracy but there is also a need to build trust to encourage engagement in the process.
Mr Gonzalo Navarro, Executive Director, Asociación Latinoamericana de Internet (ALAI), posited that the digital economy will change, and changes bring challenges. Rules are necessary to tackle rising challenges. He proposed that some of the permissions and restrictions which have been adopted in the Latin American context could be discussed at the multilateral level. He also underlined the need to empower users and build trust.
Mr Jean Paul Philippot, President, European Broadcasting Union (EBU), also expressed preference for the term 'misinformation' instead of 'fake news'. He explained that misinformation and disinformation have been around for a long time. However, what is different today is the reach. The potential of ICTs to reach wider audiences is causing a huge problem because the platforms that have the widest reach have the lowest trust figures and are attracting younger audiences. Everyone has a role to play to understand how our approaches are influenced by social media.
Mr Sébastien Soriano, Chairman French National Regulatory Authority for Telecoms (ARCEP), explained that, from his experience as a regulator, the biggest challenge is accelerated innovation. The rapid changes imply that every day there is a new challenge and there is no certainty about what the future will bring. He cautioned against the rapid adoption of principles to deal with rising challenges. He advised that key principles be defined for application in the long term, and that there should be flexibility in the implementation of the principles. The rapid evolution of technology necessitates a different approach, and the key may be to nudge the market rather than regulate with classic legal tools.
Ms Nighat Dad, Executive Director, Digital Rights Foundation, Pakistan, stressed the need to cultivate key digital literacy skills to avert the danger that fake news could be used to hijack the democratic process. Regulatory measures that are too draconian or overly broad tend to confuse people about speech that is, and is not, acceptable. She laid emphasis on the collective responsibility of everyone to curb the misuse of technology and to strive for safe online spaces for a democratically responsible society.
Mr Metzger concluded by affirming that the prevailing sentiment at the end of the discussions is that the opportunities outweigh the challenges and therefore there is hope. He reminded that the Internet is a key tool for development, and access not just to the network but to information that is crucial for inclusion. He advised that following the discussions, it would be important, going forward, to use the term misinformation rather than "fake news" and it would also be more productive to consider measures other than censorship, to counter misinformation. He recommended that the challenge of misinformation serves as an opportunity for governments to play a key role in promoting digital literacy skills. We need to look towards the long term and find, to the extent that it is possible, main principles which can enable us to set the base in order to deal with accelerated innovation. The transborder implementation of existing rules is also a major challenge but, on the whole, the Internet is about the possibility of transferring our humanity to the digital space and to make the most of the opportunities which it offers, including the essence of the multistakeholder approach to find common solutions to help our society move forward.
by Manyi Arrey Orok-Tambe
Related topics
Related event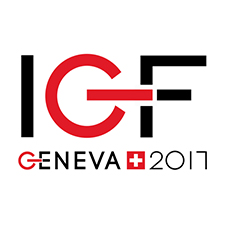 Related processes