10 years of internet governance from the SSIG perspective
17 Dec 2017 09:00h - 10:30h
Event report
[Read more session reports and live updates from the 12th Internet Governance Forum]
In this lecture, Dr Olga Cavalli, Academic Director, South School on Internet Governance, presented her organisation's history. Discussing SSIG's evolution over almost ten years, she emphasised how much it has grown during this period, both in terms of curriculum and fellows.
The school was created with two complementary goals: increasing Latin American and Caribbean representation in Internet governance (IG) circles, and training the next generation of IG leaders from these countries. Usually fellows have knowledge of, but no prior exposure to, the IG ecosystem. Cavalli said that she and the other founders built SSIG upon some key principles. These are:
Achieving full gender balance among fellows.
Ensuring as much geographic diversity as possible.
Offering a programme with full simultaneous translation in English and Spanish.
Selecting fellows via groups of experts, organisers and representatives from the host institution.
Granting fellowships to all selected candidates.
Although the process started in 2007, only one host could be found for the first edition in 2009. This took place in Buenos Aires with 26 fellows, who all had their expenses covered. However the second edition, held one year later in Sao Paulo, received 70 fellows. Despite this indication of growth, the quorum was still some distance from the number of fellows in Bogota 2012: at almost 200, a number maintained over recent presentations. Bogota was also significant because this was when SSIG first introduced remote participation. The modality appears to have caught on over recent years, with the trend of inclusiveness spilling over into the physical space. Rio de Janeiro 2017 had 38 countries represented onsite, while Washington 2016 had 35, but with 25 000 remote participants from 89 countries. Out of these attendees, 60 were from Barbados, where the local Internet Society (ISOC) chapter organised its first remote hub. While most onsite participants come from Latin America, strong online participation indicates the School's international significance.
Furthermore, and in line with the principle of diversity, SSIG tries to strike a stakeholder balance between the sectors participants come from. There may be a stronger interest from governments and regulators, but all sectors of society are awarded an equal opportunity, and there are now over 2 000 alumni. Regarding the programme of activities, it changes every year, 'because every year holds a new challenge'. However fellows must provide something in return. During training, they are required to answer daily satisfaction surveys, and on completion of the programme, they must also submit a report of their experience.
Pertaining to its outcomes, Cavalli stated that SSIG has not only helped its fellows familiarise themselves with the environment, with many of them now working with IG, but the school has also enabled change at national level, enabling dialogue, forums, and even the creation by governments of specific areas to engage with the IG ecosystem. This is down to SSIG's most valuable asset: its network. In addition to all the information fellows receive, being selected for SSIG means being a part of a growing, active community of knowledge and experience-sharing. For this reason, Cavalli added, SSIG spends very little promoting itself, as alumni are its 'best ambassadors'.
Cavalli ended the lecture by announcing two new developments in the School. Firstly, confirming its next edition, to be held from 30 April to 4 May 2018 in Washington DC, she said the programme will be centred on cybersecurity, freedom of expression and privacy. Applications are already open, closing on 15 January. Secondly, to celebrate its tenth anniversary, SSIG will launch a book next year. Co-edited by Cavalli, it will feature the views of previous fellows from 11 Latin American countries on topics such as access, privacy, security, and diversity, and will be available in English and Spanish.
Cavalli then fielded questions from the audience, who enquired on topics such as remote participation and its contribution to diversity, the structure of the upcoming book, the challenges of welcoming so many students, and SSIG's relationship with its sponsors.
By Guilherme Cooper Vicente
Related topics
Related event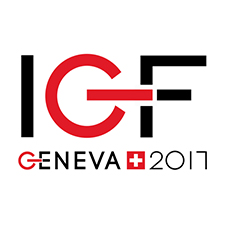 Related processes