Promoting innovation & entrepreneurship in the Global South
9 Dec 2016 10:00h - 11:30h
Event report
[Read more session reports and live updates from the 11th Internet Governance Forum]
Mr Kevon Swift, Head of Strategic relationships and Integration and LACNIC, provided the background to the session by mentioning that the central concepts behind Innovation and entrepreneurship are Value and Risk. He emphasized that innovation creates value for the public's benefit and at the same time managing unprecedented risks.
Senior Director of Global Engagement at Internet Society (ISOC), Ms Joyce Dogniez, said that at ISOC 'innovation is in our spirit'. She provided cases from India and Kenya such as Ushahidi and Brck and reinforced the thought that innovation and entrepreneurship is surging in the Global south. She mentioned that knowledge, education and research as the three main challenges that are affecting innovation in the global south. She maintained that creating a sustainable policy environment, frameworks and an investment enabling environment is critical for addressing these challenges. She gave an example of community work from Buenos Aires of how concerning the digitisation of a library by the visually disabled community. Furthermore, they utilised the Internet for fund.
Ms Carolina Caeiro, LACNIC's Coordinator of Development Projects, FRIDA program, provided a background on the programs currently being undertaken by SEED alliance and FRIDA program. She emphasised the use of technology, not as a final product but as an enabler for community work. She presented the case of SEED Alliance winners for 2016, which included Agrinet (Farm Management solution) and Mexicoleaks (Safe and secure platform to share information online and also encourage civic participation). She asked for a need to improve the current process of traversing the landscape of funding and investors, as this currently leaves the entrepreneurs lost.
Chief Executive of the Kenya ICT Board, Mr Paul Kukubo, said that policymakers and entrepreneurs do not mentally live in the same world, as entrepreneurs do not understand frameworks, while policy makers cannot live without them. He claimed that in the global south the barriers to entry are not high anymore, however the barriers to sustainability are still a challenge that need to be addressed.
Ms Sylvia Cadena from APNIC mentioned that the biggest challenge in the current entrepreneurship space is that we are still working on the assumptions of innovation and that we should rather move towards more soul searching and analysis. She explained the challenges faced by the Internet community in the pacific islands, where they do not have access to 'Paypal payment' due to restrictions surrounding money laundering regulations.
Mr Sergio Ariza, representing a Social Tech NGO based in Mexico City, presented cases from Latin America where ICT is being utilised to enable civic participation, bringing transparency in the government processes etc. He called for an update in ICT policy for Mexico that is considered outdated.
by Mohit Sarawsat, Internet Society UAE
Related topics
Related event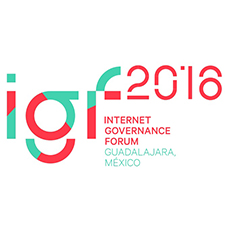 Related processes