Open forum: Freedom Inline Coalition
7 Dec 2016 13:00h - 14:00h
Event report
[Read more session reports and live updates from the 11th Internet Governance Forum]
The moderator, Mr Andrew Puddephatt, Executive Chair of Global Partners Digital's Advisory Board started the session by giving a brief introduction about the history of the Freedom Online Coalition and its objectives. Then he pointed out that the purpose of the workshop was to share the results of the working groups across the year inside the Coalition.
Then, the moderator gave the floor to one of the speakers from Costa Rica (name inaudible) who talked about the work of these groups. Most of the research results were about cybersecurity definitions, protection of human rights online and the continuous development of regulatory frameworks that make the access to the Internet more inclusive and affordable around the world.
Ms Gigi Alford, Technology, Human Rights & Media, intervened to say that a survey and different consultations had been conducted within the Coalition in order to identify proposals and new objectives. Some topics that were part of different working groups were mentioned: shutdowns, multistakeholder participation, engagement, etc.
Then, a speaker from HIVOS (name inaudible) talked about the importance of addressing the new problems that have arisen on the Internet ecosystem. She specifically mentioned the rights of women on the Internet and the increasing gender violence online. In addition, she concluded by saying that various international organisations are currently funding programs focused on solving these problems.
Then it was the turn of a representative of the Government of Ghana who spoke about the importance of sharing experiences and good practices between the members of the Coalition. He indicated that his country was part of the Coalition and hoped that he could adapt the Coalition's recommendations on Internet regulation and human rights.
The speaker from Costa Rica intervened again to give some context to the discussion around the objectives of the Coalition. He said that the Coalition began by assuming that the Internet is a technology that opened thousands of possibilities for human rights. Then, after the revelations of Edward Snowden, the approach changed and was a little more skeptical. He affirmed that many platforms exist today that allow the users to obtain more information on these themes.
Another of the topics commented on by the speakers was the impact of the Internet of Things development and their implications for human rights. It was said that the Coalition has also had great results regarding multistakeholder work in its different groups and that the results of the work done so far will be presented in different UN spaces.
Ms Gisela Perez de Acha, Digital Rights from Chile, presented a statement on the human rights situation in Mexico and urged the Coalition to establish a position on some negative events such as state cyber surveillance, illegal interception of communications and the purchase of espionage equipment from organisations such as Hacking Team.
After a brief round of questions about the structure of the Coalition, Puddephatt ended the session.
by Carlos Guerrero Argote, Internet Society Peru
Related event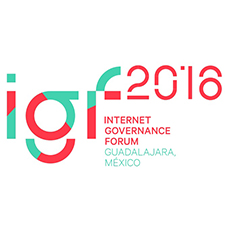 Related processes