Networks & solutions to achieve SDGs agenda-internet at play
9 Dec 2016 13:00h - 14:30h
Event report
[Read more session reports and live updates from the 11th Internet Governance Forum]
This session focused on how the Internet community and organizations are working to achieve the Sustainable Development Goals (SDGs) agenda. Ms Sylvia Cadena, Community Partnerships Specialist / ISIF Asia coordinator, APNIC, moderated the session, and after a short presentation about the topic, invited the audience to share their thoughts about how the Internet is contributing to address the SDGs.
Ms Jennifer Chung, Director of Corporate Knowledge, dotAsia, spoke about how the Internet can be helpful for the conservation of tigers even though it is also one of the largest threats to the continued existence of this animal, due to online illegal animal trade. Ms Chung said that wildlife conservation through the Internet does not only connect with specific SDGs (such as climate action, life below water and life on land) but cuts across all of them, since it also has to do with education, infrastructure, etc. She recommended creating a set of best practices about policy making in terms of SDGs.
Ms Sorina Teleanu, Digital Policy Senior Researcher, DiploFoundation, shared how her organization is engaged with capacity building through online courses on Internet Governance, general development, diplomacy, remote participation, and IG resources. DiploFoundation operates this last task through the Geneva Internet Platform, which supports missions in Geneva, but stakeholders around the world as well, allowing them to be aware and informed of what happens in the Internet Governance field through the Digital Watch Observatory and other initiatives.
Dr Anja Kovacs, Director, The Internet Democracy Project, Delhi, India, mentioned the case of India, where most of the main barriers result not from lack of connection to infrastructure, but to literacy and poverty. She listed the gender gap, and lack of access to the benefits of the Internet as cultural barriers. At the end of her intervention, Ms Kovacs said that it is important to focus on how Internet Governance intersects with economic, social, and cultural rights.
Mr Stuart Hamilton, Deputy Secretary General, International Federation of Library Associations, talked about the work of the library community and how it could contribute to achieving the SDGs. He provided examples of libraries helping to reduce poverty in Slovenia and other countries and of how they are reaching women and girls, as libraries are safe places to access to the Internet. Hamilton invited the audience to check the papers of the IGF Dynamic Coalition on Public Libraries available at
https://www.intgovforum.org/cms/component/content/article/114-preparatory-process/1003-dynamic-coalition-on-public-libraries#introduction
Mr Vint Cerf, Chief Internet Evangelist, Google, pointed out that the seventeen SDGs are going to be addressed locally. He remarked that these goals are not going to be successful unless stakeholders actually work together. He also stressed the role of the private sector in contributing to these goals, and he used the case of Google's Android operating system, which people can build on, as an example.
by Agustina Callegari, Internet Society Youth Obsevatory
Related topics
Related event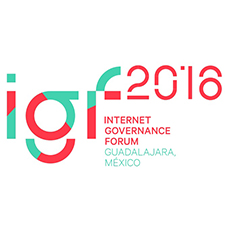 Related processes