International, media support – operational responses to online harassment
5 Dec 2016 10:00h - 11:00h
Event report
[Read more session reports and live updates from the 11th Internet Governance Forum]
The session was organised by International Media Support (IMS), and moderated by Andreas Reventlow, Programme Development and Digital Freedom Adviser at IMS. It showcased various types of online harassment that exist worldwide. Challenges such as tackling the long-term impact on people's ability to speak and thus directly influencing freedom of expression, or simply having access and existing online were raised.
A difference was noted in terms of gender participation online, in general, and the fact that female bloggers and/or activists are usually the targets of online harassment, in particular.
The session offered experiences from legal experts and civil society representatives.
Mr 'Gbenga Sesan, Executive Director at the Paradigm Initiative in Nigeria, opened by noting how online harassment visibly increases in Nigeria during the election period. He noted online harassment as the reason women are not participating online. Women have been silenced by hackers and having their pictures posted in various negative contexts. Influential female bloggers are especially targeted and usually become victims not only of an individual but of a community.
The best response, according to Sesan, is not from the victim herself, but from the community. 'When positive responses are made by men, they have a positive impact for the situation, and for the victim.' People talking about the challenges of online harassment are those who are usually targeted on a higher scale. Sesan concluded by saying we should make sure we do not jeopardise Freedom of Expression while resolving the problem of online harassment.
Ms Ellery Roberts, Advocacy Director, Global Voices and Fellow at the Berkman Klein Centre for Internet & Society in the USA, indicated the importance of telling the stories of communities who are less represented or misrepresented in the mainstream media narrative. While it is evident that online harassment is a part of our ecosystem, we need to carve out a space for communities and to empower them to tell us about the harassment happening to them or to people they know. As a journalist, Roberts knows that understanding the context is crucial in finding solutions when it comes to harassment.
In taking steps to solving many questions when it comes to the online harassment, she believes it important to ask some questions: Who is harassing? Who is being harassed? What is the nature of the harassment? Where does it happen in terms of jurisdiction?
As an example of government-influenced harassment, Roberts spoke of the situation in Venezuela 'where there is a quite open public organisation of state affiliates and supporters of state who spend lots of time online targeting journalists critical of government'. She suggested that in the face of harassment, it is important to create a safe and private space and gather the community who has 'already been there' to figure out how to help the person together. 'The important thing is not to let people feel alone.'
Mr Jonathan McCully, Legal Officer at the Media Legal Defence Initiative in the UK, spoke from a legal perspective indicating that domestic and regional courts have recognised the forms of harm that can be experienced through the Internet. The UK is a good example of where the laws tackling online harassment have been developed. 'Responses to cyber bullying are found in cybercrime legislations in particular.'
McCully gave examples from India and Kenya saying they criminalise communication online that is grossly offensive and causes annoyance or anxiety. Compared to the UK, he said the legislation is different but they do have clear guidance on when individuals should be prosecuted under the Communication Act.
Mr Marcel Leonardi, Senior Public Policy and Government Relations Counsel at Google Brazil, spoke about experience from Brazil. Brazilian legislation provides content takedowns for identifying infringers and legal remedies to tackle harassment. Leonardi pointed out that while Brazilians are the second most active group of users on YouTube in terms of content consumption, the African community in Brazil was notably absent. The question of self-censorship and harassment came immediately to light, and racism was found to be the issue. Since Google lacked expertise in leading this kind of discussion, it invited the Institute for Media and Tech to work in tackling these issues. As a result, change happened within some communities, and the African community in Brazil is now responding more to online harassment, instead of shutting it out.
Ms Hyra Basit, Digital Rights Foundation (DRF) from Pakistan started by saying that while the recent passing of the Prevention of Electronic Crimes Act looks good at first sight, in reality it focuses on unpopular, anti-government opinions. The DRF is working with schools and universities to raise awareness. At these workshops, many young women have offered stories of online harassment, opening up for the first time. Basic emphasised two problems: psychological distress and lack of a support system. Pakistan now has new cybercrime help line: 'In only 3 days of its existence the number of cases is shaking us up. And the fact that we are not affiliated with the government makes it even harder for us to help people [being harassed].' The help line gives advice from a legal perspective, and is in the process of developing a referral system for more extensive support.
The audience was given short amount of time for comments and questions.
by Aida Mahmutović
Related topics
Related event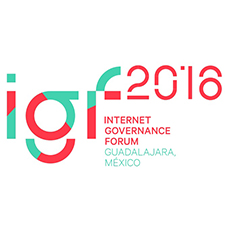 Related processes