IGF dynamic coalitions – I
12 Nov 2015 16:30h - 18:00h
Event report
The main session on Dynamic Coalition was conducted for the first time in order to learn about what the coalitions are up to. The Dynamic Coalitions shared their outcomes and the progress they have made. The aim of the session was to facilitate the integration of dynamic coalitions, which have long played a marginal role in the Internet Governance Forum.
Avri Doria, Research Consultant and chair for the session, briefed the participants that this is a pilot project to facilitate a process between these bottom-up organisations to work together, discuss and reach an outcome. She added that this would enable the work of DC to become more part of the IGF.
Markus Krammer, member of the ICANN Board of Directors and chair for the session, added that the themes are self chosen and bottom-up with a very basic set of conditions imposed. Dynamic coalitions have their own rules and restrictions which need to be respected.
Christina de Castell, Dynamic Coalition on Public Access in Libraries (DCPAL), presented the role of libraries in access to information both within and beyond IGF. She noted that policies and legislations should enable universal access to information by supporting the role of libraries. She added that copyrights should be balanced to ensure that libraries can provide public knowledge to the users.
Nicolo Zingales, Dynamic Coalition on Platform Responsibility (DCPR), explained how governments and corporations have a duty to protect the human rights of users. The recommendations of DCPR were prepared based on the Council of Europe and International Human Right standards and pointed out that there are conflicts between international and national human rights which affect its implementation.
Maarten Botterman from Dynamic Coalition on the Internet of Things (DCIoT), highlighted how the Internet of Things (IoT) is driven by business opportunities and social needs, and we need to create space to innovate whilst at the same time developing it in a responsible way. He added that the regulation in this space should be respected and that IoT should be required to follow ethical standards.
Olivier Crepin-Leblond, Dynamic Coalition on Core Internet Values (DCCIV), presented on behalf of Sivasubramanian, President, ISOC Chennai, that DCCIV focusses on the need to examine and analyse different aspects of the core internet values which are based on the technical values of the Internet architecture which keep the Internet dynamic.
Bishakha Datta, Dynamic Coalition on Gender and Internet Governance (DCGIG), set out how gender shouldn't be considered an "add-on" to Internet Governance, rather it is fundamental to Internet Governance. She added that Internet Governance should be shaped, defined and articulated by different genders and stressed the need for gender equality across various sections of internet governance.
Francesca Cesa Bianchi, Andrea Saks, Dynamic Coalition on Accessibility and Disability (DCAD), presented the guidelines prepared by the DCAD for the IGF to improve accessibility. She added that their intention is to help the IGF include persons with disabilities. This will require the staff of the IGF to understand certain procedures and the processes to be followed in all IGFs.
By Krishna Kumar
Session Analytics
Session analytics on Digital Watch are produced from computational text-mining and statistical modeling of the IGF session raw transcripts.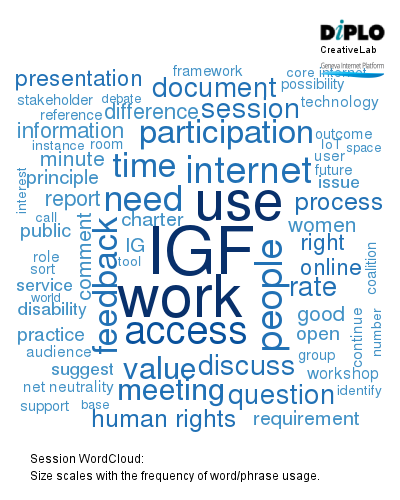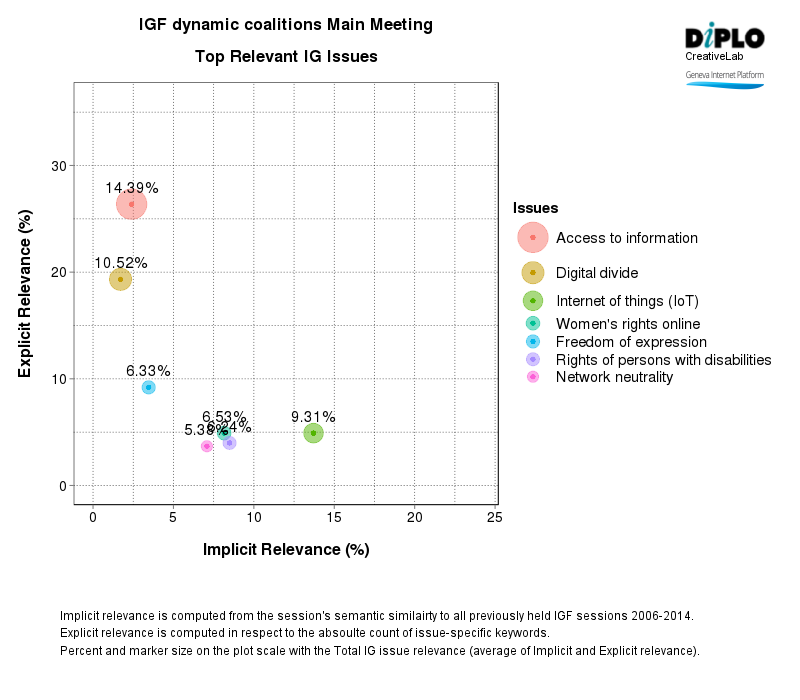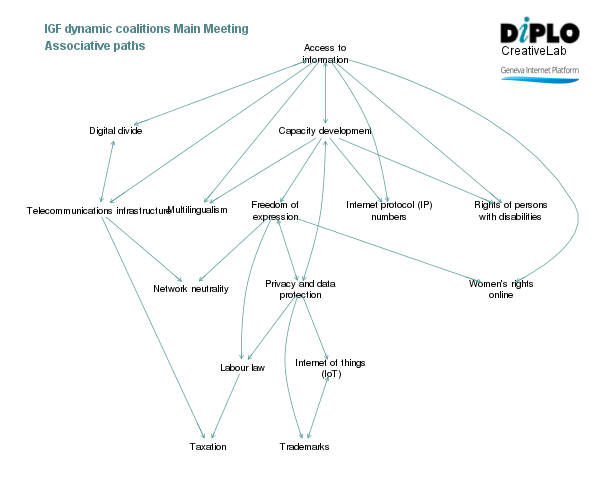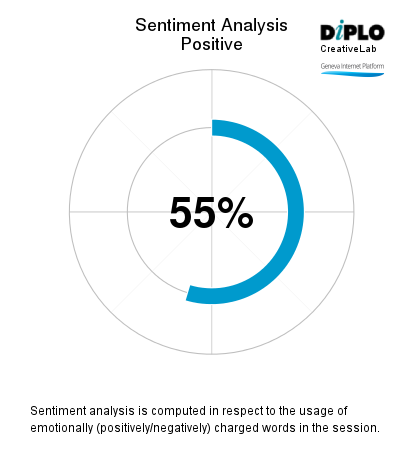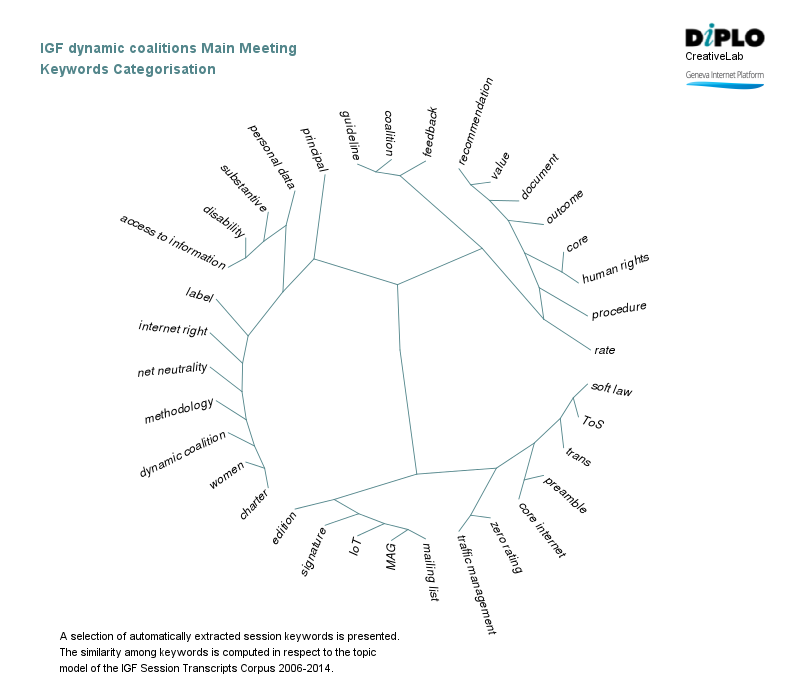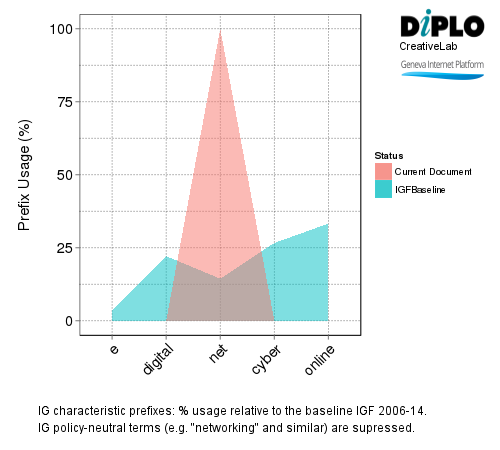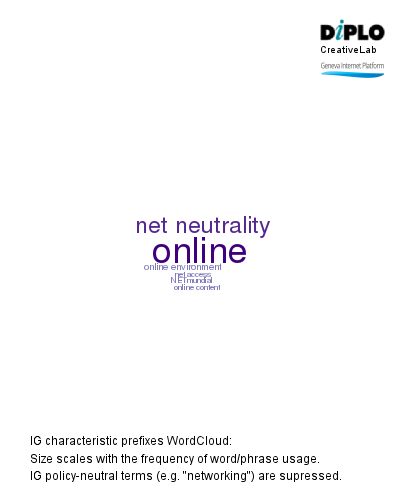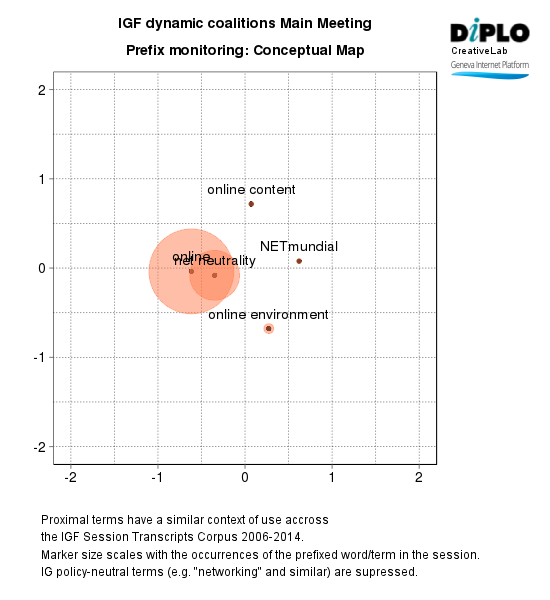 All analytics are produced from DiploFoundation's Text-Analytical Framework (DTAF).
Related topics
Related event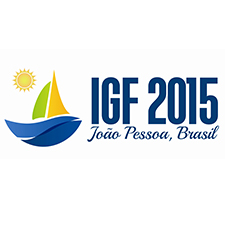 Related processes