IGF beyond 2015: Extend mandate, strengthen institution
13 Nov 2015 09:00h - 10:30h
Event report
Discussion in this session was divided around three questions:
Why it is important to extend the IGF mandate beyond five years?
How has the IGF served to strengthen the multistakeholder model of IG
What critical needs can stabilise the IGF in its mission?
In a first round, Paul Wilson from APNIC started with a promising vision for further Internet development, which will create challenges that will need to be addressed. If the Forum was needed 10 years ago, it's needed even more now. In his words, the extension of the mandate would be a good message. A much stronger message would be an extension for ten years. Speaking from a tech background, Wilson pointed out that the tech community has enjoyed a huge shift towards an intentional dedication to openness, thanks to this Forum.
Hossam Elgamal, board member of AFICTA, pointed out that the extension should take place and that the real question is for how long, pointing out that a 5-year timeframe is too short for a project of this size. In his words it requires more time to introduce new stakeholders.
ICANN board member George Sadowsky pointed out that an extension would be a merely a 'reflection of the reality'. Raúl Echeberría from ISOC agreed, stressing that the IGF community had just learned to work with each other and that it would be a waste of investment if the IGF ceased to exist.
Xianhong Hu from UNESCO, speaking from the UN perspective, pointed out that the IGF brought a revolutionary approach in the form of multistakeholder discussion. In her words, the extension of the mandate is certain. She pointed out that every process in the UN is intergovernmental so it requires time for a move in some direction. Also she added that the UN is at a critical point and there is a need to find a solution to importing the IGF in to the SDG agenda. 'Still some gaps can be seen and we need to improve the content and subject of discussion here.'
Carolina Rossini from Public Knowledge stressed the importance of this platform for the exchange of ideas with similar communities on a global level. The IGF, she said, is trying to build a collaborative narrative.
In further discussions, ISOC members and other related fellows pointed out the importance of this forum as a single place that can provide an equal footing as the most realistic way. The importance of the IGF being under the UN umbrella is being emphasised, since this format enables governments to listen.
In the words of George Sadowsky, building a network of local IGFs is an important development that can add much to strengthening the IGF process. ISOC's Raul Echeberria added that the IGF should produce best practices in more topics, and those need to be more visible. He also reminded us that 95% of policy-making is done on a local level.
Lea Kaspar from Global Partners Digital, took a different tack, expressing the view that an actual extension should not be longer than five years. In her words this will put the pressure on the outcomes. She raised concerns that the level of governmental involvement is decreasing (from her data). Also she called for more tangible outcomes while acknowledging the steps forward in pushing the important issue of human rights in to the main agenda, over the years.
Hossam El- Gamal, from the private sector, added that the IGF definitely needs more outreach, adding that the Forum needs to pay special attention to bringing more stakeholders from civil society, especially those involved in e-learning or e-health initiatives.
In a conclusion, Vladimir Radunović from DiploFoundation pointed out the three issues on which the IGF's Multistakeholder Advisory Group (MAG) should keep working on: strengthening remote participation; engaging in more comprehensive capacity building (through more fellowships), and expanding outreach to governments.
At the end of the discussion Raul Echeberria once again pointed out that there is a clear need to link this discussion with the Sustainable Development Goals (SDGs) in order to find a new place for the IGF.
By Arvin Kamberi
Session Analytics
Session analytics on Digital Watch are produced from computational text-mining and statistical modeling of the IGF session raw transcripts.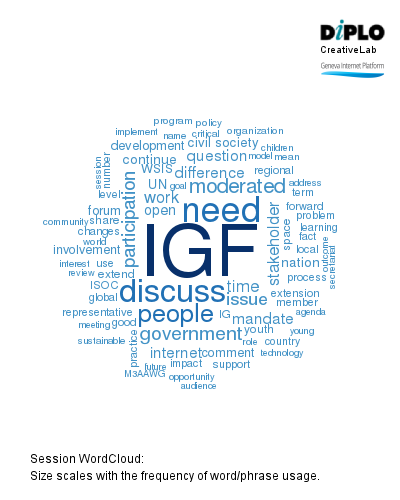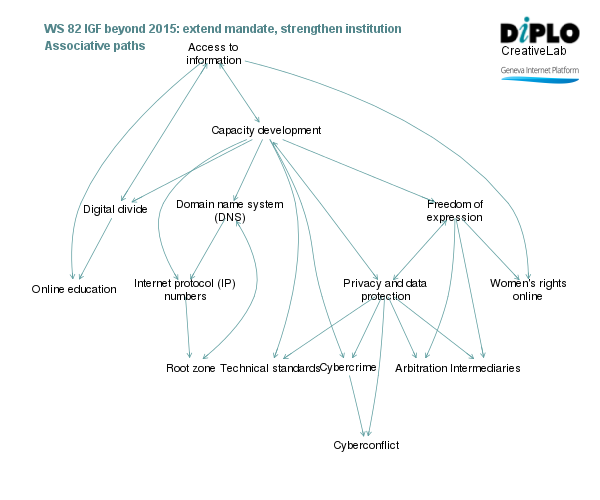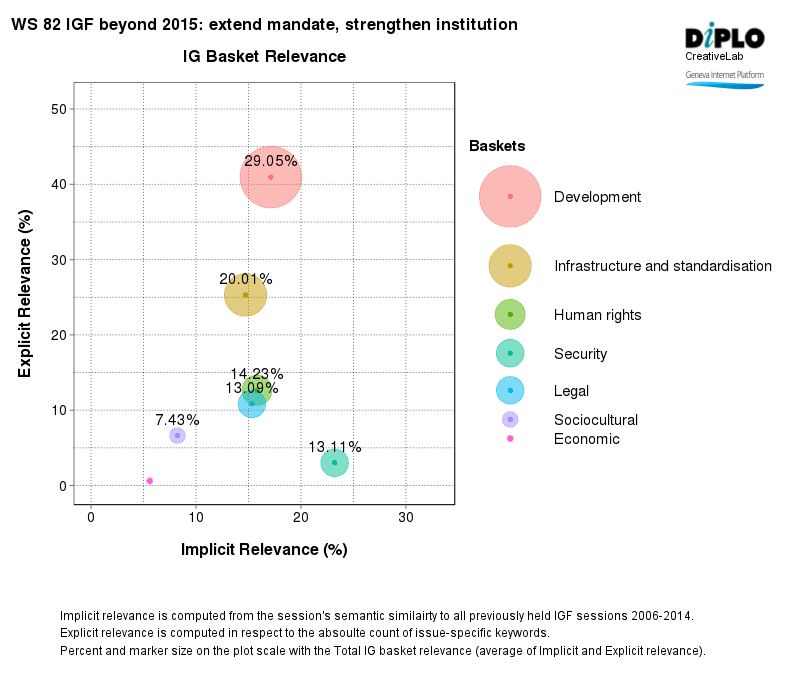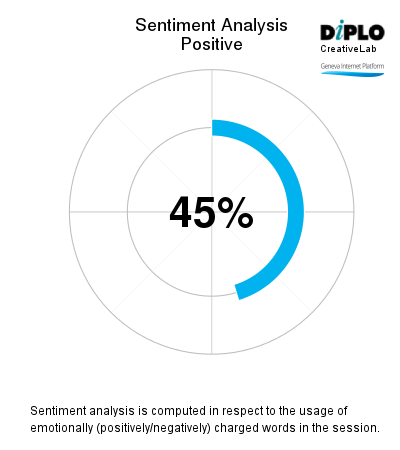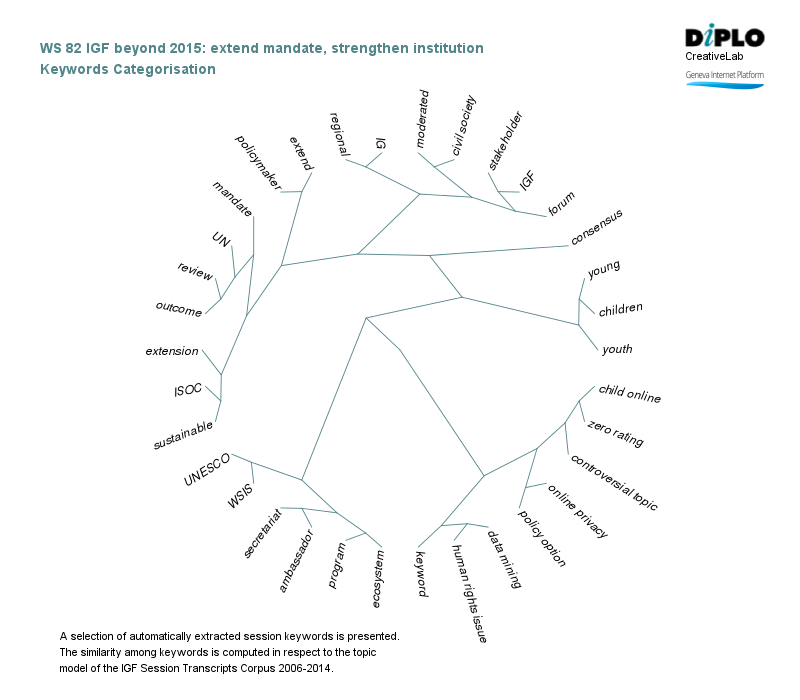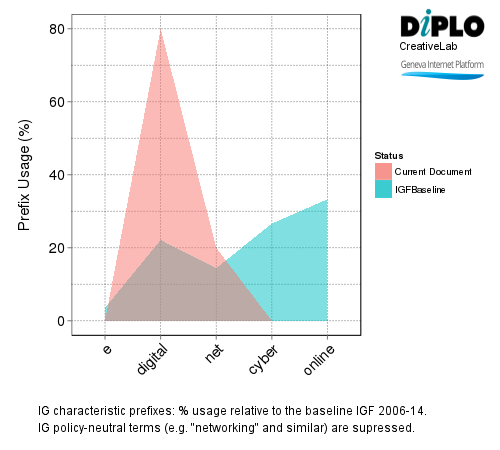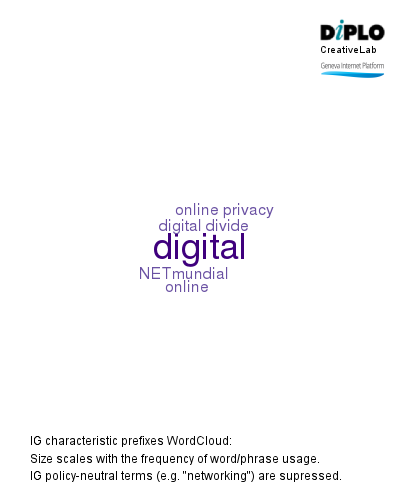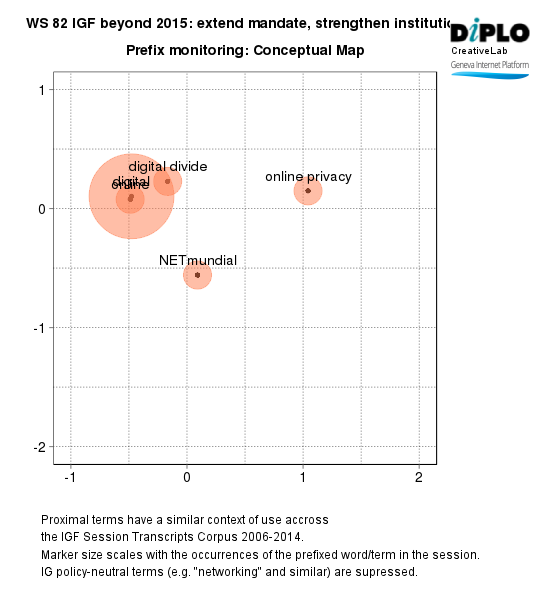 All analytics are produced from DiploFoundation's Text-Analytical Framework (DTAF).
Related topics
Related event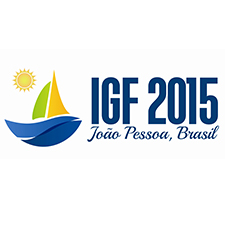 Related processes