Balancing privacy and transparency to promote freedom online
10 Nov 2015 11:00h - 12:30h
Event report
How can privacy and transparency be balanced? Or perhaps more appropriately, should we attempt to find a balance at all, or are the two complementary?
'Balancing privacy and transparency to promote freedom online' was the discussion theme of workshop 124, which saw the participation – among others – of the newly appointed Special Rapporteur for Privacy Joseph Cannataci.
Referring to a UNESCO-commissioned report he has undertaken, Dr Cannataci explained the themes that are being studied, including the notion of privacy, and how the understanding of privacy has evolved with time, from a traditional understanding to a more modern one. 'People believe privacy is dead', Dr Cannataci said, 'yet, research on privacy reveals that the notion is more alive than ever.'
The report will also look at freedom of expression, including the way it has become endangered in the Internet age; the new regulatory approaches that are needed; and transparency and freedom of information in different contexts. There is a degree of intersection between the two rights: 'I generally look at it as the flow of information in society and the way that we regulate those flows of information in society', he explained. Some of the recommendations made include developing new international agreements and continuing to improve on existing ones, strengthening efforts to improve literacy and reducing the digital divide, as well as focusing on the protection of children online.
The other speakers on the panel raised different issues related to privacy, and referred to the way data is handled. Danilo Doneda, Advisor to the Consumer Office of the Ministry of Justice, Brazil, suggested that all treatment of personal data must be public and transparent. The two rights are intrinsic to each other, and without them being complementary, society is unlikely to trust the sharing of data. Referring to the legal scenario in Brazil, he said the Ministry of Justice was working on implementing legislation that protected freedom of information.
Accountability is strongly associated with transparency and privacy, Lyad Kallas, co-founder of Radio Souriali in Syria, said. As a media organisation, transparency and ethics was also important and strongly associated with accountability. And to guide its work, the organisation has adopted three principles: differentiating between individuals and groups, and differentiating between what is happening online and what happens offline, when it comes to reporting; protecting sources in a way that they can communicate with each other through secure channels; and educating people on digital citizenship.
Pedro Less Andrade, Director of Government Affairs & Public Policy for Latin America at Google, focused on the challenges which the tech giant is seeing in Latin America, including personal data, and jurisdiction, citing as an example the rulings on the right to be forgotten.
Agreeing with previous speakers, Danny O'Brien, co-founder of the Open Rights Group, said the domains were blurred; at the same time, technology has increased the users' freedom of expression. With regards to data protection, it was not just the large companies who took advantage of the data. Online users also have to be careful about the information they themselves shared.
In conclusion, Carolina Rossini, Vice President of International Policy at Public Knowledge, referred to recently negotiated trade agreements and the fact that they were regulating aspects related to privacy. Unfortunately, the negotiation process of trade agreements is not quite transparent, and as a result, rules on e-commerce and telecommunications, for example, have an impact on our privacy.
By Stephanie Borg Psaila
Related topics
Related event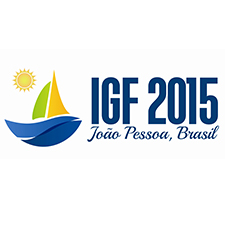 Related processes